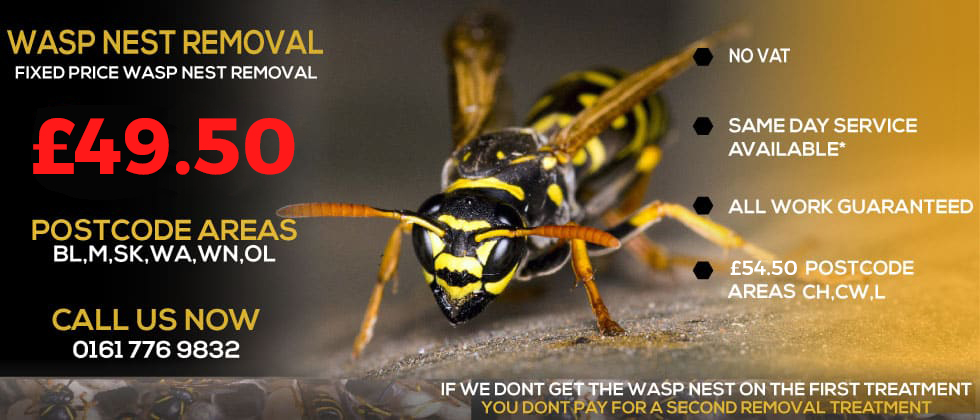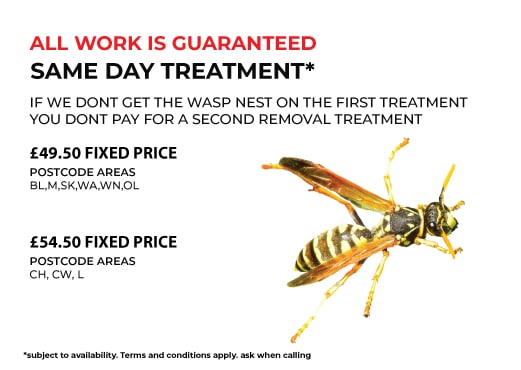 Need Help? Call Us On 0161 776 9832 For Expert Pest Control Advice On How To Identify Pest Infestations And Help Solve Your Pest Problem.
Haughton Green Wasp Nest Removal
Haughton Green is a suburb of Greater
Manchester. It was originally a village and certainly features lots of village characteristics and charm. Like most corners of Greater Manchester, though, it has its share of pests. By pests, we mean insects and particularly wasps and hornets. The stinging kind of pests. The ones that sneak up on you and give you a nasty surprise. Sometimes though, their buzzing gives them away, enabling a victim to escape. But who can live in peace knowing wasps and hornets are around. That's why Houghton Green inhabitants are blessed to have Young's Pest Control in their midst. Young's Pest Control really should be called Haughton Green Wasp Nest Removal. It will get rid of wasp nest tension the moment you spot a wasp. Just make the call and see what happens after that. The offending wasp or hornet nest will be quickly removed from your vicinity with minimum hassle, maximum safety and minimum cost. You won't believe how quickly that nest will disappear, leaving you in peace. For a reasonable cost, too.
Wasp Nest Removal Cost
There's a false idea out there that pest removal costs a huge amount of money. That's why many householders and business owners attempt to use home remedies and amateur solutions to get rid of the pests.
Let's disclose, here and now, that wasp nest removal service doesn't cost the earth. The company charges an affordable price for what is an excellent job. The wasps and hornets won't be troubling you again. You can say good riddance.
Hornet and Wasp Control
Good hornet and wasp control is all about keeping up with the latest techniques in pest removal. This is vitally necessary because every generation, the pests seem to grow stronger and more resistant. Young's Pest Control believes that this is the key to the company's success. Keeping up with the trends in pest control helps the company to consistently give top service to clients. Here are a few reasons why Young's Pest Control is Haughton Green Wasp Nest Removal:
It offers a cost-effective service:

 If a householder or business owner needs to get rid of wasp nest tension, don't let wasp nest removal cost form an obstacle to hiring the best pest removal company there is. Call Young's Pest Control if a wasp or hornet nest appears on your property. Ask the company for a quote and be pleasantly surprised.

Its methods are effective.

 With the latest pest control methods at the fingertips of its highly-trained pest removal professionals, Young's Pest Control is the company to banish pests from your vicinity. As pests get stronger, Young's Pest Control needs to be stronger still. Try the service and see. 

It constantly updates its methods:

 Our company strives to keep up with the latest technology in the pest removal world. When you call our company, you know you're getting the very best service to remove the pests from your property.

It's an ethical company:

 Knowing how many people view the environment and the role of humankind in the degradation of the environment, this company always tries to use human

It works quickly:

 Give Young's Pest Control a call when you spot any wasp or hornet nest on or near your property. The experts will arrive to complete the job on that day, otherwise, they will come first thing the next day. I
Wasp Exterminator
Young's Pest Control keeps ethics firmly
in view. Humankind hasn't always been a good neighbour to the animal kingdom and as far as possible. However, when it comes to human safety, this is first and foremost in the eyes of the company. 
M34