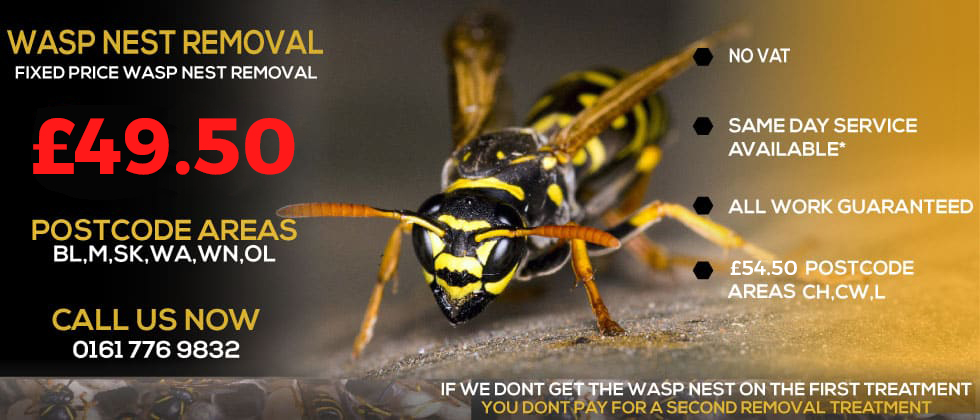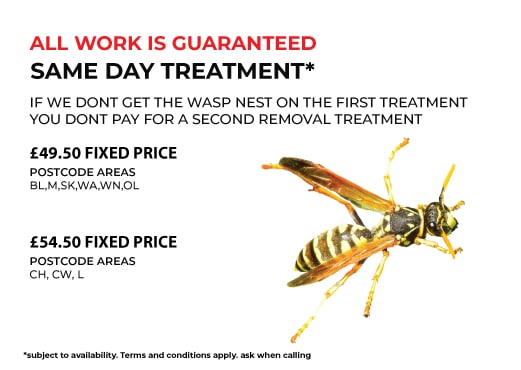 Need Help? Call Us On 0161 776 9832 For Expert Pest Control Advice On How To Identify Pest Infestations And Help Solve Your Pest Problem.
Gee Cross Wasp Nest Removal
The historical village and modern suburb of Gee Cross is a place steeped in history. There
are many reasons to enjoy living here. If you're a resident, then you'll know that it's one place where you won't be bothered for long by wasps or hornets. Young's Pest Control has you covered. This company is the leader in pest removal services in Greater Manchester. You could call it Gee Cross wasp nest removal. So if a wasps' nest appears anywhere near your property, be it your home or your business premises, you only have to give a call to Young's Pest Control. This will enable you to get rid of wasp nest worry. It's that simple if you live in Gee Cross.
A Professional Pest Control Service
Young's Pest Control offers a thoroughly professional service for hornet and wasp control. This company has a professional approach to the business of pest exterminations. All its staff members are highly trained professionals in the industry of pest removal. Using the latest techniques
and technology, they aim to remove any wasp or hornet nests altogether with minimum disturbance to the residents. Unfortunately, many people mistakenly believe that any interested person can draw a wasp or hornet nest. That's a huge mistake for which there may be a heavy price to pay.
Hornet and Wasp Control
The truth is that hornet and wasp control is not a simple matter. It's not a job that just anyone can do. There are too many dangers. If you want to get rid of wasp nest tension, call a professional pest extermination service. This will ensure the efficient and safe removal of the offending nest. 
The Top Wasp Exterminator
If you're wondering what makes Young's Pest Control the top wasp exterminator in the area, you need to look at some of the reasons why. The following qualities are listed to give you an idea.
Professionalism:

 Young's Pest Control uses the latest technology and training to provide a top-class pest removal service. The company takes pride in its work and aims to complete each pest removal task to perfection.

Efficiency:

Young's Pest Removal aims to complete every task in the fastest possible time. Every pest removal task is a priority, and they strive for same-day completion whenever possible.

Economical:

Young Pest Control services are competitively priced despite providing the most professional service, constantly updated with the latest technology and equipment. They are surprisingly affordable considering the standard of the service provided. Young's Pest Control always strives to maintain the highest standards.

Ethical:

Young's Pest Control strives to use safe methods as far as possible to remove pests from areas of human habitation. While the company upholds, as far as possible, the idea of living in harmony with the animal kingdom, it always gives human safety the highest priority.

Effectiveness:

Because Young's Pest Control strives to give the most professional service at all times, it aims to keep abreast with the latest technology in the area of pest control. All the company's staff members are trained in the latest pest control methods and use the newest technology in this area. Therefore, you can be sure that Young Pest Control's removal of the wasp or hornet nest in your vicinity is 100% effective.
Wasp Nest Removal Cost
As mentioned above, a professional wasp nest removal cost is not astronomical. It's a reasonable price to get rid of wasp nest tension and concentrate on taking care of your family or business. Or both. Peace of mind, after all, is what everyone needs. If you notice a wasps' nest or a hornets' nest on your property, pick up the phone as soon as possible and call Young's Pest Control. You won't regret it.
SK14