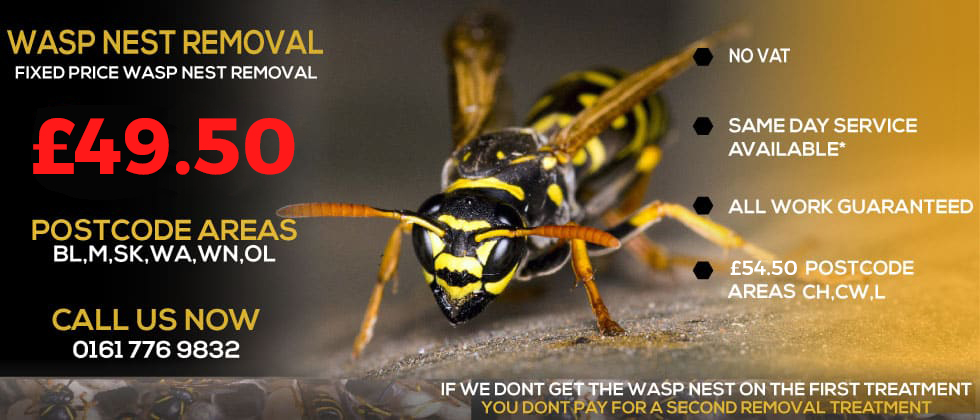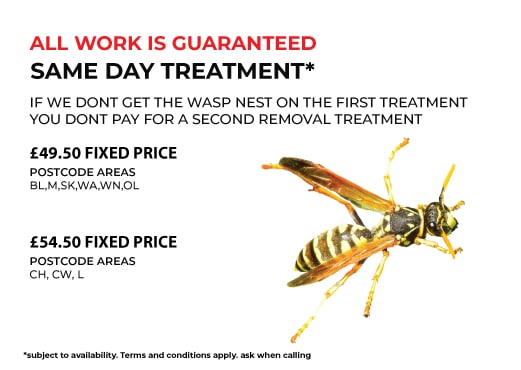 Need Help? Call Us On 0161 776 9832 For Expert Pest Control Advice On How To Identify Pest Infestations And Help Solve Your Pest Problem.
Mottram in Longdendale Wasp Nest Removal
The ancient parish of Mottram in Longdendale in the greater Manchester area is still surviving today, at least the area covered by this impressive name is. But you
know what the most impressive thing is about living in this area? The fact that if you find yourself bothered by hornets or some other variety of wasp, then Mottram in Longdendale Wasp nest removal is at your service, to get rid of wasp nest tension in an effective and economical manner. You don't have to fear sneaky wasps and hornets for long. Young's Pest Control is the company to turn to for hornet and wasp control. 
Call in the Professionals
The best and safest way to get rid of wasp nest tension in your home or on your business premises is to call in the professionals. That's what we are. Young's Pest Control provides an efficient and cost-effective way of bringing those dangerous pests into control and banishing them fro your life. Because getting rid of pests like wasps and hornets is a dangerous business and it's best left to the professionals.
Professional Hornet and Wasp Control
Young's Pest Control is on top of the pest
control game. We use effective and efficient methods for hornet and wasp control. With minimal danger to you and your staff or loved ones, we can remove the pests leaving your environment safer than ever. You can depend on us.
The No. 1 Wasp Exterminator
Young's Pest Control isn't considered to be the top wasp exterminator for nothing. There are several strong reasons for this. Take a look at some of them.
Efficient Service:

 If you call on Young's Pest Control, you can be 100% certain that the company will endeavour to come out and do the job on the very same day. In case the call is received later in the day and the volume of work is high, you can be sure that Young's pest control will come out the very next day and remove the offending wasps' or hornets' nest.

Effective Service:

 The professionals at Young's Pest Control are up to speed on all the latest pest control methods. They have the knowledge and the technology to safely and quickly remove the offending wasps' or hornets' nest completely in the quickest possible time. In the shortest possible time after reporting the nest in your home or on your business premises, it will have disappeared forever.

Ethical Methods:

 In today's world there is a huge awareness of the environment and about the threat to wildlife. Young's Pest Control understands this and always endeavours to employ the most compassionate and humane methods to remove pests from the environment.

Modern and Innovative Methods:

 Young's Pest Control is up to speed on the latest technology and developments in the area of pest control, particularly regarding hornets and wasps. So you can have complete confidence in this professional service.

Economically-Priced Service

 For most

householders and business owners, the main obstacle to calling in a professional pest control service is the idea that the cost is prohibitive. While businesses may have some outlay available for emergencies, many householders dread an unexpected emergency, particularly when the economic situation is so challenging. Yet you can be certain that Young's Pest Control is very economically priced. So you can call us up and ask for a quote, confident that wasp nest removal cost should be within your budget. 
Wasp Nest Removal Cost
As mentioned, you may think that wasp nest removal cost is much higher than it is and resorts to amateur pest removal methods. We aim to give a professional service at a surprisingly affordable cost. Don't hesitate to call in the professionals if a wasps' or hornet's nest appears. Ring Young's Pest Control for efficient and affordable service.
SK14