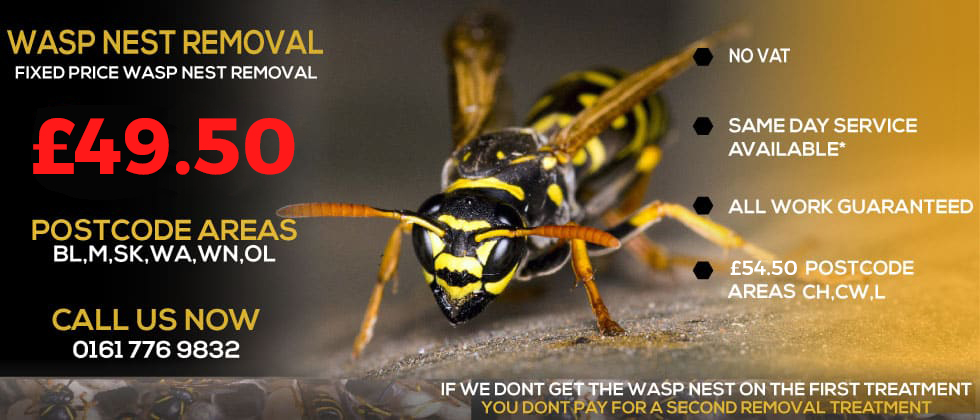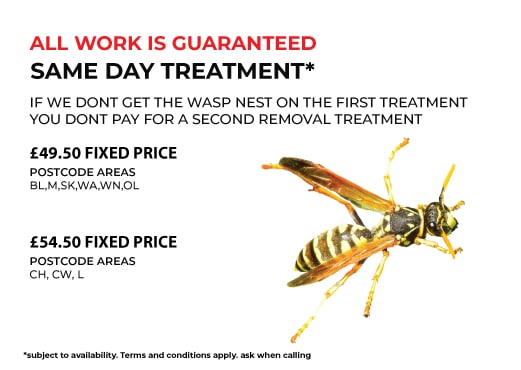 Need Help? Call us on 0161 776 9832 or drop us an email for expert pest control advice on how to identify pest infestations and help solve your problem.
Urmston Wasp Nest Removal Service
Insects are important to the ecosystem, but they are pests when they build nests on or around buildings and gardens. Bees, wasps and hornets like areas where they can get easy access to the outside and will build nests in holes underground, sheds, gaps in walls and in loft spaces. They are often in hard-to-get areas. A good quality hornet or Urmston wasp nest removal treatment company will be able to access the problem no matter where it is.
Fast facts about wasps
•
Wasps build nests out of the chewed up wood pulp
• They build a new nest every year starting in early summer
• Wasp nests look like paper mache mounds
• Thousands of wasps can be inside a nest once it is established
• They sting many times, unlike a bee
• They are aggressive if threatened
• Wasp stings are painful and can cause severe swelling
• People can be allergic to wasp stings
• Multiple stings can be life-threatening to humans
What are the signs to look out for?
• A lot of wasps in your garden or outside a building
• A concentration of insects coming and going in an area
• You might hear a constant buzzing sound
Professional Urmston wasp nest removal treatment should be sought to make sure the nest is taken away safely. Expert Urmston wasp control will include advice on how to prevent the insects from returning to the same spot.
Why use us to remove wasp and hornet infestation?
• We offer a friendly service that's available 7 days a week and 24 hours a day
• There is a fixed price for Urmston wasp control so you know what to expect
• We don't charge a call-out fee
• A 1-hour service is available for emergencies
• We have unmarked vans so neighbours won't know why we there
• Commercial buildings and domestic homes treated
Give us a call any time of the day and we can advise you on what action to take. We can arrange a time that is suitable for you if you need an appointment. If you'd prefer, use our online booking form and someone will organise a visit for you for all of your wasp removal needs.