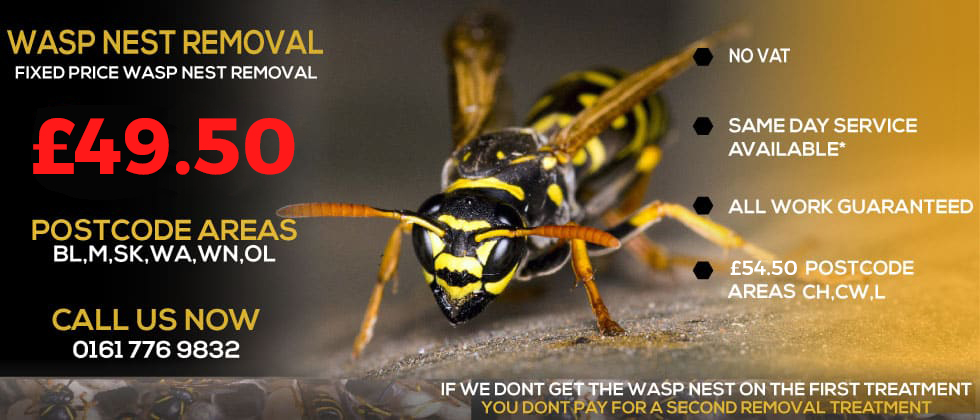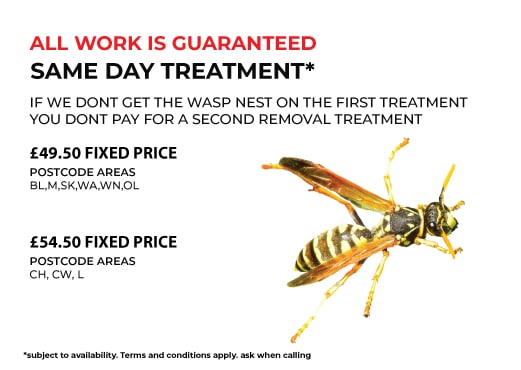 Need Help? Call Us On 0161 776 9832 For Expert Pest Control Advice On How To Identify Pest Infestations And Help Solve Your Pest Problem.
Winton Wasp Nest Removal 
Introduction
Wasps have been known to sting people
even if they are not provoked. A wasp or hornet's sting can be very painful, and life-threatening if you have allergic complications. In the UK, wasp nests have a one-year lifespan, but during the winter, the queens try to create new nests. The wasps become the most aggressive during the summer. They make their nests using chewed up wood.
A wasp nest is a chain of horizontal combs that are surrounded by a paper envelope and has concentric marks. The queen looks for food, make brood cells, feed new larvae, and defend its nest. The first offspring are sterile, and as a result, are used as workers. Hence, their sizes are smaller than the queen's size.
Hornets are identical to wasps, but have a bigger size and are more yellow and brown. Their stings and lifecycle are identical to those of wasps. The treatment required to eradicate them is identical as well. Therefore, to avoid being stung, whenever you notice wasp and hornet activity in your property or its vicinity, consult the services of a professional wasp exterminator from Winton Wasp Nest Removal to eliminate them.
What We Do
Winton wasp nest removal company was developed to protect British homes from wasp and hornet infestations. we have put up together a group of experts in dealing with these angry insects at a low wasp nest removal cost. Our technicians are always in full PPE, and the equipment, techniques, and insecticides used conform to the highest industry standards. After receiving your call about a wasp infestation, we will send our technicians to your premises. Upon arrival, they will brief you on the process, and the cooperation they will need from you. The first objective of the visit is to identify the hornet or wasp nest. Our technicians have complete personal protective equipment, and they will proceed to treat the nest. We treat hornet and wasp nests using permethrin or bendiocarb. The powders have high longevity and will remain in the nest for quite some time. Therefore, any wasp that will land next on the nest will also be dead as well.
Normally, a wasp or hornet nest will fall off in a few hours. However, it has not died off after 48 hours, phone us and we will return to your property free of charge to complete the hornet and wasp control job. We do not get rid of a wasp nest unless it is in the way or poses a risk to people nearby. To get rid of the wasp nest, you will have to give it a minimum of 24 hours. This is to prevent stings from live wasps that were not present at the time of spraying.
Most hornet and wasp nests will be treated and left at the same place. If left in the same
place, there is a high likelihood that during the winter hibernation, when the queen wasps will be exploring for a place to nest, they may end up in the treated nest. They will succumb to the powder, and not ever build their nest.
Benefits that you will enjoy
All services are guaranteed, which means you will have protection going forwards.

Our technicians are trained to industry standards; thus, you enjoy the best service in the market.

Fair pricing structure: thus, you get value for money.
Conclusion
Pests, in particular wasps and hornets, are dangerous, destructive, and can lead to diseases. For instance, if the nest is located on a plasterboard ceiling, the ceiling will become a dump, and eventually, die away. Therefore, do not dilly dally to seek professional wasp exterminator services
once you spot them. At Winton wasp nest removal, we provide high-end hornet and wasp control services at a friendly wasp nest removal cost. Also, we use vans and service delivery vehicles with no signages or markings, thus guaranteeing you your required level of privacy.
M30