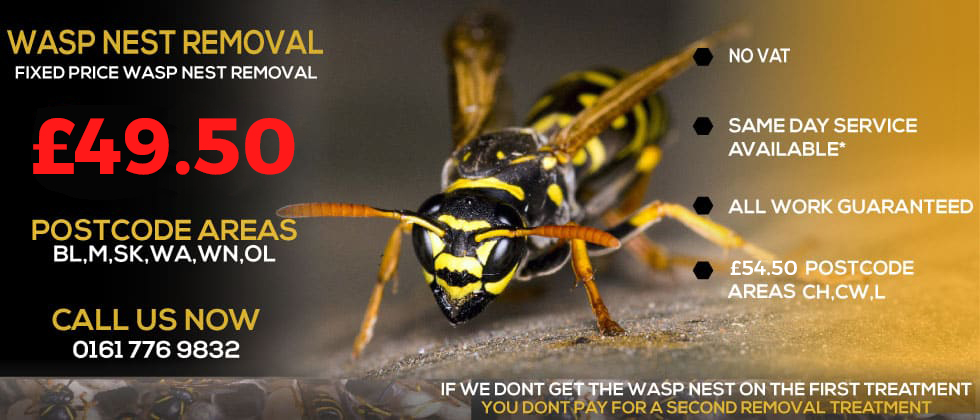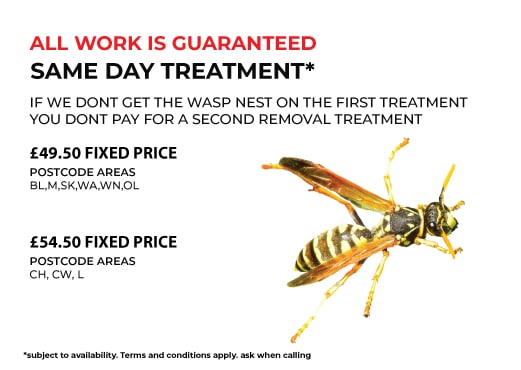 Need Help? Call us on 0161 776 9832 or drop us an email for expert pest control advice on how to identify pest infestations and help solve your problem.
Our Monton Wasp Nest Removal Specialists Are Ready to Help You Get Rid of These Dangerous Pests
 Our Monton wasp nest removal personnel are ready to respond around the clock when your home or business has been overrun by stinging bugs the likes of wasps and hornets. The arrival of these invaders is one of the things that property owners truly dread. When a group of wasps shows up and begins to build their nests, they quickly become aggressive in the defence of their territory. This leads to you and everyone else around your property becoming subject to a constant threat of painful and dangerous stings. 
These Points Illustrate Why DIY Solutions Should Not Be Used to Get Rid of Wasp Nest Infestations
 Hornet and wasp control is a job that must be taken on by trained pest control personnel. There are several primary reasons for this. It is common for the pain from a wasp sting to persist for days. For those that suffer from severe allergies, getting stung could be a fatal situation. These are a few of the main reasons why property owners should not attempt to get rid of these pests by themselves. Another reason is the fact that you lack the knowledge and equipment required to be effective in getting rid of hornets and wasps.
Keep an Eye on These Spots for the Appearance of Wasp Nests
 If you have suddenly noticed that you are
finding an unusual number of wasps in and around your home or business, it is like because a nest has been built somewhere on your property. Some of the places that you should check out include the corners of porch ceilings, eaves, and loft areas. Once you identify that you do have nests present, it is time to bring in your trusted Monton wasp exterminator to handle the situation for you. When you acquire our services at Youngs Pest Control, you can rest easy knowing that we offer wasp nest removal cost that will not break your bank. Our pricing is based on a flat-fee when it comes to helping you get rid of wasp nest troubles on your property.
We Deliver Discreet Service to Your Doorstep
 When you utilize our wasp exterminator service here at Youngs Pest Control, you get the peace of mind of knowing that our team shows up in unmarked vans. Providing you with discreet hornet and wasp control is a major priority for us and another one of the factors that make us the preferred service provider here in the Monton area.
A Few More Compelling Reasons to Choose This Monton Wasp Nest Removal Service Provider
 Beyond the fact that we offer discreetly delivered pest control services, there are many other compelling reasons to choose Youngs Pest Control. These reasons include:
Our service team members are all fully insured

Our personnel are highly trained and experienced in the pest control profession

Our services are available 24 hours a day, 7 days a week

You receive a flat-rate option for wasp nest removal cost when you choose Youngs Pest Control

Our team offers you same-day service availability
Contact the Monton Hornet and Wasp Control Personnel That You Can Rely on
 If you have just discovered that there are wasp nests present on your property, then the time has arrived to ring our service personnel here at Youngs Pest Control here in Monton. These annoying pests can be quite troubling, but you don't have to simply put up with them as they continually ruin your day. When you bring in our seasoned professionals, your time worrying about being attacked by the stings of wasps and hornets will come to an end. 
 You can either ring our mobile number on 07845 815 261 or call our office on 0161 776 9832. We offer same-day service that is available at all times, day and night. This
way, you know that you can have your hornet and wasp problems quickly and efficiently addressed by the Monton area's top service professionals. It is as simple as picking up the phone and booking your pest control services today.
M30