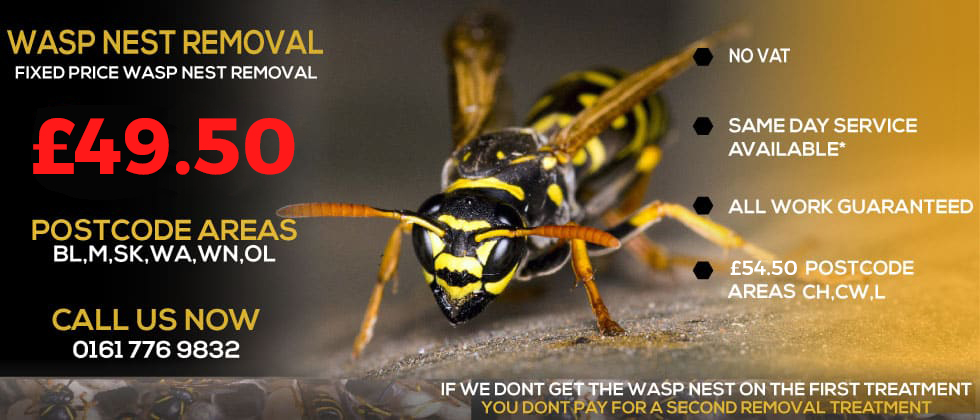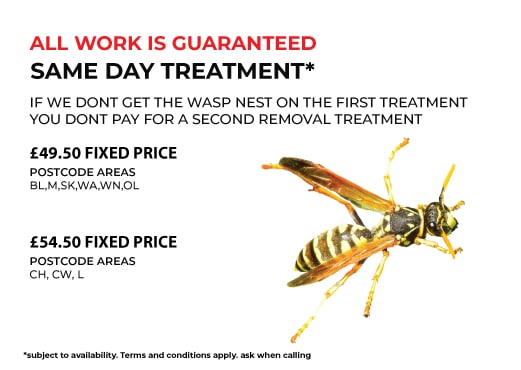 Need Help? Call us on 0161 776 9832 or drop us an email for expert pest control advice on how to identify pest infestations and help solve your problem.
Professional Royton Wasp Nest Removal Treatments
There are all kinds of problems that can prevent themselves when you run a business. The same can also be said for those who own a home. Sometimes these problems can take the form of pests. There are many different types of pest out there. They run from rats to various types of insects. No pest frightens people more than wasps, hornets and bees, however. Getting rid of a wasps' nest is not an easy thing to do and it is not recommended that you do it yourself. For this reason, it is a good idea to call in the professionals. This is where we come into play.
Royton Wasp Nest Removal Treatment

Since getting rid of a wasp nest is not an easy thing to do, we will be able to take over. For some businesses, it may be necessary to actually close the place down for the day. While this can involve a significant drop in your income, it is often better to be safe than sorry. Royton Wasp nest removal treatment is a delicate procedure. The same can also be said for those who are dealing with hornet problems and other types of stinging insects. Hornet and Royton wasp control is there to ensure that everyone else is safe. If you want to make sure that your customers are protected, this is the best thing to consider.
Your Business
Business owners may not consider wasps and hornets to be that big a threat. This is a false assumption. They can end up causing a lot of issues for customers, who may decide not to return. This is especially a problem if the nest happens to be indoors. While this seems unbelievable, it certainly can happen. Those who have eating areas in large gazebos may suddenly find that there are a lot of wasps around. This is something to consider when calling us for removal.
Do not be afraid to give us a call for Royton wasp control or pest control of any kind. We are more than happy to help our customers. Whether domestic or commercial, you know you can rely on us.