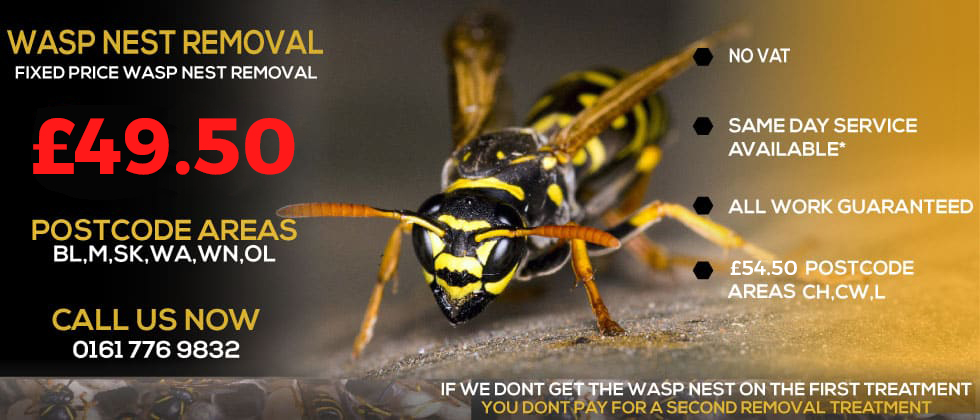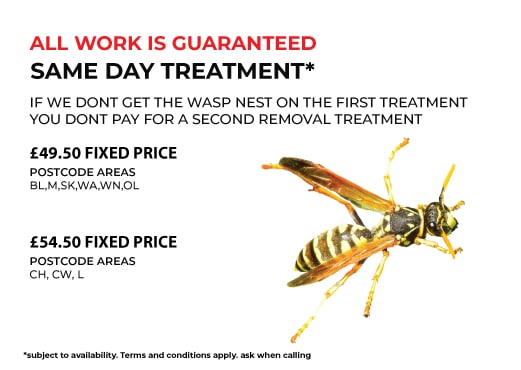 Need Help? Call Us On 0161 776 9832 For Expert Pest Control Advice On How To Identify Pest Infestations And Help Solve Your Pest Problem.
Heyside Wasp Nest Removal
Introduction
Wasps are aggressive insects, and they become overprotective when they sense
imminent danger to their nest. They reproduce in high numbers during the summer, and their stings are very painful. Domestically, wasp stings are very painful and dangerous to humans, especially people with allergic reactions to wasp stings. Commercially, wasps can result in low profitability in that they scare away customers, or hurt employees.
Heyside wasp nest removal company was established decades ago, to provide wasp exterminator services both on a domestic level and on a commercial level. Our tools, equipment, and techniques that have been are one of the finest in the market. Our staff have the skills and expertise to exterminate wasp and hornet infestation on both a small or large scale. Therefore, when you observe wasps and hornets or their nests, do notify us, and we will be more than happy to help.
Our Services
Our core competencies are eco-friendliness and effectiveness. The insecticides we use to remove get rid of wasp nest are safe on
humans but eliminate wasps and hornet. Our products, tools, and equipment are eco-friendly and adhere to government rules and regulations. We deliver hornet and wasps control services across the Heyside area. We have a competent wasp exterminator team that works 24 hours all year round. Our customer care team ensures that all your concerns are handled in a timely and effective manner.
We have immense expertise and experience in wasp exterminator services. This helps us to trace the source of wasps, the best way of removing needs, and deciding if they will be exterminated or taken to a different place. Wasps are exterminated if they pose a risk to your household, or their nests are positioned in inaccessible areas.
Our commercial team ensure that your business premises are free from hornets and wasps by providing large-scale fumigation services. After 14 to 28 days, the nest can be removed. This waiting period is to allow the treatment insecticide to neutralize the nest. Removing the nest before that time might result in deadly stings from the wasps.
Pros of Hiring Us
First, the wasp nest removal cost is economical, and you get a huge value for your money. We provide state-of-the-art services, that effectively eradicate wasps and their nests. We also provide follow up services to assess the effectiveness of our treatment. In case there is a re-occurrence, we will cover the wasp nest removal cost.
At Heyside wasp nest removal, we have an
effective technical and customer care team that works round the clock. Anytime you spot a wasp or its nest, give us a call and we'll be at your doorstep ready to help. Our team have the required capabilities to identify the type of wasp species, and the best way to exterminate them without disrupting your activities.
We are also members of the various pest control boards, and therefore we conform to the highest standards of performance. We also work hand-in-hand with internationally recognized pest control organizations to develop the best practices in hornet and wasp control.
Furthermore, you can rest assured that your privacy will be respected. This is because our service vans bear no markings. Therefore, no one else but you can know that we are there. People who have curious neighbours will find this advantageous.
Conclusion
Whenever we see hornets and wasps, our first reaction is to quickly find over-the-counter pesticides and DIY insecticides to remove get rid of a wasp nest. However, most of these pesticides require wearing personal protective equipment. Lack of wearing personal protective equipment may result in respiratory issues or poisoning. Moreover, some of the pesticides
are not qualified and could pose environmental risks. On the other hand, professional pest exterminators have proven equipment, products, and techniques that can eliminate wasps. Therefore, it is vital to hire professional wasp and hornet removal services to exterminate them
OL2