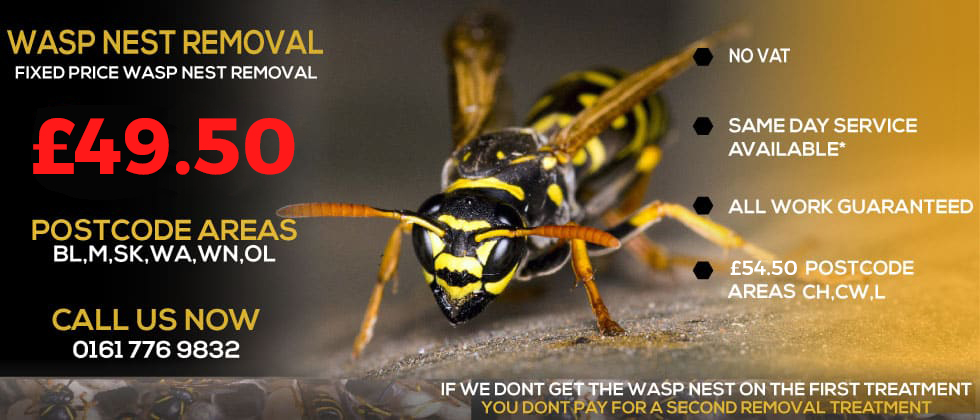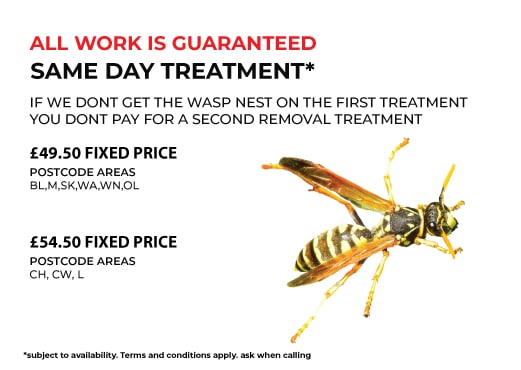 Need Help? Call us on 0161 776 9832 or drop us an email for expert pest control advice on how to identify pest infestations and help solve your problem.
Chadderton Wasp Nest Removal the Safe Way
Wasps and hornets make new nests at the beginning of summer. They sometimes build them around your house or in your garden, usually in sheltered places which they can easily access from outside, like the eaves of your roof, wall cavities, sheds and hollow trees.
How do you know if there is a wasp nest in your house or garden?


• There will be a larger than usual number of wasps around
• You will notice an area where the insect come and go
• You can often hear a concentration of buzzing
• You can see a paper mache like construction in a round shape, usually grey or dull beige
Why should I be concerned if I have a wasp or hornet nest at my property?
• Wasps and hornets are aggressive if approached
• Hornets nests can have several hundred insects inside, and they can summon an organised group attack
• A mature wasp nest could have thousands of insects inside
• Many people are allergic to the stings and will need immediate medical attention
• Even without an allergy, hundreds of stings in an attack could be fatal to a human being
• Female wasps will repeatedly sting and without hesitation
These nests should not be destroyed using DIY methods. A professional Chadderton wasp nest removal treatment is needed. Calling an experienced company that knows precisely what they are doing is always advised regarding hornet and wasp control.
Why use Young's Pest Control for Wasp Removal?
Young's offer a fully insured service 24 hours a day, 7 days a week, so that a visit can fit in around you and your needs.
A quick response service is available, which means we get there in 1 hour, for times when Chadderton wasp control is needed immediately.
We make sure a professional, quick and fuss-free Chadderton wasp nest removal treatment is carried out wherever the nest is on your property.
Young's charge a fixed price, so you know exactly what you are paying.
Call us to arrange a visit any time of the day or night - or ring us to discuss your worries and concerns about pest control of any sort. If you prefer, you can complete an email contact form, and someone will get back to you.