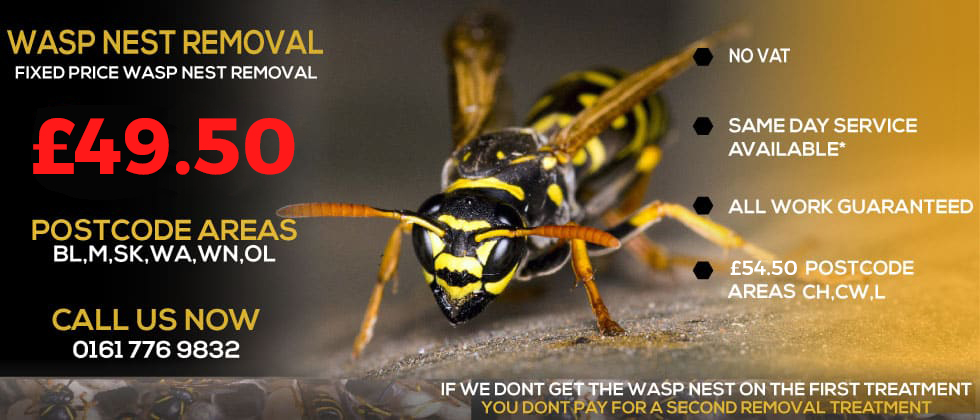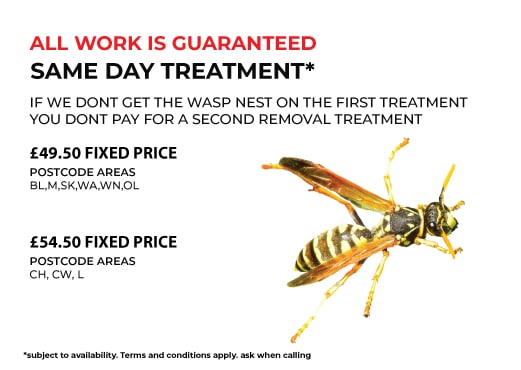 Need Help? Call us on 0161 776 9832 or drop us an email for expert pest control advice on how to identify pest infestations and help solve your problem.
The Benefits of Hale Wasp Nest Removal Treatment
Have you spotted some wasps of late while out in the garden? Well, if one or two, then you can simply deal with them using some spray or swat. However, if they were more than that both indoors and out, there is a high probability that a nest is nearby. At this point, you need to call Hale wasp control experts to handle the situation because of the high risk of attack when trying to remove it on your own. Young's Hale wasp nest removal treatment is the best solution to this.
How to identify a wasps' nest
Wasps normally make their nests from wood pulp. This is chewed to look like papier mache. With only 30 cm in length, the nest could be home to a colony of more than 6000 wasps.
Where exactly is the nest found?
In most cases, Common wasps build their nests on sheltered spots where destruction risks are relatively low. Such include; between wall cavities, eaves of buildings and loft places. If there are trees and bushes nearby, then the nest could as well be on them, especially of German wasps.
Can wasps cause any harm?
If left uncontrolled, wasps pose a great danger to those living around. Their sting, of which many people are allergic to, is particularly nasty. As summer comes to an end, they tend to be more aggressive and may attack in a swarm. You should therefore never think of going close to the nest unless with Hale wasp control experts.
Why you need a Hale wasp nest removal treatment
Removing a wasp nest is not an easy task, but the benefits thereafter are worth reckoning. After treatment, expect to see some wasps around the nest in the next few days. Foraging wasps normally return to the nest area and thus the reason why a treated nest should be in place so that the insecticide kills those that return.
If a hornet nest is also nearby, Young's wasp removal treatment will perfectly take care of it. Our experts use their knowledge and skills, in addition to the high-tech equipment, to ensure that the procedure goes on safely by minimising the chances of hornet attack.