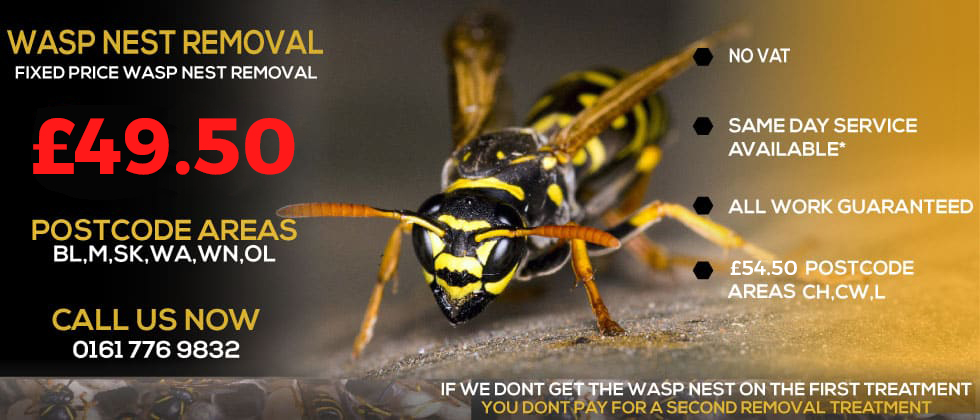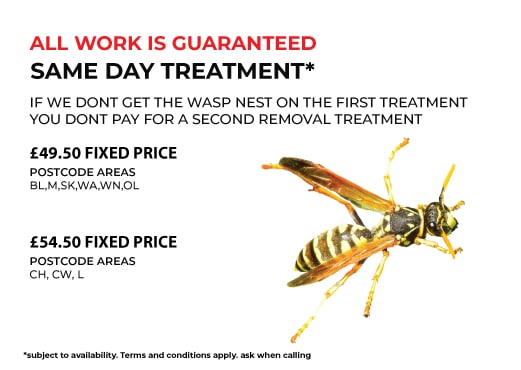 Need Help? Call Us On 0161 776 9832 For Expert Pest Control Advice On How To Identify Pest Infestations And Help Solve Your Pest Problem.
Hale Barns Wasp Nest Removal 
Have you noticed an increase in wasps and hornets about your home or business? If you have, then there may be a wasp or hornet
nest on your property. In which case, taking care of the nest is important. It is vital that you don't touch or disturb the nest yourself as the unpredictable nature of wasps can lead to more issues. To get rid of wasp nest's you need Hale Barns wasp nest removal services.
Where to look
 During the spring and summer months, there is a possibility that you may notice an increased number of wasps and hornets around your home or business. If you do, you need to look and see whether you have a wasp nest on your property. When it comes to looking for wasp nests, the likelihood is that you will find them in sheltered places both inside and around the outside of your property. Some of those places include:
The loft

Wall cavities

Under the eaves of your home

Garden shed
 Should you discover a nest, don't disturb or approach it. The size of the nest is not an indicator of how bad your problem might be. Even if you only find a small nest, it can still have a large number of wasps. Whatever the size, using a wasp exterminator to deal with the nest is essential. 
Why should I worry?
 Hornet and wasp control is important. Disturbing or approaching a nest can be very dangerous. Not doing anything about the problem comes with risks, not just to your property but also to yourself and others. The sort of risks you might encounter include:
Being stung and the possibility of an extreme allergic reaction

Contamination of food

Fruit damage

An annoyance 
 These are not the only risks. Depending on your property, there may be others.
Dealing with nests
 Having found a wasp nest, you mustn't delay dealing with it. Not dealing with a nest would be a mistake. What you want to avoid is a situation where the wasps become aggressive and swarm. 
 You could opt for trying to remove the nest yourself. Should you do so, you run the risk of not destroying all of the nest. If you are stung whilst trying to remove the nest, you run the risk of suffering an anaphylactic shock and possibly death. To get rid of wasp nests, it is better to use a wasp exterminator rather than deal with the problem yourself. They will know the best options for dealing
with the nest in a safe way for all concerned. Destroying the nest should not take them more than a day. By using a professional service, the treatment is discreet, efficient and safe. For those who are worried about the cost, wasp nest removal costs are usually a fixed price. 
 Other reasons why it's better to use a wasp exterminator rather than trying to deal with things on your own can include: 
 Tools and Equipment: They have access to the tools and equipment needed for them to remove a wasp nest safely. 
 Training and qualifications: All those involved in wasp nest removal are fully trained and qualified. They are licenced professionals with years of experience.
 Treatments: Unlike the public, professional pest controllers have access to a wide range of wasp nest removal treatments. Not only are such treatments safe and humane, but they also have a better chance of success.
Don't delay!
 No one likes discovering they have a wasp nest in their home or business. If you should find a nest, you must get help. Don't delay, call and let us take care of the problem. Hornet and wasp control doesn't have to be expensive. Wasp nest removal costs provide good value. Using Hale Barns wasp nest removal services offers you peace of mind. 
WA15