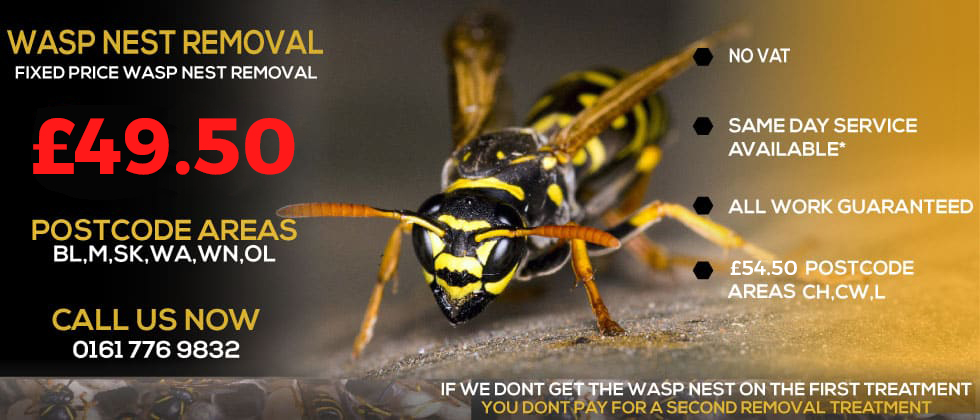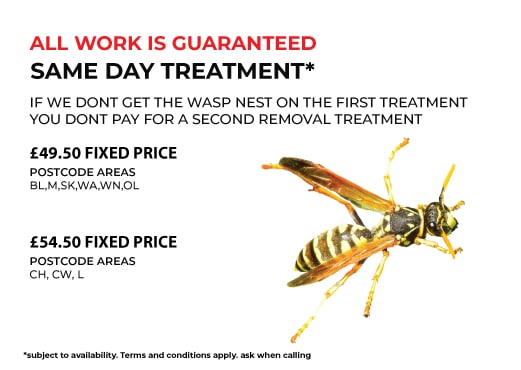 Need Help? Call Us On 0161 776 9832 For Expert Pest Control Advice On How To Identify Pest Infestations And Help Solve Your Pest Problem.
Styal Wasp Nest Removal
How to Control Hornets and Wasps 
One effective way of Hornet and Wasp control is to get rid of the wasp nest. However, removing the wasp nest may be very difficult and dangerous. The wasps inside may attack upon any slight provocation, leading to them stinging as they defend their home and queen.
 For your safety and your family, it is essential to seek Styal Wasp Nest Removal services. The solution may save your time, resources and keep you and your family from wasp stings.
 A mature excellent wasp nest available in the late summer will need treatment by professionals. It is due to multiple wasps that were left behind during the last control. Therefore, you need the services of a professional to treat the nest.
 Some of the Treatment Details
 Our technician will put on personal protective equipment to keep them safe from stings to get rid of a wasp nest from your home. We also have to ensure no one is around during the treatment to avoid stinging.
 The technician may apply some liquids, dust, and aerosols to the wasp nests, depending on the nest location.
 Once the nest is eliminated, our technician will carry it to a new territory and somewhere where the hornets and wasps can never access it.
 Benefits of Hiring Us for Hornet and Wasp Control.
 Most wasps are known to put up their nest just below the ground. Indeed this makes it hard to treat on your own.
 Treating Wasps and Hornets in this scenario may sound very hard, but all in all, we have to perform our daily activities and to accomplish this, you need the services of a professional like us.
 Experience
 It is essential to consider experience when looking for a pest control company. Our company has been in the industry for 20 years, assisting many clients across the United Kingdom.
 Choose a company with the right skills and expertise to eliminate hornets and wasps from your premises.
 With our many years in the industry, our company is diverse in providing clients with services and recommends others.
 Great Customer Relations
 One of the factors to determine whether a
company is fit or ideal is the customer service desk. How the customer relations team responds to your questions portrays the kind of services you should expect.
 By choosing us, you enjoy top priority and a team that is determined in helping you solve all your problems.
 Our company is available whenever you give us a call whether it is an emergency or not.
 Safety Measures
 It is mandatory to observe safety measures when handling wasps and hornets, so it should always cross your mind that you go for trained staff to handle dangerous situations.
 Our company is well equipped and trained to ensure we don't put you and your family at risk when performing our tasks.
 Save On Extra Bills
 Buying expensive insecticides and pesticides may lead to you incurring excess bills. Also, not knowing the correct quantity to use may be hectic at times.
 Instead of risking damage to your money and property, it is vital to seek the help of a professional company. Some of the properties we use may be stronger than what you get in the store.
 Wasp Nest Removal Cost
 Styal Wasp Nest Removal provides Wasp exterminator services at a pocket-friendly fixed price. In addition, our charges are constant and transparent since we have nothing to hide.
 Wasp Nest Removal Cost may vary, but our company has ensured we offer our customers nothing but the best deal.
Conclusion
 Individually fighting Hornets and Wasps may be hectic and dangerous. It is a challenge I wouldn't recommend. But it's worth the risk.
But seeking the help of a wasp exterminator company is the right decision to have your home restored from the dangerous pests before they cause unnecessary damage to your family and livestock. In addition, having them in your home tend to decrease the value of a home.
 In case they invade your home seek our services and watch us do our thing.
SK9