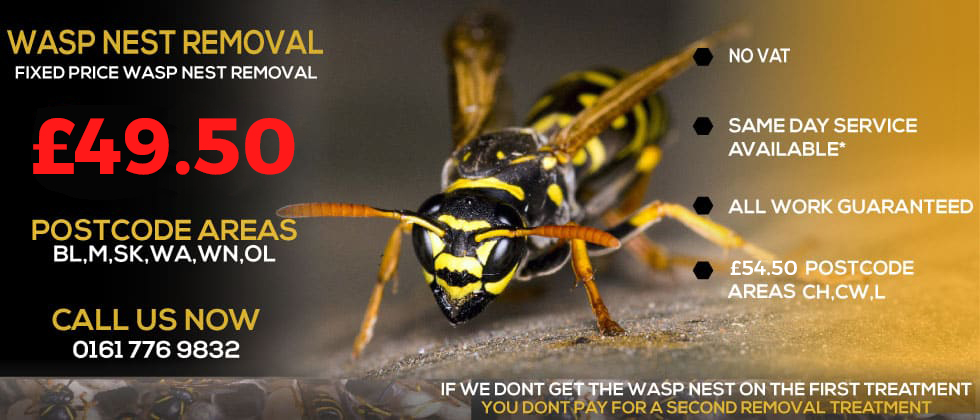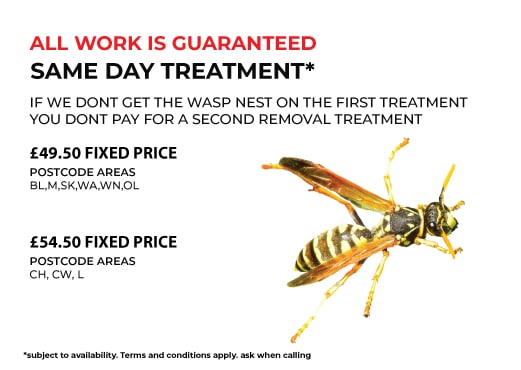 Need Help? Call Us On 0161 776 9832 For Expert Pest Control Advice On How To Identify Pest Infestations And Help Solve Your Pest Problem.
Risley Wasp Nest Removal
Wasps and Hornets are tiny insects that may wreak havoc if not adequately controlled. In the United Kingdom, we provide localised wasp control services. We can conduct Risley wasp nest removal and its environment with our competent team of pros because we are professionals in this industry.
Wasps are notorious for their aggressive temperament when disturbed, and their fatal stings can cause serious bodily harm. Therefore, when we conduct Risley wasp nest removal in the area, we make sure that everything has to be taken care of, from the colony to the trash left behind.
Wasps and hornets are tiny insects, yet their lethal stings result in many hospitalisations in the United Kingdom each year. Because of their uncontrollable nature, it's best not to take matters into your own hands when dealing with them.
In this article, we will show you how we get rid of a wasp nest from your home. Please keep reading!
To get rid of a wasp nest, you'll need various aerosols and sprays, which professionals best handle because they know how to blend wasp control products and eradicate wasp nests properly. All you have to do is look about your home to see if there are any wasp nests, then contact us, and our trusted team of professionals will be at your home in no time to take care of the pests.
Hornets and wasps may be vicious, especially when the queen leaves the nest for the winter. Hornet and wasp control is critical while the nest is still small since it is easier to eradicate them before it is too late, ensuring that no others come to use the nest later.
Our team of committed professionals will properly conduct hornet and wasp control while providing exceptional customer service, so you won't have to worry about anything during the summer. You and your family will be safe, and there will be no panic attacks from wasps and hornets in your home.
Wasps prefer to construct their nests in sheds and the eaves of your home. Unfortunately, because of the aggressive nature of wasps, most over-the-counter pesticides are ineffective, which can result in considerable costs and take up a lot of your time before adequately dealing with the wasps.
Because our technicians are well-trained to perform wasp exterminator services, you should contact us as soon as you spot a wasp nest in your home. Our services are efficient, and our pricing is also quite reasonable. There's no need to waste time or money on over-the-counter wasp control when we can provide you with the ideal experience while you relax.
All wasp nests in your home will be eradicated, and waste products will be hauled away by our wasp exterminator services. This will ensure that no other wasps attempt to make a nest near your home. In addition, we utilise high-end wasp control products that will not only eliminate wasps and nests from your home but will also leave a pleasant odour that will not bother you.
Our customer service is outstanding, and we will continue to answer any questions you may have even after the extermination is completed. We are professionals that enjoy conducting business in this manner. In addition, we employ unmarked vans, so no one in your neighbourhood will know we're there for you, and you won't have to worry about people thinking or knowing you have bugs.
Our wasp nest removal cost is quite reasonable, and we charge a flat rate for our services, with no hidden fees. We strive to be the best and provide good services by offering a low wasp nest removal cost, exceptional customer service, and well-trained personnel.
Hornet and wasp control in your home is
essential, and you should never live in fear of them. The bugs may be pretty uncomfortable, which is why it is highly suggested to take action as soon as possible to get rid of the bothersome pests. Give us a call, and one of our experts will get back to you as quickly as possible!
WA3