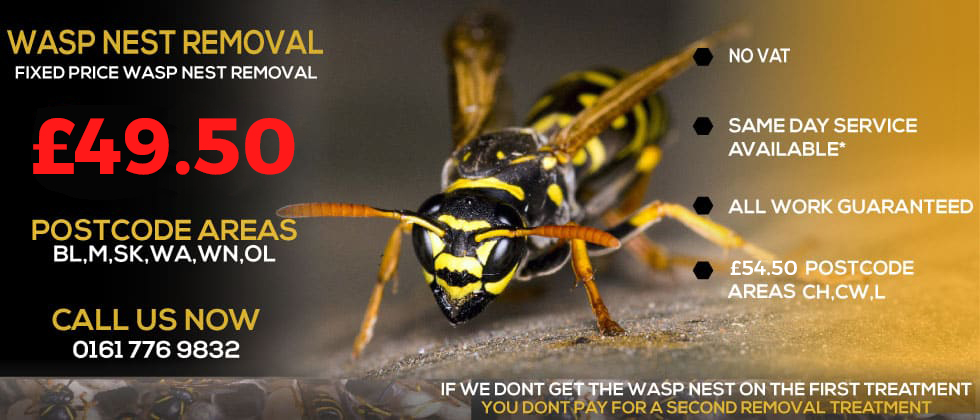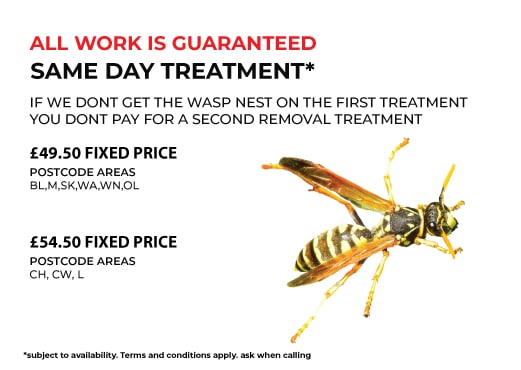 Need Help? Call Us On 0161 776 9832 For Expert Pest Control Advice On How To Identify Pest Infestations And Help Solve Your Pest Problem.
Glazebury Wasp Nest Removal 
If you think that you have a wasp infestation in your home, the best thing to do is to ensure that you have eliminated them as soon as possible. A wasp exterminator like Young's pest control can help you eliminate wasp nests at a pocket-friendly wasp nest removal cost.
 Having a Wasp Nest around your home is a threat to your family as they can attach any time they feel threatened. In addition, their sting is painful, plus some people are allergic to it. In most parts of the UK, Wasp stings cases increase during the last weeks of summer because wasps become more aggressive as they search for food in the remaining warm days.
 Late summer and early fall are when the last brood of wasps is born, including the following year's queen and male wasps. Our Glazebury Wasp Nest Removal professionals can help you get rid of wasp nests at any time of the day or night.
Identifying a wasp nest
 The most common wasps in the UK are
yellow jackets, paper wasps and European hornets. The paper wasps build a large open nest with clearly visible combs. The nest takes the shape of an inverted umbrella and are commonly found in sheltered areas like your house eaves or inside a wardrobe. These wasps will only attack when they feel threatened.
 Wasps build papery and covered nests. You will most likely find these nests in enclosed places like cracks on the wall and holes in the ground. These wasps are more aggressive than the paper wasp and can sting several times and chase after you.
 Since wasps are most aggressive during summer and early fall, there is always a need to involve hornet and Wasp Control professionals in the process. However, an experienced wasp exterminator can still disable a nest at this time, thanks to their Hornet and Wasp Control knowledge and the use of safety equipment.
Why call us?
 Hornet and Wasp Control is a complex process that needs professional help. To avoid the risk of wasp stings and other possible accidents, we strongly recommend homeowners avoid trying to remove a wasp nest by themselves. Instead, simply call our Glazebury Wasp Nest Removal professionals for the best services. Below are some other benefits of using our professional wasp nest removal services.
Fair prices
At Young's Pest Control, we understand that wasp problems are not budgeted. That is why our wasp nest removal cost is one of the most affordable in the UK. In addition to being one of the cheapest pest control companies in the UK, we assure our customer's value for their money through our quality services.
Fast service
 Since a wasp infestation needs a fast solution before they become aggressive, it is advisable to call a wasp exterminator as soon as you see wasps around your home. Our experts will respond quickly and get rid of the wasp nest without exposing themselves and others to the risk of wasp stings. Our Glazebury Wasp Nest Removal professionals will only take a few minutes to arrive at your property in the neighbourhood.
100% discreet service
 We ensure our customer's privacy by using unmarked vehicles when we visit their homes for inspection or the actual pest extermination. We will also be on the property for a few hours, and you must not be at home. These measures will ensure that your neighbours don't know that you have a wasp infestation problem. In addition, all our field experts are discrete and always friendly to our customers.
24/7 service
 Pest control professionals from Young's
pest control will work according to your schedule. You don't have to have an appointment to enjoy our services as we are available at any time of the day and night. We also work during the weekend and public holidays. You are only required to make a call at any time, and we will respond in the fastest time possible. 
 Don't risk your safety by removing a wasp nest on your own. Instead, protect yourself and your family from wasp stings by calling Young's Pest Control today. We are always happy to help!
WA3