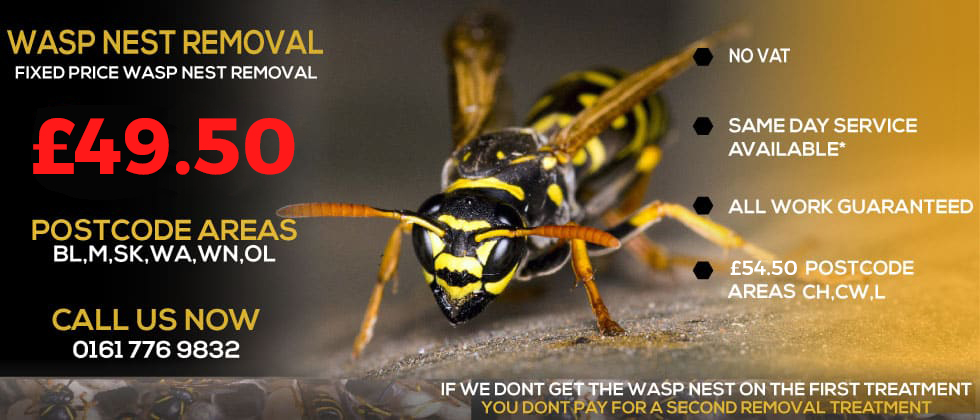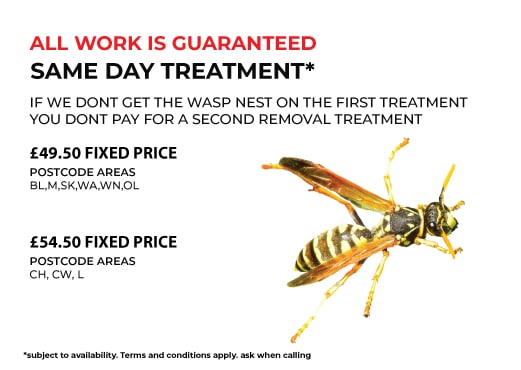 Need Help? Call Us On 0161 776 9832 For Expert Pest Control Advice On How To Identify Pest Infestations And Help Solve Your Pest Problem.
Croft Wasp Nest Removal
It is very common to find wasps around your property during warm seasons, be it at work or home. Wasps are beneficial as they feed on other pests that may destroy crops, but their danger arises when they build their nests near you. 
Wasps sting when they feel threatened; they cause allergic reactions to human beings, thus making them a big nuisance. When this happens, all you will want to do is think of how you can quickly get rid of the wasp nest. At Croft Wasp Nest Removal, we offer the best services for Hornet and Wasp Control. 
You do not need to worry about pests like wasps and hornets anymore because we assure you that we conduct a thorough elimination process and see that we get rid of the wasp nest.
Why Wasp Control is Necessary
Below are some of the reasons why wasp control is necessary:
1. Wasps and Hornets are Dangerous
It is common knowledge that the defence
mechanisms of wasps are stinging. They sting when they are attacked or when they feel threatened. These insects are not friendly, and if you have small children and the elderly, they become vulnerable to them. Please do not fall into the temptation of trying the DIY methods, as it will make things worse on your side.
2. Wasps are a Threat to your Health
Just like bees, wasps can cause serious allergic reactions to some who react to insect stings. In severe cases, it may lead to death if one does not receive medical attention. Unfortunately, you may be unaware of this allergic reaction until it affects you.
We highly discourage the DIY methods since they are dangerous, and you do not have training in wasp nest removal since you are not a wasp exterminator. The DIY method puts one at risk and those around him. In case they swarm in your house or your neighbour's, the outcome will not be good.
Why Hire Us?
When your home gets infested with pests such as wasps and hornets, it is imperative to get professionals to handle the issue for you. Professionals will give you a sigh of relief by managing the issue at hand. Here are some of the reasons why you should give us a phone call:
1. Access to Certified Agrochemicals
During the elimination process, our wasp
exterminator uses various products and equipment. We have access to a variety of certified agrochemicals that make it easier to work. In addition, we use sprays and other eco-friendly insecticides. Thus, it would be best if you did not worry about the pollution of the environment. We put in so much effort to see to it that our results are impressive.
2. Avoid Damage
We know and understand that hiring a professional pest control company can be expensive, but it is much better once you look at the benefits you stand to gain. Our Wasp nest removal cost is affordable so that everyone can afford the services we offer.
Wasps can cause damages to your property, especially if they form a colony. Therefore, to prevent this from happening, we assess the seriousness of the situation and see how best we can fix it for you. That way, you can easily prepare for a prospective loss considering the wasp nest removal cost.
3. Fast and Efficient
This is among the main reasons people opt to hire professional pest control services. Our team of experts works around the clock and thoroughly inspects all potential pest-infested areas. Since we have experience working on several properties, it becomes easy for us to figure out the most affected area doing our work fast. 
This helps to save a lot of time, energy and resources as well. In addition, we have the most experienced wasp exterminators as part of our team; thus, you do not have to worry about efficiency.
For successful Hornet and Wasp Control, hire
professionals to do the work for you. This is because; the extermination process of wasps is dangerous since they can attack you back. At Croft Wasp Nest Removal, we use effective methods that ensure the safety of everyone. Feel free to call us at any time.
WA2
WA3