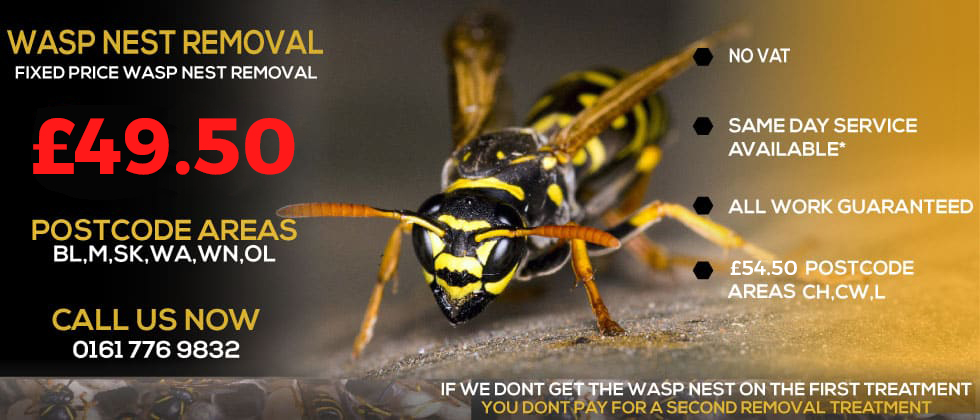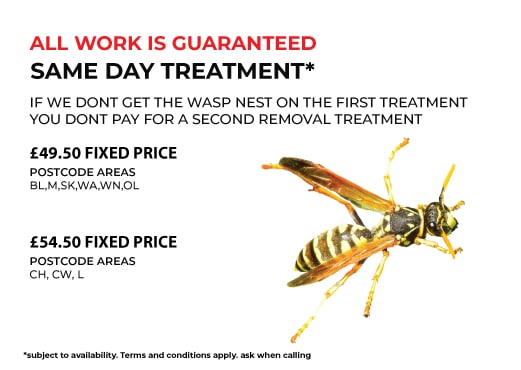 Need Help? Call Us On 0161 776 9832 For Expert Pest Control Advice On How To Identify Pest Infestations And Help Solve Your Pest Problem.
Lydiate Wasp Nest Removal
Benefits of Using Professional Pest Control Service
One of the most common problems that many homeowners face in the UK is wasp infestation, and ignoring this problem can cause many issues in your home. During the autumn, wasp sting cases rise significantly. Wasps become more aggressive and easily agitated during this time due to the decreased amount of food. The desperation to gather as much food as possible for their queen before the winter reaches makes them nasty creatures. Anything sweet tasting and has an alluring scent will attract these pests close to your and into your premises. As a result, you may end up having a wasp infestation at hand that needs to be dealt with.
It is during this time that you should seek the services of a professional wasp exterminator. There are a lot of benefits you can get from a wasp exterminator. Young's Pest Control service will help you get rid of wasp nests without any complications.
Lydiate Wasp Nest Removal service is the best in wasp elimination activities in Lydiate and the surrounding areas. You may feel the need to do yourself pest control, but you
won't like the result. Hornet and wasp control require a lot of skills to be done effectively. Therefore, it is essential to contact Young's Pest Control service for any pest infestation situation.
Reasons for Hiring A Pest Control Service
You will get many benefits by hiring a professional pest control service rather than dealing with a pest problem on your own at home. Lydiate Wasp Nest Removal is a professional company and has the experience and skills to treat pest infestation.
Therefore, the Lydiate Wasp Nest Removal service is essential to rid a wasp nest and other troublesome infestations. Below are some of the reasons why you need to hire Lydiate Wasp Nest Removal service.
Many homeowners think that taking care of a pest problem using the DIY approach is the best way to save money, but they are mistaken. Since you are inexperienced in pest treatments, you may use the wrong method or the correct form in the wrong area. This will result in more problems than the initial pest problem.
Professional pest control service offers affordable wasp nest removal costs at any time of the year. However, using the wrong methods, for example, in eliminating rats and mice, you may be inexperienced in finding the source. This will make the pest re-group and cause more damage, requiring more money to treat later.
Lydiate Wasp Nest Removal will offer you experienced services that will reduce all the hazards caused by the pest. Some pest control insecticides are more dangerous if misused on humans and other home animals. Using professional methods, you are open to the best green products to eliminate these pests without causing any harm. Professional pest control services will only use harmful pest elimination products as the last option.
Before using any deadly hornet and wasp control methods, a professional pest control company will first ensure your and your family's safety.
Lydiate Wasp Nest Removal service will offer their services 24/7 and according to your schedule. Professional services will be provided, starting from inspection to elimination processes. Lydiate Wasp Nest Removal are experts who analyse your pest situation and provide solutions according to your needs. Any time you notice signs of pests on your property, contact Lydiate Wasp Nest Removal service.
Seeking the help of a professional pest control service will ensure your safety and that of your family before and after pest elimination. A wasp exterminator will ensure that wasp nests are removed with precision to avoid making them aggressive to sting. Most Do-It-Yourself methods are dangerous and cause more harm than good.
Conclusion
Wasp nest removal cost might scare you to
opt for Do-It-Yourself approaches, which are not advisable. Spending money on a 100% pest elimination approach is better than spending less now and more later in Do-It-Yourself methods. Young's Pest Control service is the best solution for any pest situation you may have in your home. Enjoy quality service from the top professional pest control service in the UK.
L31