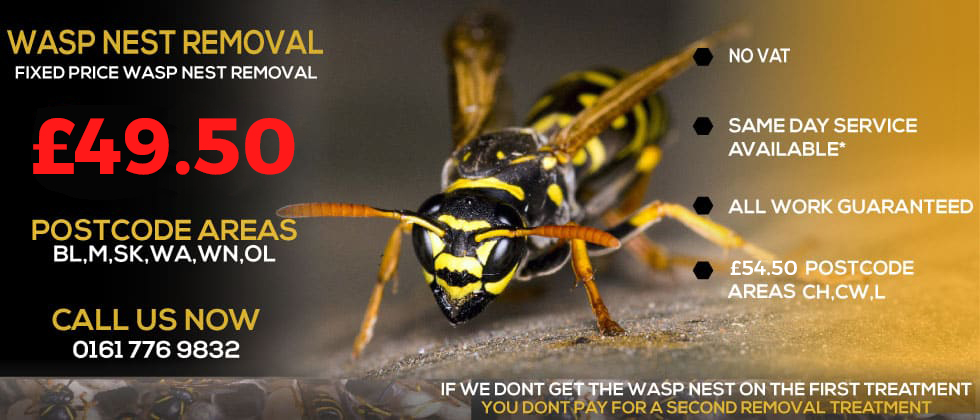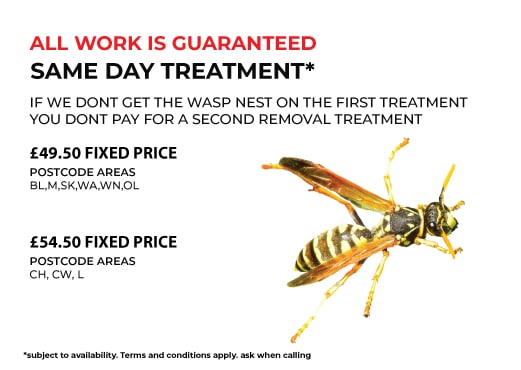 Need Help? Call Us On 0161 776 9832 For Expert Pest Control Advice On How To Identify Pest Infestations And Help Solve Your Pest Problem.
Great Crosby Wasp Nest Removal
For all your pest control services within the Merseyside region, especially the Great Crosby locality, trust Youngs Pest control services. You need specialists to handle pest control since you cannot effectively manage an infestation. We offer hornet and wasp control services, among other pest control procedures. Our experience with Great Crosby wasp nest removal shows dedication and efficiency, which are qualities needed for a good service provider. We get rid of a wasp nest and kill their eggs in record time, completing an end to end pest control procedure. For more information, use the contact details on our website to reach out and let us handle the pest infestation professionally.
Characteristics of Great Crosby Wasp Nest Removal Services
Service All Round the Clock
Our customer service team has a 24-hour schedule, running throughout the week. Any time there is an emergency, we take 90 minutes at most to arrive at the venue. We have fully stocked vans for our mobile program. From the time we get an alert up to the time we complete our work, we take the shortest time possible. Our vast experience in pest control services in England has shown us what to expect.
Professionals
We have a well-trained, dedicated and
professional team on standby. It has a combined experience of more than 20 years in general in pest control. They can also operate modern equipment such as the wasp exterminator, which is a top-range wasp control equipment in the market currently. Youngs Pest control is also a member of The National Pest Technicians Association (NPTA), which observe quality assurance in pest control services.
Market Experience
We have inroads throughout England, with representatives all over. Our online presence also compliments our visibility to the market. We either have physical or mobile offices in all major town throughout the country. Great Crosby wasp nest removal services feature prominently within the Merseyside metropolitan area.
Upgrade in Pest Control Services
Do-it-yourself pest control services are not sustainable, be it residential or commercial. You need experienced hands and machinery to help do away with the pest for good. Young's pest control upgraded their machinery to incorporate equipment such as the wasp exterminator. It kills both the eggs and wasps, making it valuable equipment. There is also other equipment used to manage infestation from a variety of pests.
Family as the Basic Unit
Be it businesses or residential, we use the
family concept to carry out our duties. Youngs Pest control services is a family-run organisation boasting over 20 years of experience. We value honesty, commitment and humanity when going about our duties, virtues that have seen the business transcend through generations. We pass these attributes to our customer service experience to make it one of the best in the sector.
Mechanical Pest Control Services
There are numerous advantages associated with large scale mechanical pest control services. First, we can handle multiple projects at a go, which leverages the economies of scale. It lowers the wasp nest removal cost significant. Secondly, it ensures the safety of the workers and residents, making the pest control services professional. If you want to get rid of a wasp nest, consider reaching out to the professionals.
Variety of Pest Control Services On Offer
We also handle other pest control services besides hornet and wasp control. The Youngs Pest Control website has the list of pests we can control and our network, including Great Crosby. For this and more on the scope of our work, call us on 07845 815 261 or visit our nearby offices. They advise appropriately on what to do.
Best Prices
Youngs Pest control services have the best
prices in the market. The wasp nest removal cost features among the best in Liverpool. Clients only get the quotation for work done and not any other administrative issues. Our prices are commensurate with our job done, saving both the client and company enough times and resources.
L23