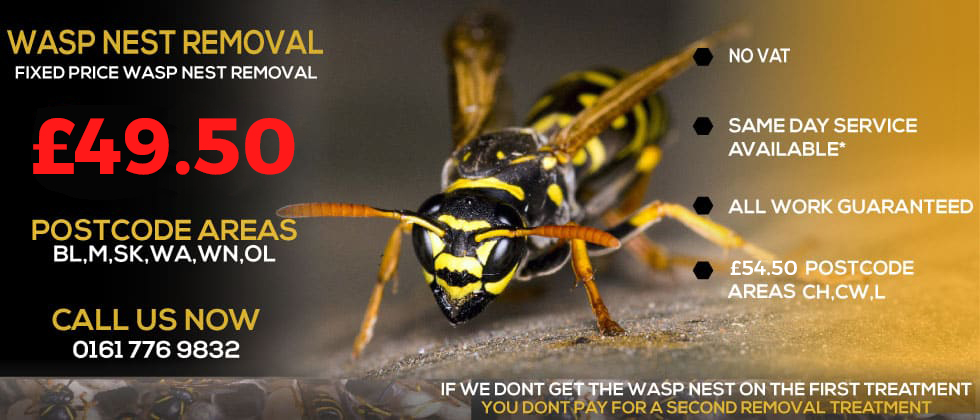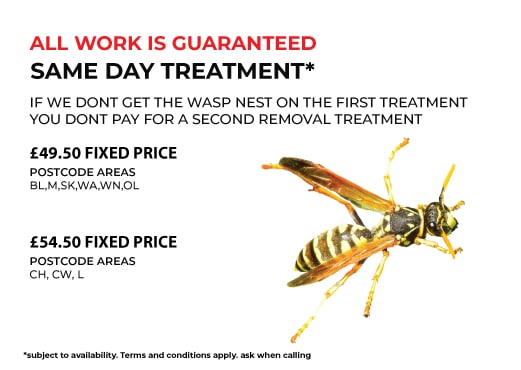 Need Help? Call us on 0161 776 9832 or drop us an email for expert pest control advice on how to identify pest infestations and help solve your problem.
Expert Maghull Wasp Nest Removal Treatments
If you suspect a wasp infestation, it needs to be dealt with as soon as possible. A wasp control service will be able to eliminate the nest and ensure that the wasp colony no longer poses a threat to you and your family.
The wasp has an excruciating sting which a large number of people are allergic to. Neglecting the wasp nest is a mistake. During the last weeks of the summer season, wasps become increasingly aggressive and swarm. You want to destroy the nest as early as possible in the year.
How To Identify A Wasp Nest
Wasps nests will start to appear during the spring and summer months as the weather begins to warm. Wasps nests are located in sheltered places around the exterior and interior of your home. Typical areas to find wasp nests include cavities in the wall, under the eaves of your house and inside loft spaces. A wasp nest is constructed from chewed wood pulp. Consequently, it looks similar to the nest that has been made from paper mache. One of the most commonly encountered species is the hornet wasp. The worker hornet wasp is equipped with a sting and will defend against any perceived threat to the nest.
Even a relatively small nest can house a large number of wasps. For example, a wasp nest of about 30 cm across could contain up to 6000 wasps. This is why even if you have identified a relatively small nest, you should still contact a wasp control specialist firm to dispose of it.
Wasp Nests In Your Loft
To establish whether you have a wasp infestation in your loft, follow these steps. First, turn the light inside the attic on and then close the hatch door. Return to the loft about half an hour later to inspect for wasps. If there is a nest inside your loft, the wasps are flying around where the leading light is located. If you discover a nest inside your attic, the next step is to turn off the light, close the hatch door, and contact a Maghull wasp nest removal service.
You want to use a professional to remove your wasp nest. However, attempting to remove it yourself using a Maghull wasp nest removal treatment can be dangerous. In addition, if you use a DIY wasp nest removal treatment, it is unlikely that the nest will be destroyed.
A wasp control specialist can eliminate the nest for a fixed price and perform the removal in a single day. And all of the work performed by the wasp removal specialist is guaranteed, so you will have the peace of mind that your infestation has been eliminated.