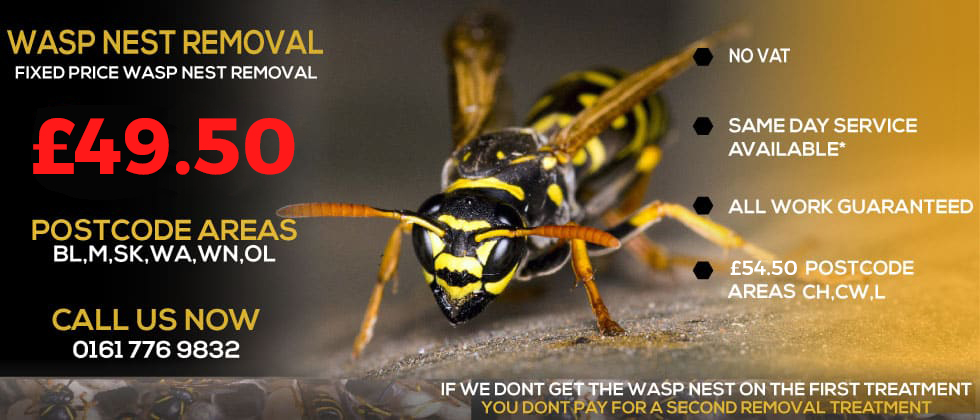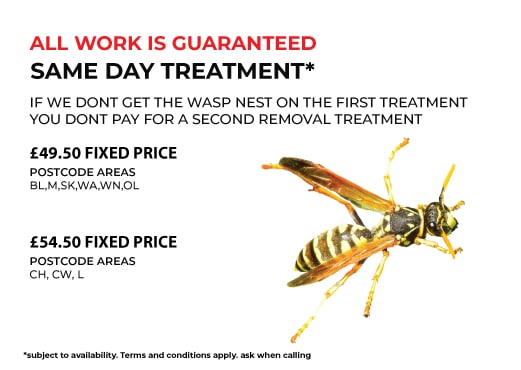 Need Help? Call Us On 0161 776 9832 For Expert Pest Control Advice On How To Identify Pest Infestations And Help Solve Your Pest Problem.
Lunt Wasp Nest Removal
Lunt Wasp Nest Removal services offer hornet and wasp control services in Lunt in North West England. It has the machinery, experience and resources to handle any pests infestation. Our inroads in the area make us the best to handle pest control services for businesses and homes. We incorporate the modern wasp exterminator whose effectiveness in destroying was nest is impressive. So try us and enjoy Lunt wasp nest removal at the best rates.
Why Trust Young Pest Control Services?
Pest infestation in England is a growing concern as they endanger the lives of families and businesses. You need experienced hands to help you manage the situation. The do-it-yourself approach cannot solve this perennial problem. The following are the reasons why you should entrust your pest control services to us:-
Professionals - our team boasts of over 20 years of experience in pest control. We employ the best techniques based on the infestation prevalence and address it in the best way possible. Young Pest control services is a member of the Pest Control Services umbrella body in the country, thanks to its steadfast contribution to the sector.
Coverage - we have offices and mobile outreach all over England. Lunt wasp nest removal services are one of them. From the North to South, East to West, Youngs Pest control services is all over.
Family business - our business is our heritage passed down from generation to generation. We value our commitment to our customers, making the business one of the most notable names in pest control services. We get not only the technical pest management training but also the importance of togetherness and cohesion. These family attributes produce the best in us, which has sustained the business over the years.
Modern Equipment - our store has the current hornet and wasp exterminator. It lowers the wasp nest removal cost significantly and permanently kills the wasp eggs and the house. If you have a heavy infestation of wasps in your home or workplace, call on Young Pest Control services, and we will solve your problem in the shortest time possible and at a competitive cost.
Pest Control Services over a broad spectrum - our machinery allows us to handle business premises, residential homes and agricultural fields. They are harmful pests to control yourself, and that is why we come in. For example, we can get rid of wasp nests hidden in difficult places to reach and kill the wasps with ease. Our expertise, technology and Equipment rank us as one of the best in the market.
Emergency response services - we operate 24 hours a day all year round to handle hornet and wasp control services in Lunt. You can reach us day and night, and it will take us between 30 to 90 minutes to get to your premises. Our outreach vans are fully equipped to handle any emergency and sustain it. Our work speed helps solve pest infestation problems in record time.
Variety of pest control services - besides hornet and wasp control, we can manage any other pests. Go to our website and look through the list of problems we can handle and the locations. However, Lunt wasp nest removal is our central focus in the region. If you need help addressing other pests, reach out to our customer experience representative, and they will advise you on what to do.
Competitive cost - the wasp nest removal cost is one of the best in the market. We do not charge for the hours spent on the job but the work done. It makes our prices fair, as the focus is the customer's satisfaction. Getting rid of a wasp nest is technical, and we charge for the value of the work. Try us out and get the value for money.
For bookings, use the "Contact Us" page on our website, and one of our friendly representatives will assist you.
L29