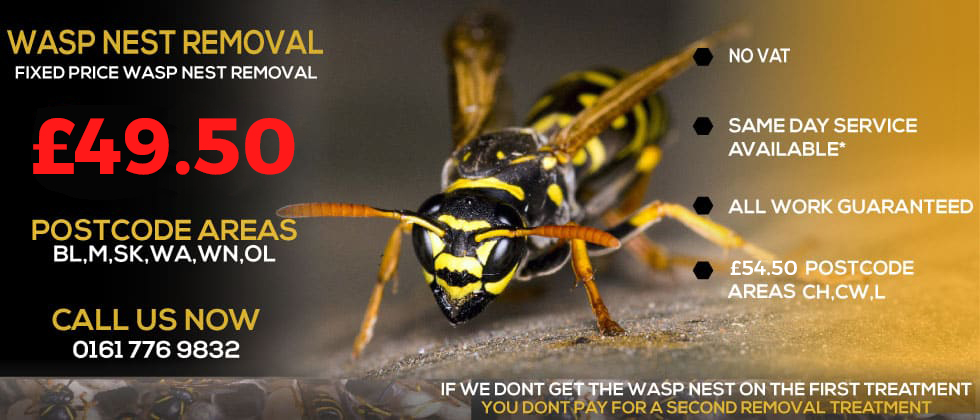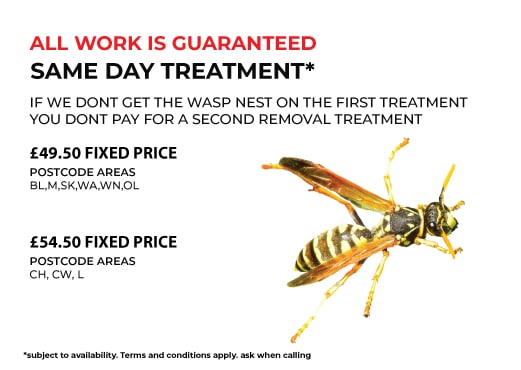 Need Help? Call us on 0161 776 9832 or drop us an email for expert pest control advice on how to identify pest infestations and help solve your problem.
Expert Eccles Wasp Nest Removal Treatment
Hornets and wasps are creatures that often conjure up fearful images in many people's heads. During the summer-time, they tend to be a lot more prevalent and this can be worrying for homeowners and business owners alike. Those who own pubs with nice beer gardens may not want to have a large nest sitting out the back, frightening the customers away. As a result, we offer a number of services to help get rid of the different pests that can rear their ugly heads. For anyone who is considering getting rid of a wasps' nest in their vicinity, make sure to give us a call. We will be able to carry out Eccles wasp nest removal treatment in a quick and effective manner. This will ensure that you do not put yourself or your family at any unnecessary risk. It will also allow you to ensure that you get the best results. We have many years' worth of experience in the area and can ensure that your home is as safe and as pest-free as it always has been.
Keeping Up With Other Pests
Do not forget that there are other pests that can appear from time to time. A lot of these pests can be harmless, but they can still be a nuisance and make your home or business look dirty. For example, no one wants to go to a restaurant where there are woodlice crawling everywhere. As a result, it is a good idea to give us a call in order to get rid of the problem quickly. By calling in professionals, you can ensure that everything is gotten rid of as quickly as possible with wasp removal options.
Hornet and Eccles Wasp Control For Businesses and Homes
Whether you are a business owner or a homeowner, do not be afraid to give us a call. Hornet and Eccles wasp control is a difficult thing and this is what we are good at. With Eccles wasp nest removal treatment we can ensure that your business continues to run as effectively as it always has. Whether you are worried about keeping your home or business clean and safe, just call us up.