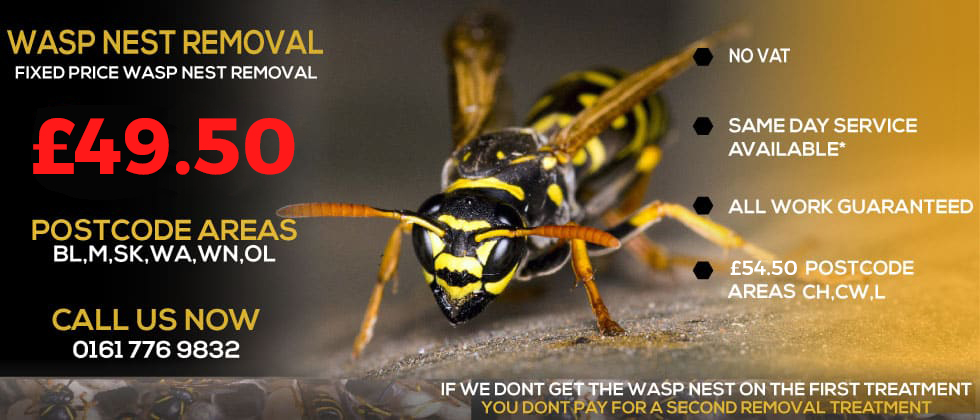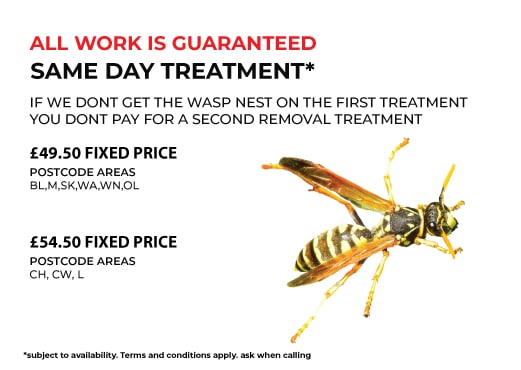 Need Help? Call Us On 0161 776 9832 For Expert Pest Control Advice On How To Identify Pest Infestations And Help Solve Your Pest Problem.
Wardley Wasp Nest Removal 
It goes without questioning that wasp nests are everyone's nightmare. You can never be
at peace if there is a wasp nest in your garden or home because you are in constant danger of being attacked and stung. Even though wasps have predictable behaviours, they can strike anytime if they feel threatened. If you invade their nest or even get too close, there is always a possibility of an attack. 
 Since wasp nets are a threat to your family's wellbeing, the best way to eliminate the danger of wasp stings is by getting rid of the wasp nests. Whenever you have a wasp nest around your premises, it is advisable to get a professional's help. There are many reasons why you need to get a professional hornet and wasp control company when there is a nasty wasp nest in your yard. 
Top 5 reasons for hiring a professional wasp exterminator
Prevention of potential disaster
 A lot can go wrong if you decide to get rid of a wasp invasion on your premises. For instance, using the wrong product or method to exterminate the pests can lead to more harm than good. Also, making the wrong moves can expose you and your family members to potential dangers. 
 Without the right personal protective equipment such as gloves and glasses, you could end up hurting yourself while trying to eliminate the wasps. Hiring a local Wardley wasp nest removal is the safest and quickest way to get rid of a wasp nest. 
Avoid exposure to insecticides
 Insect control involves the use of insecticides
that can harm your body if you inhale them for long. You are at a high risk of exposing yourself to lots of harmful insecticide products when doing DIY pest control because you lack the field's skills and expertise.
 Mishandling these insecticide pesticides can also pose health hazards to your children or pets, more so if ingested. You can hire a professional wasp exterminator to avoid all the accidents and mishaps that can occur when eliminating wasps. Using their experience in the field, a hornet and wasp control expert can use environmentally friendly treatments to ensure they do not cause more harm while trying to get rid of a wasp nest. 
Free follow-up services
 Often, hiring a professional offers effective
elimination of wasp nests. However, there is no guarantee that the first elimination attempt would be as effective as expected. Additionally, there may be follow-up problems resulting after the pest control task is done, plus there is always a risk that wasps can reinvade your property.
 If you entrusted the job to a professional, you do not have to worry about any of the above fears. That is because these professionals come guaranteed for removal and taking care of any other follow-up issues. For instance, an expert exterminator would help you install preventive measures to alleviate the risk of future wasp invasions.
Time-saving
 Time-saving is one of the benefits of hiring a professional wasp control expert that people often overlook. Undoubtedly, pest control is a task that requires a certain level of skills combined with experience. Without these two, you can waste a lot of time trying different wasp control methods without success. 
 On top of offering cheap wasp nest removal cost, these experts can install preventive measures to avoid future wasp problems. Hiring these experts can save you time because you do not have to worry about dealing with wasp problems in the future. 
Convenience
 Some people may possess the skills and expertise to eliminate the wasps around their garden or home, but time can be challenging. You need time for your core activities like your job, family time and leisure. Hiring a professional wasp removal expert is one way of ensuring that you do not have to worry about sparing time or spending your weekends fumigating wasp nests. 
Conclusion
 It can be both dangerous and ineffective to
approach wasp control without the help of a professional. With wasp nest removal cost dropping each day, you may want to contact a Wardley wasp nest removal expert to eradicate the pest problem in your premises. 
M27