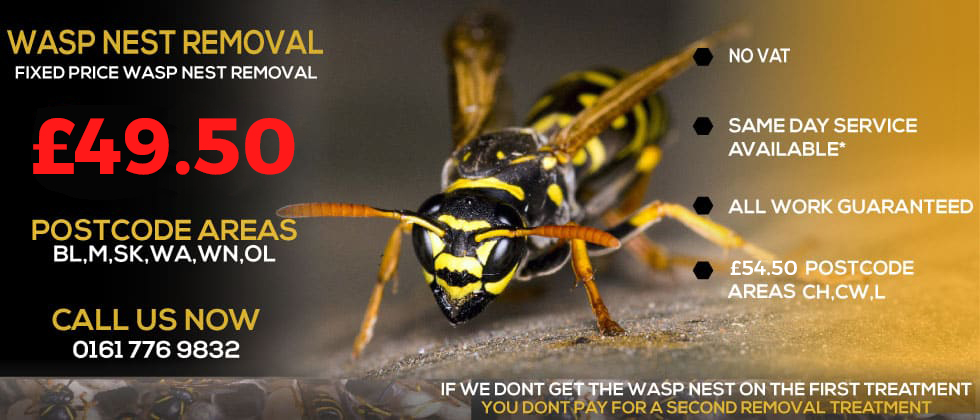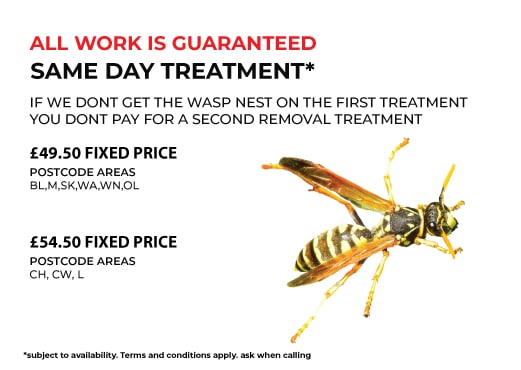 Need Help? Call us on 0161 776 9832 or drop us an email for expert pest control advice on how to identify pest infestations and help solve your problem.
Sale Wasp Nest Removal Treatment
At Young's Pest Control, we know that the safety of you and your family is a priority and that's why we offer advanced, professional pest control services.
Sale Wasp Control
One area of our specialised services is that of Sale wasp control. Wasps are dangerous pests that can sting you badly. Since they do not die after stinging, they are also able to sting multiple times, increasing the chances of an allergic reaction such as anaphylactic shock which, if left untreated, can result in death. Wasps also have the tendency to attack in mass and will even "call" other wasps to assist when they feel threatened. A particular type of wasp, known as a hornet delivers an even more powerful and dangerous sting since their venom is stronger.
Wasp Removal - Our Offering
Although many people choose home remedies to try to get rid of wasps, this is definitely not recommended. Home remedies are costly, generally do not work and, in the case of a dangerous pest such as a wasp or hornet, can end in you being stung badly. That is why we recommend calling the professionals. Young's Pest Control offers the following:
• 24 hour service, 7 days a week
• Professional Sale wasp nest removal treatment
• Effective Sale wasp control
• Affordable service
• Customised plan to address your specific pest problem
• Available across Cheshire, Merseyside and Greater Manchester
Domestic and Commercial
We offer treatment options for both home and commercial properties so even if you have a wasp problem in your office building, we can assist to ensure that your employees are kept out of harm's way.
Don't Delay

Even if you have seen just one wasp, the chances are that there is a nest close by. Take a look in building eaves, on the sides of walls and trees and in small holes or follow the wasp to see if you can find the nest. If you do find a nest, don't try to destroy it yourself, call us and we will assist quickly and efficiently. Our Sale wasp nest removal treatment options are the best way to keep yourself, your employees and your family safe from these pests.