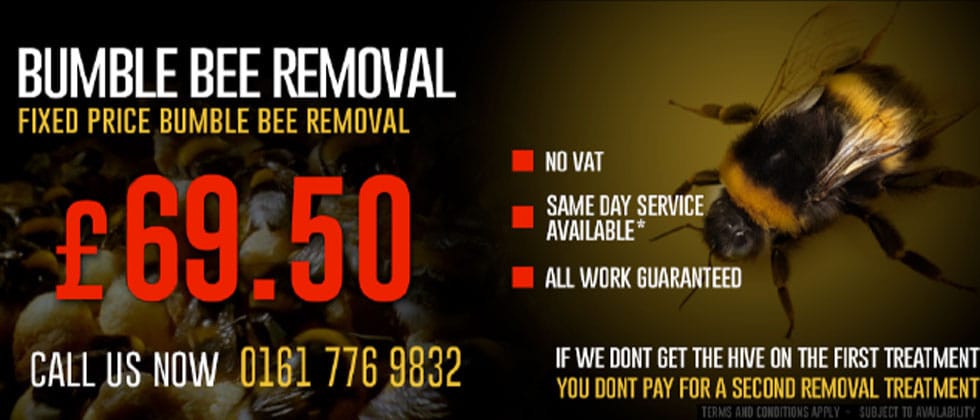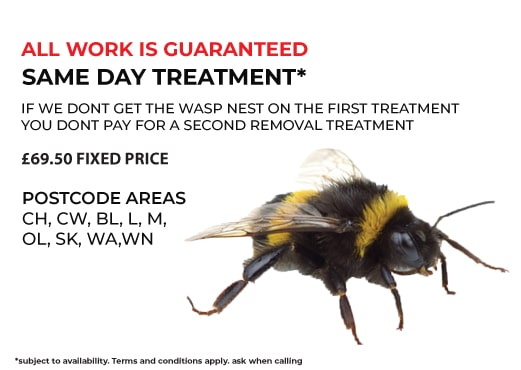 Need Help? Call us on 0161 776 9832 or drop us an email for expert pest control advice on how to identify pest infestations and help solve your problem.
Young's Pest Control Are The Oldham BumbleBee Control Experts
Young Pest Control is a reliable solution for bumblebee removal. If you need a fast and efficient Oldham bumblebee control service then we can help. Young's Pest Control offers the lowest prices for Oldham bumblebee nest removal. If you see a better price and tell us about it, we will match it! Our service is completely discrete and all of our Oldham bumblebee control professionals will arrive at your property in our unbranded white vans.
Friendly and efficient technicians - Our Oldham bumblebee removal technicians are friendly, efficient and highly experienced in all types of bumblebee nest removals. No matter whether you have a problem with a small bumble bee nest, or a major infestation, our technicians will be able to identify and ensure that it is completely removed.
100% Safe BumbleBee Treatment
It is important that you do not attempt to use any DIY treatments on the bumblebee nest. This can anger the bumblebees inside which may lead them to swarm and sting. Also, the insecticides in these DIY treatments may pose a danger to children and pets. We use a safe and humane Oldham bumblebee control treatment which is applied to target only the bumblebee hive.
Always available
A Young's Oldham bumblebee control expert is always ready and available to help you with your bumblebee problem. We provide 24-hour a day service every day of the week. No matter when you discover that you have a bumblebee infestation, call us and we will send out an Oldham bumblebee control professional the same day.
During spring and summer bumblebees can cause a lot of problems for homeowners. The tree bumblebees are an especially aggressive bumblebee which will attack humans and animals if the nest is approached. Tree bumblebees are able to sting multiple times and are not reluctant to do so if they perceive a threat. Even relatively small vibrations such as accidentally knocking the wall or door next to the nest is enough to make the bumblebees swarm.
You should be able to enjoy a safe home and garden without having to endure a bumblebee infestation. Bumblebees will often set up their nest very close to your home or garden shed. Not only are they are a nuisance, but they can also pose a danger to the members of your household. Call Young's Pest Control to have the bumblebee nest on your property removed today.