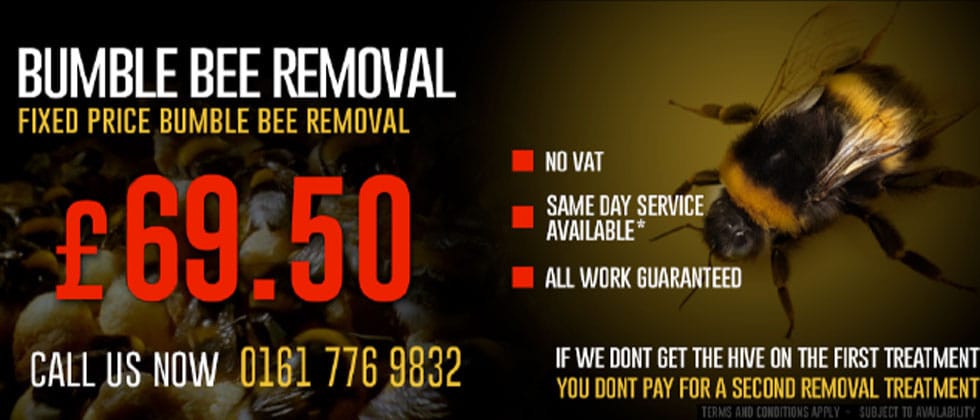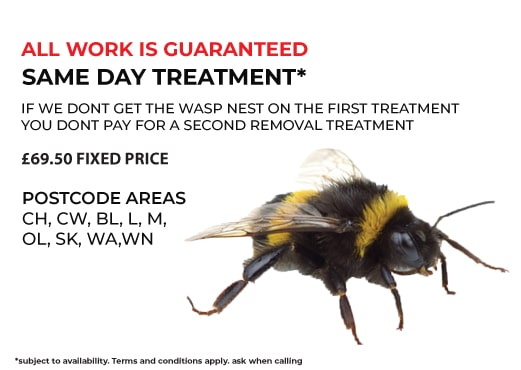 Need Help? Call us on 0161 776 9832 or drop us an email for expert pest control advice on how to identify pest infestations and help solve your problem.
Local Experts for Middleton BumbleBee Control
Youngs Pest Control is your local pest control expert. Whether its Middleton bumblebee control or any other type of insect or rodent infestation you may be having problems with, our technicians are on hand round the clock, any time of the year to provide a professional service for either domestic or commercial clients.
Dealing with Middleton bumblebee control requires professional knowledge. Normally, the common bumblebee or the tree bumblebee will not swarm or sting but if their nest is disturbed or threatened they can become aggressive:
* even though they are relatively slow moving, bumblebees can inflict a very nasty sting
* Unlike honey bees bumblebees can deliver multiple stings
* physical reaction to bumblebee stings and bites can vary from mild irritation through to severe swelling that may need medical attention
Bumblebee nests can be concealed in a variety of locations:
* garden compost or overgrown areas
* cracks or crevices in stonework or masonry
* this can make locating a bumblebee nest difficult to pinpoint.
Tree Bumble Bee
Until 2001 tree bumblebees were not known in the UK but since establishing themselves in the south they have quickly migrated northwards:
* tree bumblebees tend to prefer to make their nests in decaying hollows found in trees, shrubs or loose masonry
* other popular nesting places are bird boxes, lofts and beneath the floors of garden sheds
* safe removal and control of tree bumblebee nests requires professional know-how
* our operatives will ensure that a natural ecological balance is maintained with the treatment of both domestic bumble bees and tree bumblebee nests.
Youngs Pest Control is a locally based organization with highly trained specialist technicians who are qualified to deal with all Middleton bumblebee removals, nest treatment or control. Whether it's the indigenous bumblebee, tree bumblebee or any other infestation or type of pest or rodent control, Youngs Pest Control technicians have the solution.
All clients of Youngs Pest Control, large or small, domestic or commercial, always receive our full and dedicated attention and appreciate the professional, knowledgeable approach applied to even the most challenging situations.
Youngs Pest Control prices are competitive for all forms of pest treatment and control and our technicians will also be happy to offer advice. Whether it's Middleton bumble bee control or any other type of infestation. Young Pest Control is a local organisation and they are just a local call away.