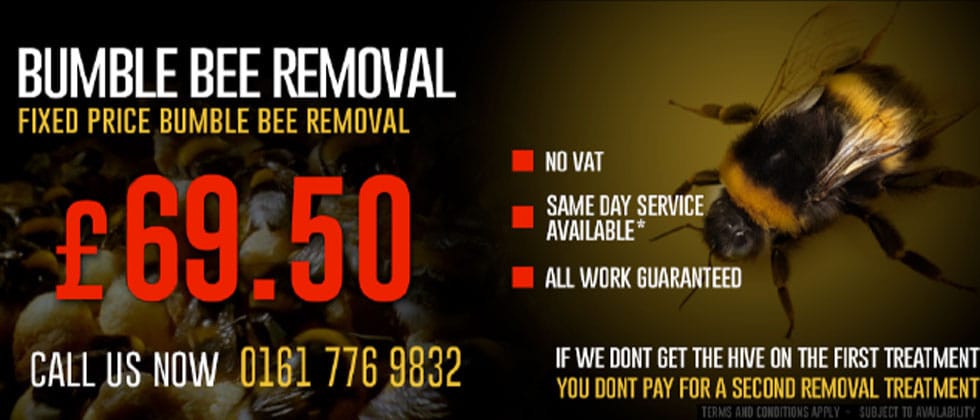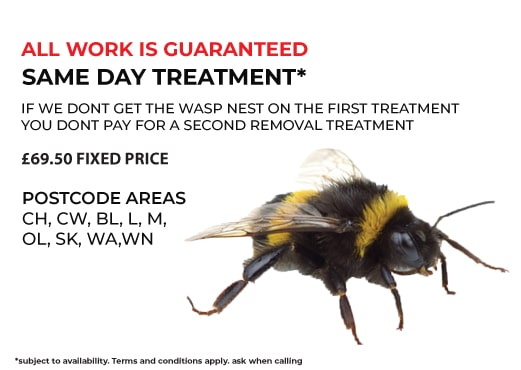 Need Help? Call us on 0161 776 9832 or drop us an email for expert pest control advice on how to identify pest infestations and help solve your problem.
Chadderton Bumble Bee Control Treatment
Bee populations in the UK have rapidly increased in recent years. Although not as aggressive as wasps and hornets, a bee infestation caused by a nearby colony can cause businesses and homeowners unnecessary distress and annoyance. Bee stings can be fatal to some people, particularly if they have an allergy to bee stings, which can cause severe reactions in the skin. Still, to the average person, they can also be extremely painful and uncomfortable. Bees commonly nest in undisturbed areas, such as attics, sheds and bird boxes, surrounded by a large swarm of bees. If you notice the appearance of large numbers of bees within a workplace or home, or even in the surrounding area, you may have a bee nest close to your living or working space.
Bee Species
Tree Bumble Bee
Our native tree bumblebees are commonly identified by their recognisable fuzzy appearance with a gold head, black body and whitetail. This bee species are often seen flying in and around buildings, particularly in the summer when windows are often left open. In addition to tree bumblebees, there are many other bee species within the UK, so if you think you have a bee infestation or nest, it is always essential to establish the bee species before effective treatment.
Professional BumbelBee Removal and Bee Control Services

The average bee colony can contain hundreds or thousands of tree bumblebees, including a single queen bee, so you should never attempt Chadderton bumble bee control without professional help. As a professional company with extensive experience in bumblebee removal and control, our team at Young's Pest Control has the knowledge, skills and tools to manage a bee problem effectively. We offer a quick and convenient Chadderton bumble bee control service, which eliminates the bee problem in the first treatment. We also provide an ongoing bumble bee control service if the situation should continue.


Our Chadderton bumblebee control service includes:
• Same day service
• Free bumblebee nest removal on the second attempt
• Prices vary according to the species and location of the bees
• Easy prepay service over the phone
• Commercial and residential services
• Minimum use of pesticides.
Our team can provide a complete Chadderton bumble bee control and removal service within 24 hours, seven days a week, so if you think you have a bee infestation, then give our friendly team a call for an immediate response.