Need Help? Call Us On 0161 776 9832 For Expert Pest Control Advice On How To Identify Pest Infestations And Help Solve Your Pest Problem.
24-Hour Old Trafford Rat Control Treatment 
Have you come across any signs of a rat
infestation on your premises? Perhaps, you have noticed droppings, heard scampering from time to time, or even smelt nasty odours. Whatever signs you find, it is crucial to look for an Old Trafford Rat Catcher Near Me, which in that case, is Young's Pest Control. We offer our customers 24-Hour Professional Pest Control Rats Services.
 Our team of able specialists is always available to give you answers to the most demanding questions regarding the best rat control treatments and removal services to use. In addition, we provide our top-rated Old Trafford Rat Exterminator services to all properties throughout this region.
What are the Signs of Rats Infestation?
Droppings
 If you find rat droppings in your house, this is the main sign that it's time to start looking out for an Old Trafford rat catcher near me. Looking at the droppings, it's easy to tell the infestation size and where they are most active. Rat droppings are typically a few inches in length.
 Fresh rat droppings have a putty-like texture and a shiny colour. The old ones, on the other hand, are crumbly and hard. The difference in dropping sizes indicates you have an adult and juveniles' attack. Therefore, when controlling a rat infestation, we often start assessing the areas with plenty of droppings.
Urine Odour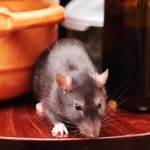 You can also know if you have a rat attack in your building from a strong urine smell. Rats' urine generally has a musky and robust odour. Thus, as the best Old Trafford Rat Exterminator, it would be best to contact us when you get a pungent smell.
Gnaw and Rub Marks
 Whenever rats travel along the floor or walls, they typically leave some oily rub marks. If you can easily smear these marks, it means that these creatures have been in the house recently. In addition, chewing marks on the furniture around the property is also a sign to look out for.
Runways
 Rats usually create pathways, building foundations, interior walls, pipes, ledges, tree branches, conduits, electrical wires, and fence rails. So, suppose you find tooth marks that are roughly an eighth inches long. In that case, it means it's time to contact Young's Pest Control for specialised rat control treatments and removal services.
Gnawed Holes
 Gnawed holes are also a sign that rats are moving freely in your house. Rats gnawed holes are usually large and have some rough, torn edges.
Noises
 Rats are nocturnal. Thus, you will regularly hear them scratching at night along the floors and inside the walls.
Why Choose Young Pest Control for Old Trafford Rat Extermination Services
Affordable Quotes
 After contacting our team today, you rest
assured that you will get an affordable quote within the shortest time possible. Afterwards, you will receive Professional Rat Extermination advice, which we will tailor to your prevailing needs.
Quick Response
 Our Rat Removal professionals in Old Trafford offers 24-Hour Professional Pest Control Rats Services. This way, it makes it easy to eliminate rats at any time of the day and in the case of an emergency.
Accredited
We are one of the most experienced rat extermination service providers in Old Trafford and the surrounding areas. In addition, we are accredited to offer these services, thanks to the modern equipment and methods we use.
 Lastly, whenever rats attack your house, it means you are in for a rude shock. Therefore, it's recommended to destroy their nests instantly to prevent potential dangers. Luckily, Young's Pest Control is a professional Rat Treatments company that assures to eliminate the rats thoroughly.
 Our 24/7 Rat Control and Treatment Services show we are ready to help you do away with these nuisance pests all year round. Thus, do not shy away from contacting us if you find yourself in an emergency.
Remember that rats attack more than a million houses in the United Kingdom yearly. Unfortunately, the situation appears to be on the rise in Manchester. Since they can spread diseases or even cause fire, it would be beneficial for you to have Young's Pest Control assess your property for their presence.
M16