Need Help? Call Us On 0161 776 9832 For Expert Pest Control Advice On How To Identify Pest Infestations And Help Solve Your Pest Problem.
24-Hour Hulme Rat Control Treatment 
At Young's Pest Control, we provide 24-Hour Professional Pest Control Rats service to the residents and commercial property owners of the Hulme area. We are only a phone call away when you need the area's most reliable rat extermination experts. 
The reality is that rats represent a severe risk to your property. They also threaten the health and well-being of everyone who is regularly visiting your home or business. Therefore, taking quick and decisive action is essential once you identify that you have an infestation of rats in your residential or commercial property. 
Your Reliable and Efficient Local Hulme Rat Exterminator
 Our team of pest control pros is proud to provide rat treatment, extermination, and removal services here in the local Hulme area. Our company was founded to make a difference in the communities that we serve by helping homeowners and business owners to be rid of pest problems such as rats. 
 When you hire our team of pest control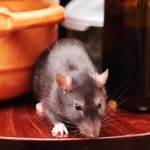 pros, you can rely on our commitment to customer service. This commitment includes making sure that we respond quickly. We also offer 24-Hour Service to count on us to be there when you need us, whether it is daytime or nighttime. This is all part of our commitment to serving the local Hulme community here at Young's Pest Control. 
Rats Can Pose These Threats to You and Your Property
 Rats are a significant threat to you and your property. This is because they can cause property damage, and their presence can have serious negative consequences on your health. For example, rats can get into the food storage areas in your property and contaminate them. Chewing through wiring in your home is another kind of property damage that rats will cause. 
 Rats will also leave their droppings and urine all over your property. Rat droppings and urine can cause your property to have a foul odour. They can also lead to diseases, including Lymphocytic Choriomeningitis, Hantavirus, Salmonella, Leptospirosis, and Tularemia. 
These Signs Indicate a Rat Infestation at Your Property
 It is highly beneficial for property owners to be aware of the common signs that indicate the presence of rats. These signs include:
Rat teeth marks on surfaces on your property

Rat scratch marks

A rustling and scurrying sound in your walls

Rat footprints

Foul odours from rat urine and droppings

Holes in surfaces

You see live rats moving on your property

You find dead rat carcasses
 When you detect these signs, you likely have an ongoing rat infestation that will need to be addressed by our team of professional rat control experts here at Young's Pest Control.
The Importance of Bringing in a Professional Hulme Rat Exterminator
 There are key benefits of hiring Young's Pest Control for all your Rat Extermination needs here in the Hulme region. The benefits of using our Service include:
24-Hour Service is available

Our staff will arrive in unmarked service vehicles to protect your privacy

We offer quick response times

Our staff members are highly trained and experienced

We utilize methods that are proven to be effective at eliminating rat populations
Schedule Your Rat Control Treatments and Removal Service Today
 When you need 24-Hour Professional Pest Control Rats Service here in the Hulme area, you need to give us a ring here at Young's Pest Control. We provide the most trusted and effective Rat Control Treatments and Removal Service in the region. So reach out
to our team today to schedule your service call. We pride ourselves on offering quick response times and delivering efficient Service that will cause you the least amount of disruption to your daily activities as possible. Our pest control professionals look forward to assisting you with your Rat Infestation needs here in Hulme.
M15