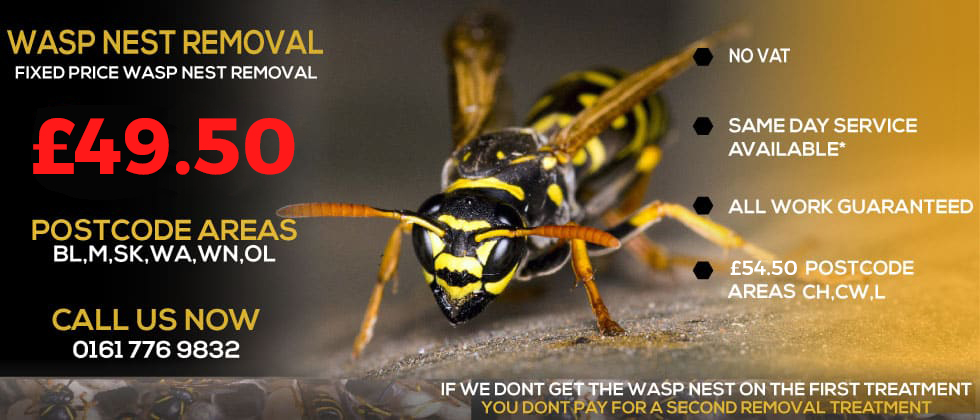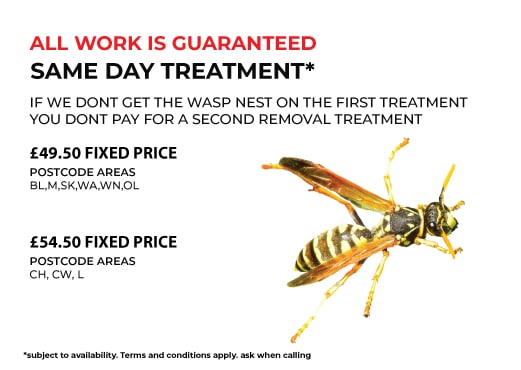 Need Help? Call Us On 0161 776 9832 For Expert Pest Control Advice On How To Identify Pest Infestations And Help Solve Your Pest Problem.
Hindley Green Wasp Nest Removal 
Due to the increasing number of pests in our homes and offices, pest services have become more popular among Hindley Green citizens. Wasp is among the
dangerous pests that can cause severe health problems, especially to allergic people. Wasp nest removal cost may discourage some people from hiring professionals, but DIY pest control can cost more in the long run. Lack of training and skills are some of the main factors that should discourage you from doing it yourself pest elimination. Local Hindley Green Wasp Nest Removal service providers like Young's pest control can help you eliminate the wasp problem at an affordable cost.
 A Wasp exterminator will use high and modern innovation to eliminate wasp effectively. Safety from wasp is among the main reasons for having a professional wasp exterminator. Young's pest control services' personnel are well trained in wasp elimination techniques in different environments. Therefore, they handle the hornet and wasp control process and insecticides with a high precision level. Also, the methods used by local Hindley Green Wasp Nest Removal experts are all eco-friendly with minimum or no side effects on humans and animals.
 The working mechanism of young's pest control service is to prevent pest reinfestation by treating the source. During wasp spray application by a professional, you need not evacuate since their sprays and gels are environmentally friendly.
 At Young's Pest Control, we offer affordable and effective hornet and wasp control services across Hindley Green. You can call at any time as we are available during the day and night for all the seven days of the week, including public holidays. You are only required to explain your problem, and our experts will visit your premises for a more in-depth analysis.
Why it is not safe to do it yourself
Mistakes
 The possibility of making costly mistakes is very high
when you decide to get rid of wasp nests without professional help. Professional wasp nest removal experts will charge you a service fee, but the results are always worth the money you spend. wasp nest removal cost is also higher when you try to do it yourself, plus the possibility of succeeding is low due to lack of skills and experience. Most people who try DIY pest control end up paying more for the service because they call a professional pest control company when the pest infestation is at its advanced stages. 
Potential risks
 The only sure way of protecting your family from wasp stings is by hiring wasp elimination professionals rather than doing it yourself approach. Amateur wasp removal techniques can be a recipe for disaster, especially if you lack the required personal protective equipment. There is a high risk of wasp stings, and the repellent insecticides can be harmful if they come into contact with somebody parts. You should also avoid coming into close contact with wasp nests if you are allergic to wasp stings. Multiple wasp stings can cause a painful allergic reaction, which can sometimes cause serious health complications.
Time wastage
 Wasp elimination is not a one day job. Many activities need to be done before you get rid of a
wasp nest. For example, the experts must visit your home for inspection and source identification. You can waste a lot of time to get rid of the wasp nest since you don't have the right skills to inspect and identify wasp sources in your home. Most people who try DIY pest control spend a lot of money buying elimination products because they don't solve the problem from its source.
Conclusion
 Avoid the above challenges by putting your trust in young's pest control service for quality, effective, fast and affordable services. The only thing you need to do is call the company for a free quote and professional removal services. 
 Don't wait until the wasps sting someone as while there are experts in your neighbourhood. Our Hindley Green Wasp Nest Removal experts are available at any time of the day and night, including weekends and public holidays.
WN2