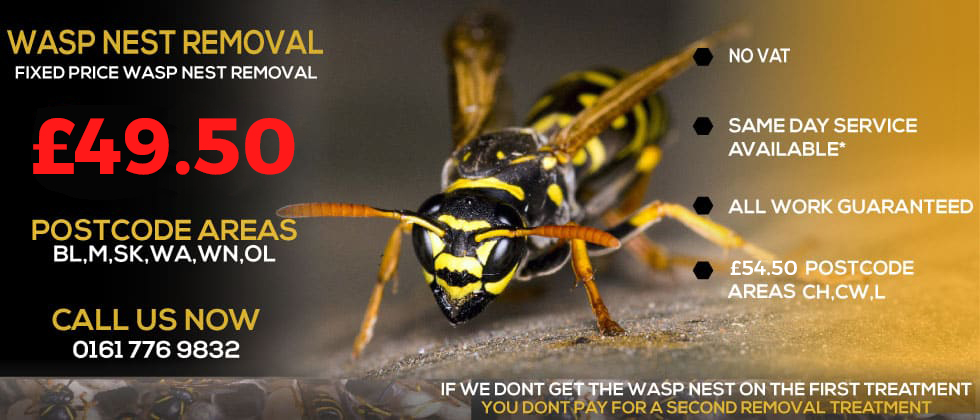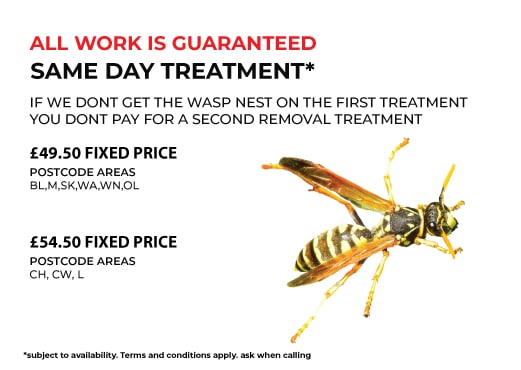 Need Help? Call us on 0161 776 9832 or drop us an email for expert pest control advice on how to identify pest infestations and help solve your problem.
Expert Hindley Wasp Nest Removal
The spring and summer months in the UK bring a host of familiar sights, with one that is not welcomed by many being wasps. These insects, along with their common cousin the hornet, can be found in most locations across the country. While one or two is an annoyance that most people can deal with, it is a different story if a nest is involved. The size of these can grow during summer until they are home to thousands of insects and a Hindley wasp nest removal treatment by a professional service is the best way to deal with this.
Dangers of Wasps and Hornets


A single wasp or hornet is capable of stinging more than once and this can make an attack a painful experience. The insects are extremely protective of their home and if this is disturbed, even inadvertently, they can defend it in numbers. This makes it potentially dangerous and finding a nest close to your property is therefore not something to take lightly.
Avoiding the Risk
To avoid the risk that a nest poses, it is best to have it removed. However, it is not a job to consider doing yourself as making a mistake can trigger an attack that leads to injury. It is far better to call in a professional to handle a hornet or Hindley wasp nest removal treatment. This ensures that the job will be carried out and completed in a safe and competent manner that poses no danger to either the Hindley wasp removal professional themselves or to anyone else in the area around the nest site.
Get in Touch for wasp removal
If you find that wasps or hornets have set up home in the vicinity of your property we welcome your call to discuss the matter and this is available to both residential and commercial customers. We offer a fixed price Hindley wasp control service that is affordable and guarantees that the job will be completed. A same day service is available for those that want a problem nest dealt with quickly and you can get in touch by phone or using our online contact service.