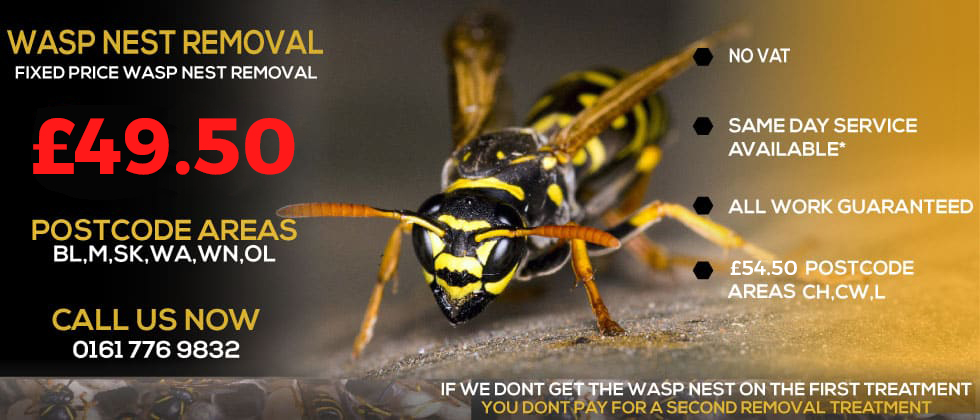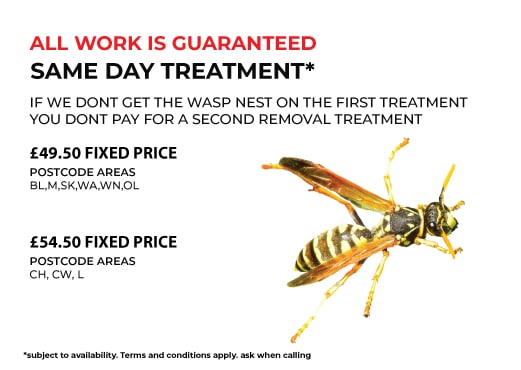 Need Help? Call Us On 0161 776 9832 For Expert Pest Control Advice On How To Identify Pest Infestations And Help Solve Your Pest Problem.
Higher Green Wasp Nest Removal 
People deal with wasp infestation daily, but
they fail to consider the risk it has on the property. Wasp stings are painful, and they might lead to severe skin allergies. If you see one wasp, know there is a wasp nest somewhere. It is dangerous to deal with wasps by yourself. Instead, consider hiring professionals to eliminate them. Your inadequate knowledge of wasp nest removal equipment might make it difficult to achieve any results. For those reasons, you should consider hiring experts to get rid of the wasp nest in your compound.
The lists of services you get after hiring Young's Pest Control Services.
Hornet and wasp control

Pest inspection services.

Wasp nest removal.
 People believe that wasp stings are the only dangerous consequences of wasp infestation. However, wasp nests could reduce your property's value, and these nests could also harbour other pests. In most cases, you might start dealing with bees if you fail to control wasps on your property. Some of the effects of were excessive wasp infestation are discussed below.
Excessive wasp infestation can affect your structure or even the roof.

Wasp stings cause skin irritation and inflammation.

Failure to get rid of the wasp nest could lead to the multiplication of wasps, which might prove challenging when you want to apply wasp exterminator procedures.
Methods used in wasp nest removal
 Higher Green Wasp Nest Removal experts possess the equipment, the skills, and capability to get rid of a wasp nest. Since they are professionals, and their skills are unquestionable, they know how to handle different treatments. Try Young's Pest Control and say goodbye to wasp nests in your compound. All the Higher Green wasp nest removal processes are safe and efficient.
 Some of the skills necessary in wasp nest removal include. 
Attention to details - all the infested areas are treated and cleaned. 

Efficiency - experts leave no stone unturned and perform wasp exterminator procedures in all their debris.
Reasons why you should hire Young's Pest Services
Cost-effectiveness - before the commencement of wasp nest removal, you receive an estimate. It will cater for wasp nest removal cost. You have a guarantee that if anything goes wrong, you might not pay twice. The estimated price caters to all the wasp removal services.
Availability - these professionals understand that round the clock availability is essential. Once you contact them, it takes the least time possible before they arrive. You also get a quick response via email and phone calls.
Professionalism - they are experts in wasp nest removal. They understand that the exercise's discreteness is key. You could also focus on other engagements since the experts need no supervision to deal with hornet and wasp control.
Dependability - Everything needed for wasp nest removal will be provided without additional charges. They know the exact insecticide treatments to use and where to obtain them. You might not have to worry about the safety of the medicines because only eco-friendly products are used. Their wasp nest removal cost carters for all the procedures. 
Additional services - Apart from wasp nest removal, these professionals also clean your premises and property of any debris. They also get rid of a wasp nest. You also get wasp infestation reports, and they inspect your premises before leaving.
Efficiency - Nothing beats the skills that the experts have. There is no trial and error in the wasp nest removal services. They value customer satisfaction because, to them, a solid reputation is everything.
Appropriate personal protective equipment - Dealing with wasp nest removal are dangerous. If you do it yourself, you stand the risk of getting wasp stings. You might suffer from skin irritation if not a skin disease. The experts have several personal protective equipments for use during the wasp treatment. Given their tactics in ambushing the wasps, you might not experience retaliation and possible attacks from the swarm of wasps.
M29