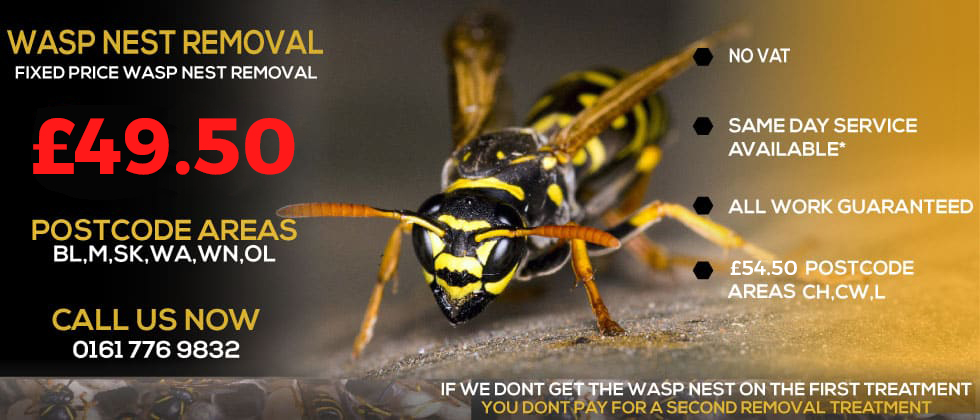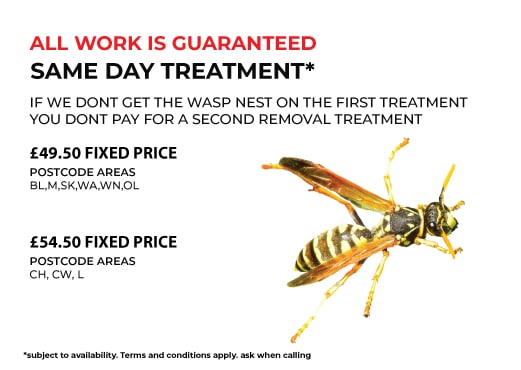 Need Help? Call Us On 0161 776 9832 For Expert Pest Control Advice On How To Identify Pest Infestations And Help Solve Your Pest Problem.
Heaviley Wasp Nest Removal 
Wasps are a nuisance and cause property damage. The paper-like nests created by
wasps absorb water and cause wood damage. Hornet wasps give nasty sting and cause injuries to humans. Many people are allergic to such stings, increasing the magnitude of the risk posed by these insects.
 Unfortunately, there is no way to avoid wasps in most parts of the U.K. Wasps are a common occurrence in almost all places. These insects multiply during the spring and summer. They become especially aggressive and swarm as the summer comes to an end, creating a big-time nuisance. Destroying their nests as early as possible minimise the damage and inconvenience. The only effective solution to eliminating wasps is by availing the services of a professional wasp exterminator.
 The first step in ending the menace of wasps is understanding the nature and characteristics of these pests. Wasps come in uninvited, despite the best of precautions. These insects build their nests in sheltered and enclosed places, such as wall cavities, under the eaves, in lofts, and other places. Even a small wasp nest of around 30 cm in length could host 6000 wasps. 
 When you suspect wasp infestation in your
home, call a professional hornet and wasp control service immediately. A DIY approach in wasp control is almost always ineffective. Only a professional wasp exterminator can identify all the wasp nests in the property and offer an effective remedy to exterminate all the wasps. Leaving some wasps behind will soon result in newer nests.
 A DIY approach to remove get rid of wasp nests is dangerous. Wasps get provoked when their nests are disturbed and cause painful stings. A professional hornet and wasp control service does a thorough and comprehensive job, covering the entire premises, and offering long-lasting relief. The trained agents come with the proper personal protective equipment and tools, to remove the nests and exterminate the wasps without any risk of injury.
 Use our Heaviley Wasp Nest Removal service to remove get rid of wasp nests.
 Our wasp exterminator service makes an in-depth analysis, and identify all the wasp and hornets on your property. Our agents are aware of the different species of wasps found in the region, and their characteristics. We eliminate the nests, eradicating the threats. 
 Heaviley Wasp Nest Removal service use safe methods to remove get rid of wasp nests. Our methods do not cause any harmful side effects or leave behind traces of any toxic insecticides. We use safe pesticides that do a thorough job with the insects but do not affect humans. Our process is 100% safe and guarantees the desired result. 
 Our skilled field agents do a thorough job with a high level of professionalism. We are a customer-focused concern, and strive to delight our customers by doing a thorough job. We have honed in best practices from our experience, and deliver highly efficient operations. For instance, treating the wasp nest at night, when all the worker wasps and also the queen wasp is present in the nest, delivers the best results. 
 Our wasp nest removal cost offers excellent value for money. We offer flat fixed rates, with guaranteed results. We do a thorough job and complete the process in double-quick time. Our service is discreet, and you face only minimal inconvenience. Our work is guaranteed, and you can have the peace of mind that comes with a professional job.
 We offer the lowest wasp nest removal cost in your region. Our low operating costs allow us to deliver highly-effective hornet and wasp control service at guaranteed lowest rates.
Make sure your home is free from the
nuisance and risks of pests, and as comfortable as possible. To avail of our Heaviley wasp nest removal service, simply give us a call. Our team will take up your issue promptly. We will give you a very reasonable quote, and do a thorough job in double-quick time. Hire our services as soon as possible to enjoy the long summer days in the comfort of your homes. 
SK2