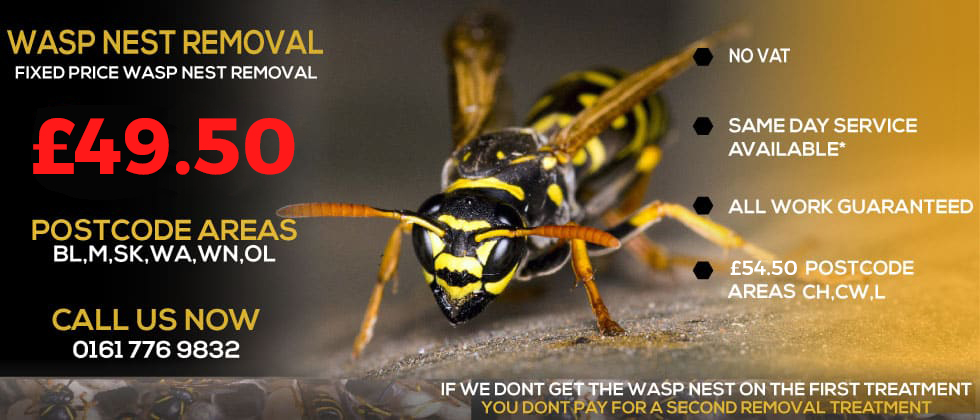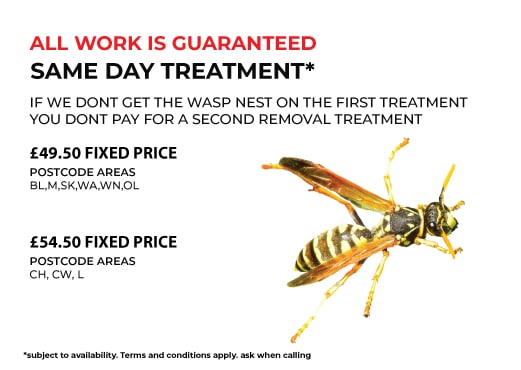 Need Help? Call us on 0161 776 9832 or drop us an email for expert pest control advice on how to identify pest infestations and help solve your problem.
Cheadle Wasp Nest Removal Treatments
Unlike the friendly bumblebee, a frequent visitor to our gardens that helps pollinate flowers and make honey, the wasp and the hornet are not welcome. These insects can be a real menace in the warm summer months when families want to enjoy their gardens, including barbecues and outdoor cooking, attracting unwanted insect visitors. Young children may become upset and anxious with wasps around and prefer to stay indoors. Family members with allergies to wasp stings will need to keep them safely inside. A wasp's sting can be an unpleasant experience and, in a few cases, can trigger an allergic reaction or even be fatal.
Wasp control and Cheadle wasp nest removal treatment
When several wasps are seen in a location, there may be a wasps' nest near at hand, for instance, in a crack in a wall or a roof space. This is when you'll need to get some professional advice on Cheadle wasp control measures. Some homeowners may worry about the expense of getting a professional pest removal company to attend and investigate the problem and may try to tackle the problem themselves. This can be a costly mistake, with unexpected results as the wasps may become angry and swarm or attack.
Advantages of using a professional pest control company for wasp removal
• Pest control operatives are highly trained in Cheadle wasp nest removal treatment
• They know how to react if wasps become angry and decide to swarm.
• They are trained in working at heights if necessary.
• Staff are covered by insurance.
• Pest control operatives have access to specialist products, such as insecticides, that cannot be bought at a DIY or garden store. These are almost certainly likely to be more effective in getting rid of a wasp or hornet problem.
Young's Pest Control services
Young's offer a local and surprisingly affordable solution to your wasp or hornet problem. If you see a wasp in your garden, pick up the phone and give them a call for advice. They'll be waiting for your call.