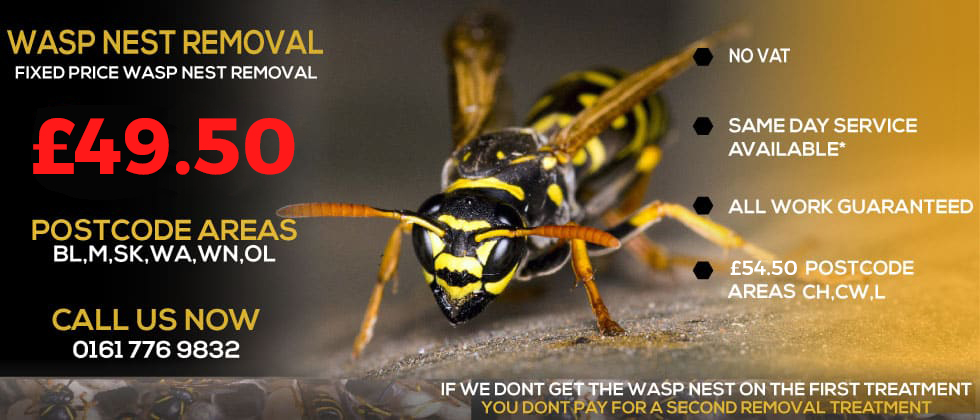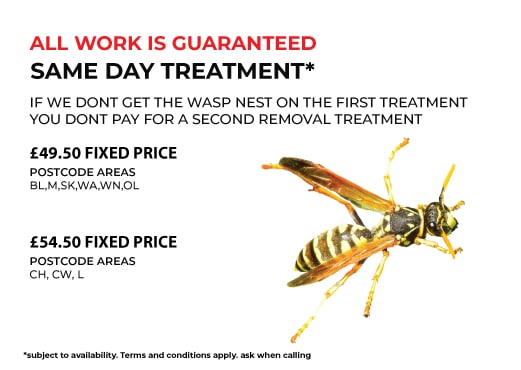 Need Help? Call Us On 0161 776 9832 For Expert Pest Control Advice On How To Identify Pest Infestations And Help Solve Your Pest Problem.
Handforth Wasp Nest Removal 
 You may have a nest nearby if you notice a huge number of
Wasps or Hornets swarming around your home or garden. However, if you don't see many Wasps or Hornets swarming around but hear them or assume a nest nearby, you should be concerned.
 We recommend that you examine for any holes, cracks, gaps, or services in the structure of your home or outbuildings and see if there is any activity. If there is any activity, the hollow is most likely home to a nest. Furthermore, if they are present and entering or leaving the property or garden from multiple locations, there are most likely various nests. Our highly trained, experienced fumigators will inspect the property and provide you with additional information on the day.
How do I get rid of Wasp Nest?
 Handforth highly advises against treating or removing an active nest on your own. However, suppose Wasps or Hornets are alive and disturbed. In that case, they may feel intimidated and become hostile almost immediately to defend their nest and young, with hundreds of them swarming around at once in seconds. As a result, we strongly advise you to contact our services and leave it to the experts. There are no over-the-counter insecticides strong enough to kill a nest and an infestation; specialist treatments are required. Our skilled Wasp Exterminator can treat the nest and nesting wasps with particular insecticides and processes, eliminating the need to remove the nest itself.
 Handforth Wasp Nest Removal is a highly qualified fumigator who has been trained to find the nests for you, as they are frequently situated in multiple areas. Our fumigators will then walk you through the entire process and eradicate it as needed. Please read on to learn more about the actions that must be taken before and after fumigation treatment.
On the other hand, our technicians will be able to provide you with more information if they request that you leave the property for safety concerns, such as creating a nest in the corner of a room inside your home. If a nest is being treated inside a property, Handforth Wasp Nest Removal advises you to make sure no young children or animals are present. Please do not hesitate to contact us if you require any additional information.
Why Handforth Wasp Nest Removal?
 • Handforth Wasp Nest Removal is dedicated to keeping out of your homes and businesses. We are committed to ultimate customer satisfaction and deliver an environmentally safe, outstanding, and dependable service. We provide the finest grade of Hornet and Wasp Control management at very cost-effective pricing as the top service provider in the Wasp management business.
 • Handforth Wasp Nest Removal offers both residential and business services and can handle any species of wasp in an environment safely. Adhering to the greatest performance and professionalism is our desire. We respond quickly to an emergency, and our wasp nest removal cost is pocket friendly. We are reachable 24/7. Our response cards are unmarked, ensuring the highest level of secrecy for you, our valued customers. 
 • Our wasp exterminator service for
domestic use is designed to keep you and your family safe from wasps. Wasps in your house can expose your family and pets to various dangers; therefore, they should be eliminated swiftly and effectively. We get rid of a wasp nest in a way that is not only safe for your children and pets but also incredibly effective and environmentally friendly.
 • Wasp Control methods from Handforth are both safe and cost-effective. The wasp nest removal cost is fixed, making it affordable no matter the situation. In addition, our wasp exterminator experts will have complete Hornet and Wasp Control experience. We also provide same-day service, so if you genuinely despise wasps, we can help, and we guarantee that Wasp Nests will be entirely removed.
 People and businesses believe they can handle their pest problems on their own,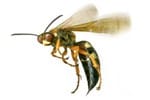 only to discover that buying goods from DIY stores with a low percentage of insecticide makes the infestation worse. This could end up being a costly waste of time and money. Handforth offers a cost-effective hornet and wasp control solution and advice on how to avoid future infestations.
SK8
SK9