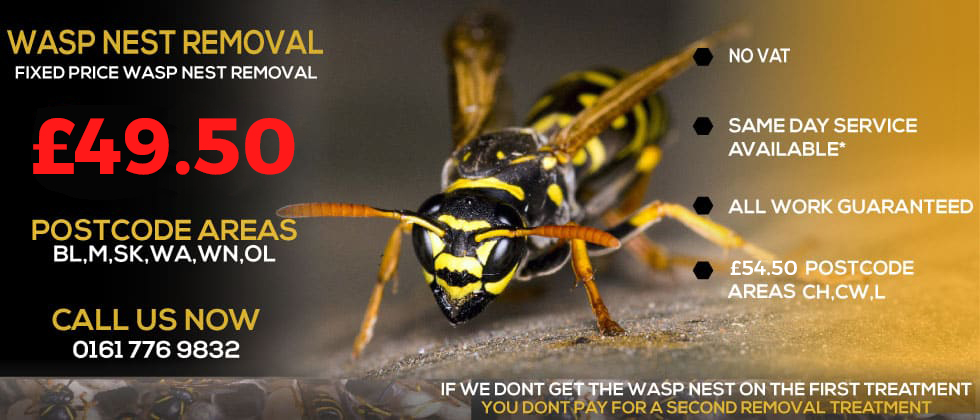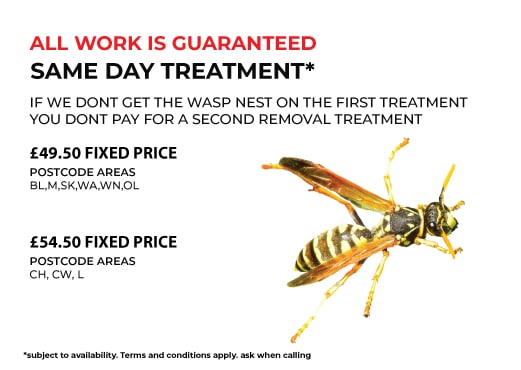 Need Help? Call us on 0161 776 9832 or drop us an email for expert pest control advice on how to identify pest infestations and help solve your problem.
Cheadle Hulme Wasp Nest Removal Treatments
Summer season is here and most of us must be thinking of the outdoor fun! But did you know that during these months, insects like the wasp and hornet become more active? The Common Wasp and the German Wasp are the most common species that cause a nuisance in the UK. Wasps are sometimes confused with Honey Bees due to their yellow and black colour in their bodies, and even a hornet can be mistaken as a wasp due to its appearance. And aside from this, there's another one sure thing which is common with them and that is the fact that their sting can be potentially dangerous. If a person who is allergic to their venom is stung, it can be life-threatening. The worst thing is, you will only know that you are allergic once you get stung by it. Therefore, prevention is extremely important.
Now, if you spot these insects lurking in your yard or inside your house don't fret. Instead, go and find out where their nest is. Why? Because removing the nest itself is the most effective way to eliminate them. In addition to that, their nest gets bigger and bigger as time passes by which also means that these insects are increasing in number; that we do not want to happen, do we? For safety reasons though, it is discouraged that you use DIY methods to destroy the nests. The next best and easiest thing for you to do is to contact a professional in Cheadle Hulme wasp nest removal and wasp control treatments to do the job. Pest control experts like us have the right knowledge and appropriate equipment to safely carry out this job. Having this done by a professional will not only ensure your personal safety from possible dangers of numerous bites but will also guarantee you of effective Cheadle Hulme wasp control, permanent wasp removal and prevention of this problem from getting worse.
Don't let these troublesome insects ruin your warm summer months, pick up your phone and leave the Cheadle Hulme wasp nest removal treatment to us! Remember, it is better to be safe than sorry.