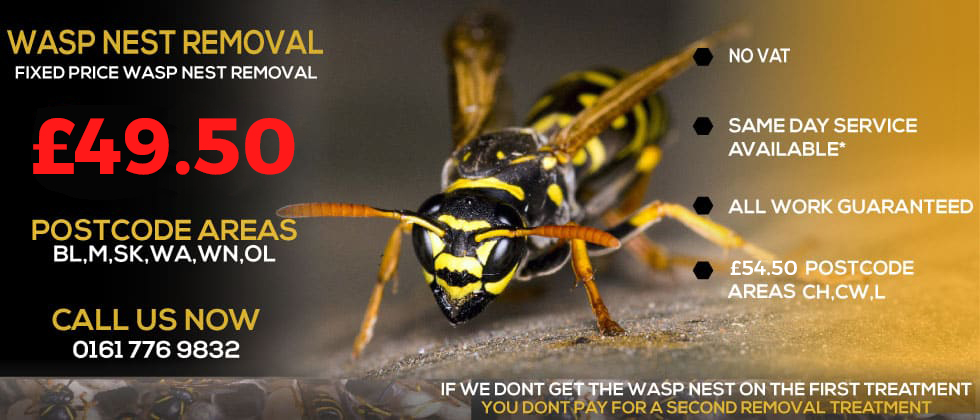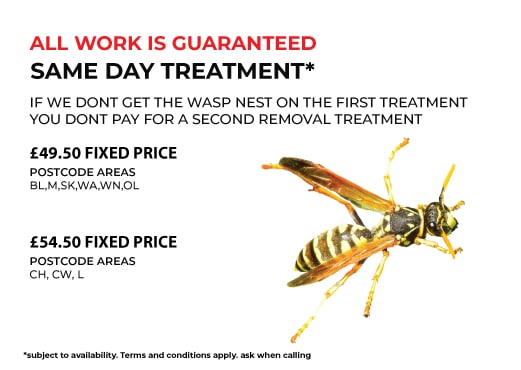 Need Help? Call Us On 0161 776 9832 For Expert Pest Control Advice On How To Identify Pest Infestations And Help Solve Your Pest Problem.
Prestbury Wasp Nest Removal
Once you notice the presence of Wasps in your home, office, or surroundings, the next thing that comes to mind is to look for a safe and efficient way to get rid of them. And the most reliable, effective, and quick wasp exterminators around, Prestbury Wasp Nest Removal experts, are always on call to assist you. Wasp nest removal services are essential to ensure that they can't cause harm to you, your loved ones, or guests. But not all Wasps nest removal services are good at what they do. Some are bad, some are good, and some are extremely good at what they do. However, Youngs Pest Control is one of those Prestbury Wasp nest removal services you can entirely depend on. The reasons why you can rely on our wasps' nest removal service are:
We have trained Wasp Exterminator.

Our Wasp exterminator uses the latest insecticides and techniques to get rid of wasp nests.

We ensure that your home or workplace is wasps free as quickly as possible.
 When you find wasps in your home, garden, or office, please try not to get rid of wasp nest yourself. Instead, call us, and we'll quickly come to your rescue. We offer comprehensive Wasps control service for domestic and commercial clients in Prestbury and its surrounding environment. Remember that a nest often has thousands of wasps inside it and can get very aggressive if disturbed. So you should never try to attempt a wasp nest removal to avoid endangering yourself, loved ones, neighbours, and guests.
How We Get Rid Of Wasp Nest
 We get rid of wasps in three steps. First, we
figure out the species of wasps that you have around. A professional Wasp Exterminator will constantly assess the infested home, office, or environment. Next, we do a risk assessment test to know the most proficient, safe, and quick treatment method to use. After successfully carrying out the risk assessment test and deciding on the most effective treatment method to use, we proceed with the treatment. Our Wasp exterminators use the latest specialist equipment to enter the nest opening before applying the pesticides. Once they apply the treatment insecticide, the area becomes busy with the wasps coming in and out until they gradually die off. After all the habitants die off, our Prestbury Wasp Nest Removal experts will safely hit the heart of the nest. You won't find any wasp activity within a few hours because, at this point, all the Wasps and their inhabitants will have been removed. 
Why Use Our Prestbury Nest Removal
We are professionals in Wasps control. We use the most efficient, safe, latest technology and insecticide, with a reliable approach to fight and remove wasps from your living and office environment. Youngs Pest Control's Wasp nest removal cost is a fixed rate for the service we render, which means that you get value for every dollar that you spend with us. Though sometimes, we deliver more than the Wasp nest removal cost that we charge. 
Our Hornet and Wasp control is Open Seven Days A Week.
 When you find Wasps around your home or property, you'll want to get rid of them quickly so that you or your loved ones don't suffer a painful sting. That is why you need a Hornet and Wasp control service that you can call even on weekends, and they will respond quickly and come to your rescue. Having Wasps around can put everyone around your home or office in fear. And we don't want you or your family members to live in anxiety and panic. That is why we are
available every day. It doesn't matter if it's day or night. When you find this deadly pest in your surroundings, call us right away. Just give us a call, and we'll be right there to ensure that they are safely chased out of your home without exposing you and your household to any form of danger. Always remember that we respond immediately when you call.
SK10