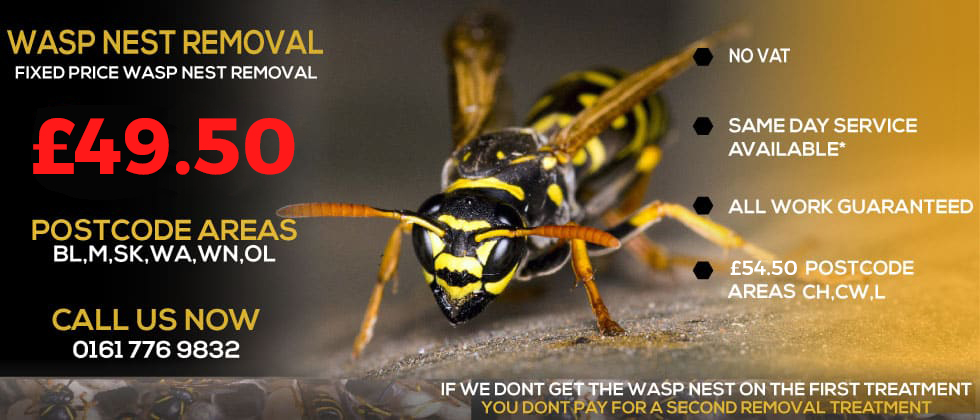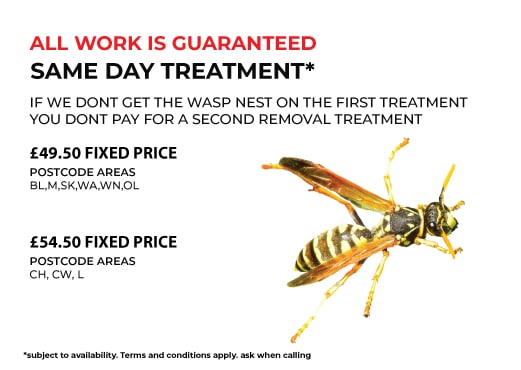 Need Help? Call us on 0161 776 9832 or drop us an email for expert pest control advice on how to identify pest infestations and help solve your problem.
Poynton Wasp Nest Removal 
Wasp Control has been a significant problem for residents of Poynton. An attempt to get rid of the wasp nest by yourself is not advisable due to the numerous risks. Our professional assistance is the best option since we offer comprehensive wasp extermination and control solutions that will make your home or commercial place pest-free. Our professionals have undergone training and have the necessary skills on how to remove a wasp nest correctly.
 Wasp tends to build their nests in loft places, under the house's eaves, in wall cavities, and other hidden areas of your home. Our experts identify and execute all the wasp infestations using the most modern and effective methods to avoid a re-infestation in your place.
Why call us?
 Here are some reasons why it's essential to call us whenever you need wasp nests removal services in your home or commercial place.
Highly skilled wasp exterminators
 Our experts in Poynton have vast skills and knowledge of removing wasp nests without creating any risk to themselves and other
people inside the house. They are trained to handle wasp's nests and know precisely what to do during the Wasp Nest Removal process. Before we begin any hornet and wasp control process, we first inspect the area before developing a strategy for executing the wasp nest removal flawlessly. Then, get a wasp exterminator to help you eliminate the wasp nests without causing any risks and complete the task successfully.
We ensure safety
 Hornet and Wasp Control isn't as easy as many may think. It involves many risks, including wasp stings, which can cause severe human health issues. In addition, if the proper procedures of a Hornet and Wasp Nest Removal have not been adhered to, you, as well as your family members, could be in great danger. Therefore it is advised to get a professional to help you out with the Wasp Nest Removal. When you hire our professionals, you will be guaranteed safety for you and your family members. In addition, we offer excellent Wasp Nest Removal work that will cause not worsen the risk situation. 
We offer quick services.
 Our pest control experts are highly reliable. We visit your home soon after receiving your call at any time of the day or night. Our company is aware of how dangerous wasps can be, so we will be at your premises or commercial place to get the job done within a few hours. Regardless of how severe the wasp infestation can be, we will ensure that the job is completely solved to regain your peace of mind. Time is a crucial factor in our operations, and we always do our best to get our clients the best services on time.
We have the right equipment.
Poynton Wasp Nest Removal Experts have the necessary Personal Protective Equipment to use whenever they are called for a Wasp Nest Removal job by a client. These Personal Protective Equipment are essential for the work because the dangerous wasps get annoyed when their nests get disturbed and attack as a group. The protective kit protects them from the painful stings of the wasps and enables them to close the wasp nest to remove them with ease. With our essential tools and protective equipment, we do a safe home wasp nest removal that won't cause much harm to the environment.
Affordable to Hire
 Let cost not be a significant concern because we offer excellent services to our clients at an affordable wasp nest removal cost. Invest a little bit of your money and create a comfortable environment for you and your family when you let our professionals get rid of a wasp nest. When you hire us, we come with our Personal Protective Equipment, eco-friendly wasp control products, and put our skills into action to effectively eliminate the wasp nest. Other health costs may arise when you try to do it yourself because you will be putting your life at significant risk. Hire our local Poynton Wasp Nest Removal Experts at an affordable wasp nest removal cost and have a great job done.
Conclusion
 Wasp Nests are dangerous and tricky to
remove. Attempting to remove a Wasp Nest by yourself can put you, your family, and your friends at risk. Instead, get a Wasp Exterminator to help you out. Our Poynton Wasp Exterminators are available to hire. Just pick your phone and call us to get your Wasp Nest Removed effectively.
SK10