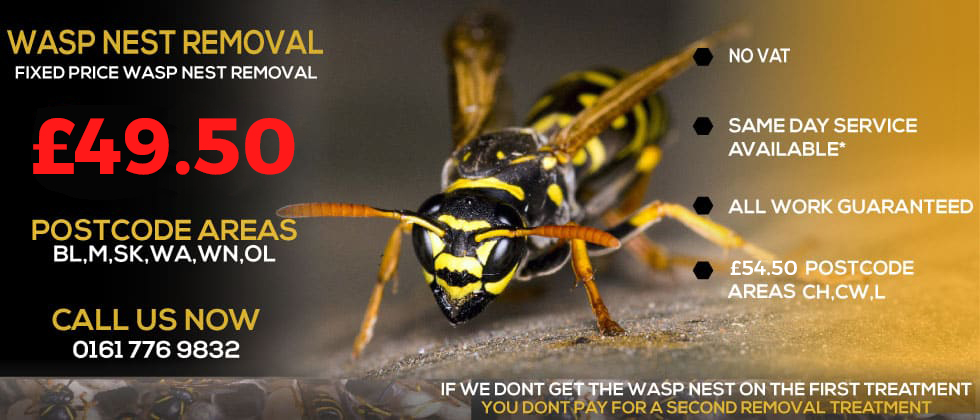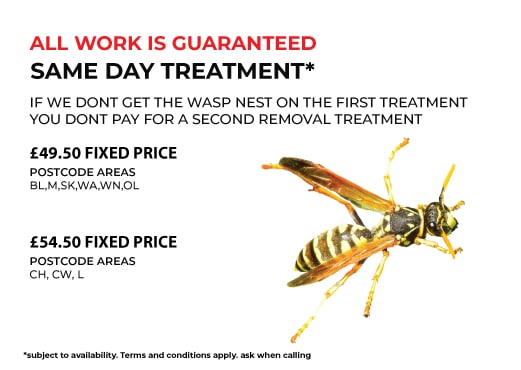 Need Help? Call us on 0161 776 9832 or drop us an email for expert pest control advice on how to identify pest infestations and help solve your problem.
Bollington Wasp Nest Removal Treatment
Destructive invaders
Wasps nest can deface your beautiful home. They can make your business premises seem unprofessional and uncared for. More seriously, both nest-building activities and the actual nests can weaken the structure, reducing the value of your building. Repairs can be expensive, time-consuming and stressful. Furthermore, it is hazardous to have harmful wasps determined to protect their home around your loved ones or clients.
Our specialised Bollington wasp nest removal treatment
Once the young wasps have hatched and are active, you certainly will need professional help. Our service is customised to meet your unique needs. Hence, our expert approach gives you the peace of mind of knowing that the correct wasp removal techniques have been used.
Be alert
Wasp and hornet nests can deface and even damage your valuable property. However, by the time they become noticeable, they have become home to many dangerous inhabitants. Hence, it is advisable to contact our specialist wasp control service once you see any nesting activity. Here is more information on how wasps can damage your home and how to prevent it.
Check your property
Sheds, gates and fences are places where wasps generally like to nest. However, certain types of wasps prefer roofs, attics and wall voids. To start, the queen wasp needs a firm structure to attach her nest to. Then, she shreds fresh wood and mixes it with her saliva to make a special medium for the nest.
Thin, white trails are tell-tale signs that a wasp nest is nearby. Nests start about as big as a golf ball. The biggest nest recorded in Britain was huge - more than six feet by five feet! So naturally, you will want any nest on your premises dealt with long before it gets anywhere near as big as that.
Take action now!
We can help you with your business premises as well as your home. We have the same day Bollington wasp nest removal treatment. Do not delay - do not let wasp and hornet nests deface and damage your precious assets. Talk to us about all your wasp control requirements today.
 SK10