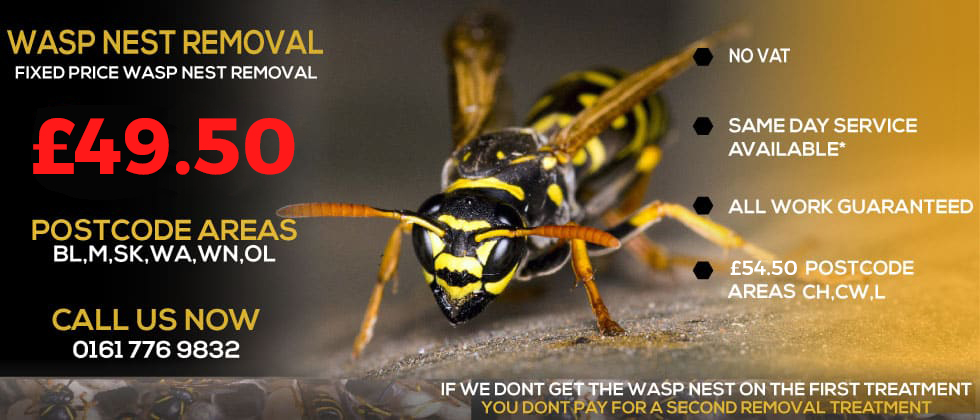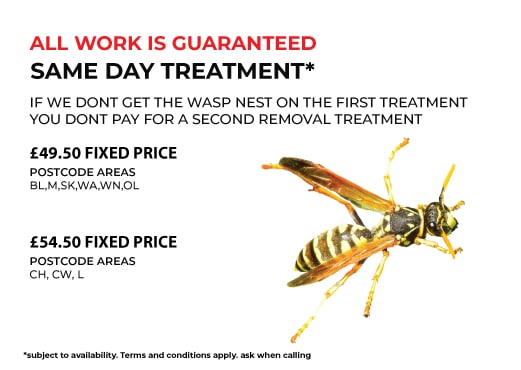 Need Help? Call Us On 0161 776 9832 For Expert Pest Control Advice on Identifying Pest Infestations And Help Solve Your Pest Problem.
Chelford Wasp Nest Removal
It doesn't matter whether there's just one Wasp nest in your home or a lot of it in your garden. But, one thing is certain: you'll want to find the safest and most effective way to get rid of it. And the only way to get rid of them is to call a nearby professional Wasp nest removal service. The good news is that our Expert Chelford Wasp nest removal service is just one call away from you. Here at Youngs Pest Control, we're known for offering safe, effective, speedy, and reliable Wasp nest removal service. We use the latest techniques, insecticides, and in-depth knowledge to ensure that your home or office is Wasp free.
When you notice the presence of Wasps in your home or office, it can be tempting to handle it yourself. But that's not the right approach. Though handling a few pest controls yourself is possible, Wasp nest removal is a different story entirely. Trying to get rid of the Wasp nest yourself can result in nasty stings. In addition, wasps can get very defensive immediately when they sense a disturbance to their nest. The three main reasons why you'd never try to handle Wasps nest removal yourself are:
They're easily agitated.
The situation could get worse than you imagined.
An expert has the right knowledge and tools.
Wasps Nest Removal Requires Expert Wasp Exterminator?
You, your family members, and your friends could be in danger if there is a Wasp nest in
your house or around your environment. These stinging pests are relentless, aggressive, and wily. Without the right knowledge and proper tools, you won't be able to chase Wasps from your home and surroundings once they make it their dwelling place. That's why you need the help of a professional Wasp Exterminator. Once you notice signs of a Wasps infestation, call us, and we'll immediately send our Wasp Exterminator experts to come to your rescue.
How Do We Get Rid Of Wasp nest?
Identify
We provide the most detailed Wasps control service in Chelford. The first thing we do is to identify the insect species. Then, we carry out a risk assessment test before deciding the most effective and safest form of Wasps control.
Treat
The second step is to treat it. The good thing is that our treatment is safe to use around
pets and kids, but of course, very deadly for Wasps. We use specialist tools to gain access to the entrance of the Wasp nest before applying strong insecticides. The Wasps will try to fight for a while by moving in and out, but they'll slowly die off while trying to defend both the nest and the queen.
Removal
In this final step, our experts will safely and quickly hit the heart of the Wasps nest. You won't find any Wasps activity after a couple of hours because, at this stage, all the habitats will have been removed.
Why Use Our Chelford Wasp Nest Removal
Over the years, we have built a great reputation providing Wasps nest removal service to meet the Wasps control needs of commercial and domestic customers in Chalford and its environments. Our Wasp nest removal cost is affordable, which means that you don't have to break the bank to afford our Wasp nest removal cost. Above all, our wasp control approach is safe, effective, and reliable. We are one Hornet and Wasp control company that you can count on.
Our Hornet and Wasp Control Service Is Available 7 Days A Week
When you notice the presence of a nest in your home or business environment, you are likely to panic. It's normal. There's nothing wrong with it. But it's necessary always to remember that we're available seven days a week to help you get rid of this deadly pest. Our quick response to your call ensures that
you have the best wasps removal service in Chelford. Our service is quick, effective, and reliable. And we offer the best wasps control service that you can find in Chelford and its surroundings. So if you see any sign of wasps infestation, doesn't hesitate to call us. Always remember that you're one call away from your solution.
SK11