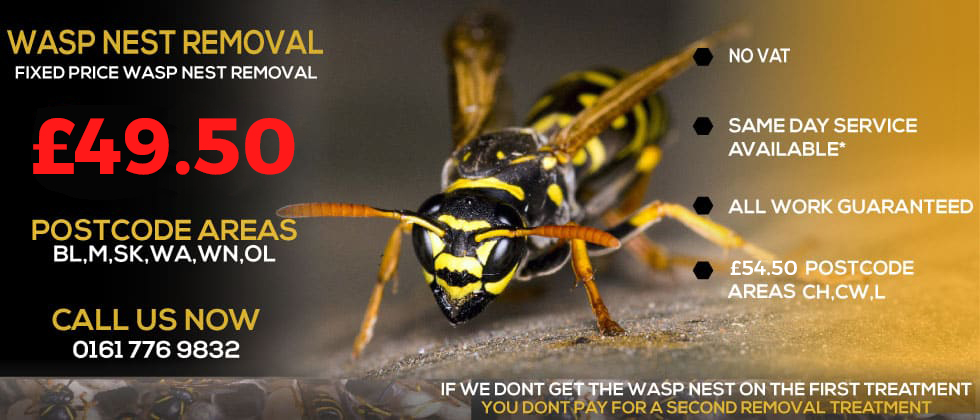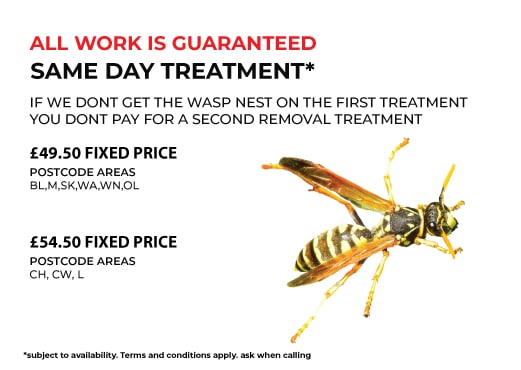 Need Help? Call Us On 0161 776 9832 For Expert Pest Control Advice On How To Identify Pest Infestations And Help Solve Your Pest Problem.
Disley Wasp Nest Removal 
When you reach out to our Disley Wasp Nest Removal experts, you contact the region's best wasp exterminator pros. We have worked hard here at Youngs Pest Control to built our reputation as the area's top experts in the pest control field. 
 It is no secret that hornets and wasps are some of the worst pests that homeowners have to deal with here in the United Kingdom. The issues that they can cause for homeowners can range from painful stings to scary allergic reactions that end up landing individuals in hospital and fighting for their lives. 
 Wasps and hornets are a threat to you, and they are also a big danger to your children and your pets. If you have identified an ongoing hornet or wasp infestation at your home, you need to bring in our team to get rid of wasp nest issues that you are experiencing. 
 The wasp nest removal cost that we offer is reasonable, and we are known for our quick response time. For these reasons, we are the pros to call on when you need hornet and wasp control here in the Disley area. We take great pride in being able to serve the needs of the region's residents.
Signs You Need to Bring in Our Wasp Exterminator
 If you notice multiple hornets or wasps
around your property, you could be dealing with a colony that must be eradicated. You will want to look out for wasp nests. These nests appear similar to paper mache. Even when they are small, they can contain large numbers of stinging wasps. You will find these nests being built in the spring and summer. 
 Wasps and hornets will build their nests in concealed areas such as wall cavities, eaves, and lofts. If you identify a wasp nest, do not attempt to get rid of it yourself, as you will be putting your health and safety at risk. Instead, it is your best move to ring us at Youngs Pest Control so that we can quickly respond to your home and take action.
A Few Reasons to Choose Us for Hornet and Wasp Control
 There are some key reasons why you need to hire Youngs Pest Control for all of your hornet and wasp control needs. The benefits of hiring us include:
Our staff is fully qualified in the field of wasp and hornet extermination

We have the knowledge and experience required to do the job safely, efficiently and effectively

Our team will quickly respond and take action

Our prices are fair and reasonable
 These are just a few of the key benefits associated with choosing Youngs Pest Control when you are being bombarded by an infestation of wasps or hornets that have attempted to turn your home into theirs.
Count on Us to Offer You a Fair Wasp Nest Removal Cost
When you need to get rid of wasp nest issues at your home, you want to feel that you are given a reasonable and fair price for service. This is something that you can count on when you hire Youngs Pest Control. We are committed to offering you a wasp nest removal cost that will not leave you feeling like you were taken advantage of.
Contact the Disley Pest Control Leader for Your Wasp Exterminator Needs
 Pick up the phone and ring us today at Youngs Pest Control if you have identified a problem with hornets or wasps at your home. We can be reached at our office by ringing 0161 776 9832. Our mobile contact number is 07845 815 261. 
 If wasps or hornets compromise your quality of life and that of your family here in the Disley area, we are here to help. Our
professional exterminators will arrive at your home, assess the situation, and develop a plan to remove all of the wasp nests that are present. We look forward to providing you with the assistance that you require with this troublesome pest issue.
SK12