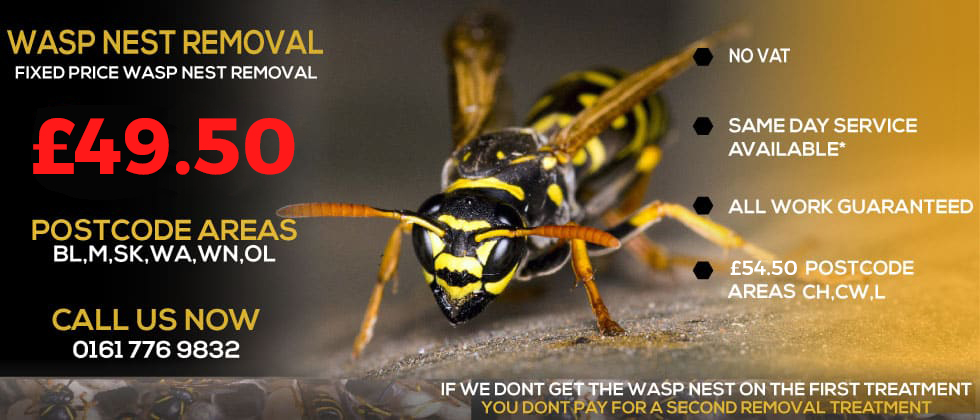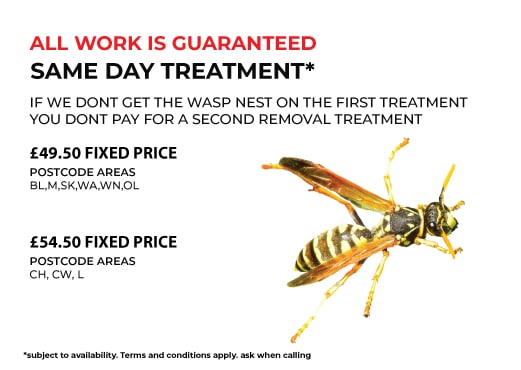 Need Help? Call Us On 0161 776 9832 For Expert Pest Control Advice On How To Identify Pest Infestations And Help Solve Your Pest Problem.
Orford Wasp Nest Removal
Pests can be an annoying nuisance or, worse, a severe problem that can damage your health and home. 
 However, at Young Pest Control, we offer professional hornet and wasp exterminator services to proactively combat common pests such as wasps, hornets, and rodents. 
Detecting Wasps and Hornets
 At the beginning of May, fertile queen wasps and hornets emerge from winter hibernation to find a suitable place to hatch. They seek shelter in protected areas such as bushes, decks, patios, attics, wall cavities, and under the eavestroughs. 
 The queen lays eggs full time and produces about 200 to 300 eggs a day. The eggs hatch and go through complete metamorphosis to become full-grown wasps and hornets. Once mature, they take over the nest-building process, care for the young, forage for food and defend the growing colony. As a result, the nests and colonies grow at a rapid rate. In the spring, the nest can accommodate up to 5,000 wasps, while in the summer, they can be up to 10,000 wasps in the nest. 
 When the nests and colonies grow, they can become a danger to humans. Therefore, if you suspect a wasp or hornet infestation around your home, the best thing to do is contact a Hornet and Wasp Control service. 
Reliable Orford Wasp Nest Removal
 Working throughout Orford, our team of
professional Hornet and Wasp Control experts are always available to deal with nests of all sizes wherever they pop up. Unlike bees, hornets and wasps can be very aggressive when roused, potentially putting you and your family in danger. 
 If you have spotted a wasp or hornet nest or are suspicious of these pests in your home, give us a call today, and we'll assess the situation. Our team of knowledgeable exterminators will get rid of a wasp nest and hornet nests in your area. 
Affordable wasp nest removal cost in Orford
 Wasp and hornet colonies can infest any area, including residential and commercial spaces. Whatever size has been attacked by these pests, we are here to help. We pride ourselves on offering quality services at competitive prices in Orford so you can deal with the infestation inexpensively. We offer
Orford Wasp Nest Removal services at affordable rates without compromising quality, as each case is treated with the utmost care, and the service is executed to the highest standard. Youngs Pest Control is the go-to expert when getting rid of wasp nests as we offer quality services at an affordable wasp nest removal cost. 
 The Orford wasp control treatment process:
 Young Pest Control strongly advises against removing wasp and hornet nests yourself as this can be highly dangerous. However, we have specialized tools and personal protective equipment that allow us to safely get rid of wasp nests. 
 Wasp extermination and removal from a property require the expertise of a professional hornet and wasp exterminator. Here's how we approach wasp and hornet control:
1. Contact
 Call us on 0161 776 9832 or 07845 815 261, and we will arrange for a local team to reach you. We are open 24 hours a day, and we always strive to return calls within these hours. 
2. Survey
 We will discuss your infestation problem and schedule an appointment if necessary. We will also provide a quotation and recommendations tailored to your pest problem. Our technicians will correctly identify the type of infestation and make treatment recommendations. The Orford Wasp Nest Removal method we use will depend on various factors, including the type of wasp or hornet, location of the nest, severity of the infestation, and local regulations. 
3. Treatment
 Treatment methods vary from applying aerosols to liquid and dust treatments. Our specialists will use an environmentally sensitive approach and child and pet-friendly treatments to best suit your situation. 
Wasp Control services near you
 Over the years, Young Pest Control has
developed expertise in identifying and controlling pest infestation. We know the best way to treat wasps and hornets, and our knowledgeable team strives to provide the best service that suits your situation.
WA2