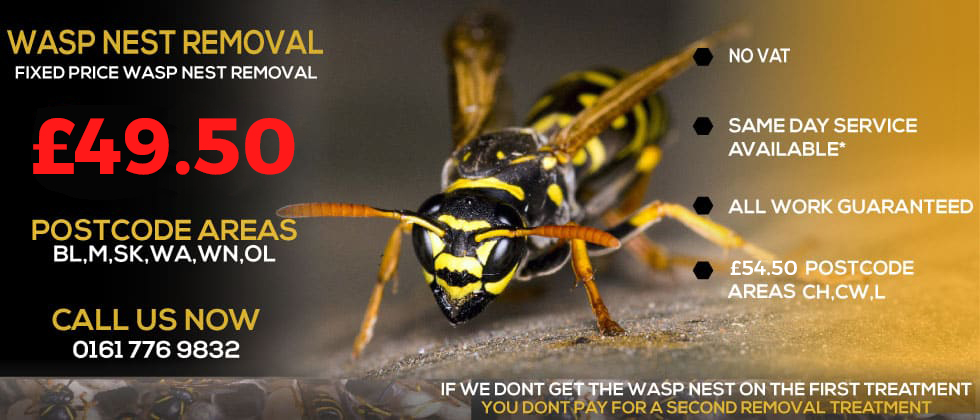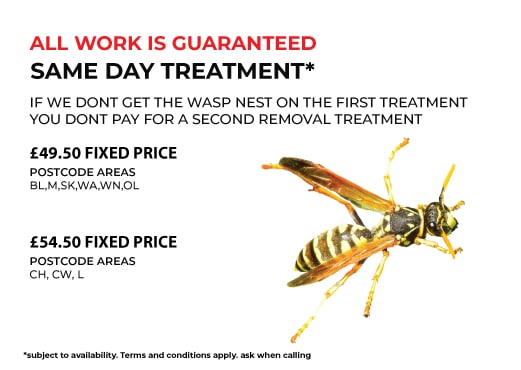 Need Help? Call us on 0161 776 9832 or drop us an email for expert pest control advice on how to identify pest infestations and help solve your problem.
Poulton-with-Fearnhead Wasp Nest Removal 
Wasps and Hornets live in makeshift nests that can be found anywhere in or outside the house. This makes them easier to interact with humans. However, the interactions can go wrong because the insects react with a sting that can be dangerous and cause many discomforts. Based on this knowledge, you may be tempted to take matters into your own hands by searching for easy DIY methods to get rid of the wasp nest. Unfortunately, Hornet and Wasp control is a very delicate matter that needs professional knowledge. Therefore, we strongly advise against using the do-it-yourself methods because even though they seem to provide easy and viable solutions, they greatly understate the amount of risk involved when trying to get rid of the wasp nest. 
 On the other hand, you need to worry less because we offer Hornet and Wasp Control solutions at your doorstep. We have a team of highly trained wasp exterminators to ensure we solve your pest problem. In addition, we now offer Poulton-with-Fearnhead Wasp Nest Removal to ensure we get rid of a wasp nest that may cause any harm to anyone living within the area.
 There are very many species of wasps, and they all have different behaviours and
characteristics that differ from their counterparts. The differences can be spotted in the nests they build or even their appearances. The different species react differently to stress. To the average person, it may be difficult to differentiate the species. This is dangerous because the different species require different types of care when handling them, hence the more reason to get with us. Our team of professionals will analyze the nests and the wasps and immediately know the type of wasp and the exact removal method that will be most effective. This ensures that the nest removal process is swift, safe, and efficient. 
 Hornet and Wasp control is essential because these insects are very unpredictable. Wasps can attack at any time, but the attacks are more common during summer and other warmer months. This is because, at this time of the year, you spend a lot of time outside the security of the houses and wear less clothing, making you vulnerable to the stings.
 The stings are a protective mechanism acquired by the wasps and hornets to protect them from any harm they may experience. Some wasps' stings may contain venom, while others may not. Either way, a sting will be very discomforting. In non-venomous, stings are excruciating and may cause swellings and red patches on your skin. The venomous stings may cause itching or welts, leading to nausea and vomiting if the cases are extreme. The cases can be even worse when you have allergies because the sting can trigger other allergic reactions in your body that can be dire. We, therefore, advocate calling our team in case you notice a wasp nest for quick and efficient control of the situation.
Our years of experience in the industry have made us a household name, and we offer the same top-tier services at our Poulton-with-Fearnhead Wasp Nest Removal. We have dedicated our services to ensure residents of different cities and towns in the United Kingdom do not have to deal with the problem of hornets and wasps in the foreseeable future. Our company offers the best hornet and wasp exterminator the market has to offer. The individuals are well trained and have access to the best equipment to ensure that our service is top-notch and very effective. We handle both the insects and their habitats to ensure a lasting solution in the long run.
 We pride ourselves on our professionalism and vast knowledge and experience in this field. Despite our high standards and quality of work, we offer a very competitive wasp nest removal cost in the market. We offer tailored packages to accommodate all our
prospective clients. The prices of a task are proportional to that of the task at hand. Our team will come and analyze the situation and give the tailored wasp nest removal cost that is most suitable. Once you need help in wasp and hornet control, do not hesitate to contact us immediately.
WA1
WA2