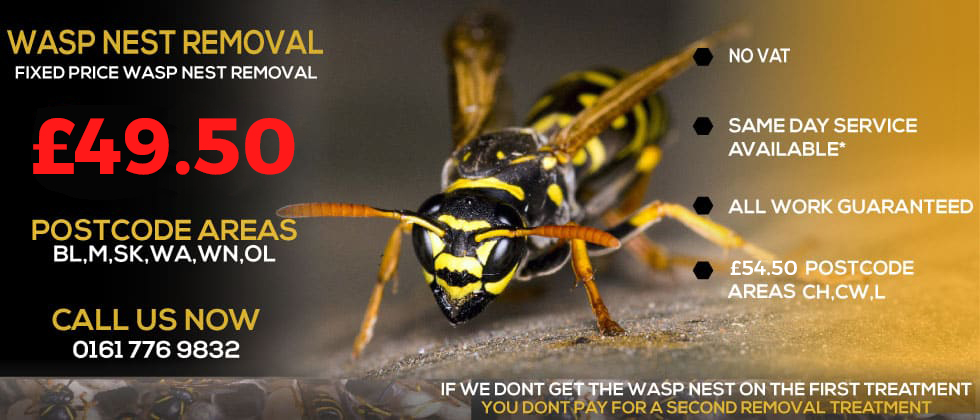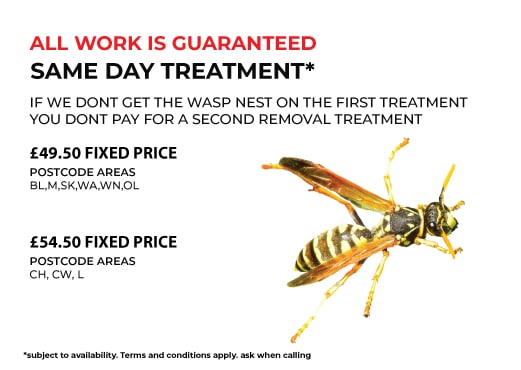 Need Help? Call Us On 0161 776 9832 For Expert Pest Control Advice On How To Identify Pest Infestations And Help Solve Your Pest Problem.
Hollins Wasp Nest Removal
Every corner of Greater Manchester has its unique charm and Hollins is no exception. Unfortunately, as with the rest of the Greater Manchester area, you need to watch out for the wasps and hornets. But remember, Hollins wasp nest removal (aka Young's Pest Control) has you covered. Remember, there's more to hornet and wasp control than getting rid of a wasp nest. That one wasps' or hornets' nest needs careful handling. So, always call the professionals. Never use amateur efforts when it comes to pest control. If you're experiencing a pest infestation problem in Hollins, you don't even need to go to your search box and type the following: get rid of a wasp nest. Just contact us immediately and we'll be on the job. Wasps kill a lot of other insects, so from some points of view, they're a pest control asset. Particularly if you're a gardener and the insects that the wasps kill are preying on your plants. But unfortunately for the rest of us, wasps themselves are a pest. Their horrid stings can cause pain and allergic reactions. If you are a parent, or if you have elderly people in your household, you would have a particular reason to be worried if there are wasps around. If you find out that hornets or wasps have built a nest on your property, either in your home or on your business premises, you have cause to be alarmed. But don't worry. There's a way to deal with this problem. Call in the professionals.
Hornet and Wasp Control
We won't mince words. Hornets and wasps are dangerous pests. A sting from a wasp could result in your death if you have an allergic reaction to the poison. In this case, the elderly and the young are particularly vulnerable. You can't afford to be complacent about these pests on your property. But
at the same time, you need to get the job of pest removal done by qualified professionals who know how to do a good job for you. Young's Pest Control is the company you need to call out for any wasp and hornet removal operation. There are a few reasons for this. Let's consider the advantages of using Young's Pest Control.
It is efficient:

 If you call on time, the job can be done on the same day. If not, the very next day.

It is economical:

 Young's Pest Control services are affordably priced. In these times of economic uncertainty, the service charges are reasonable.

It is effective:

 The highly-qualified and trained professionals at Young's Pest Control know the latest methods and they do a thorough job.

It is professional:

 The pest control professionals at Young's Pest Control take pride in doing a good job. The wasp or hornet's nest removal will be completed to your absolute satisfaction under the strictest safety standards.

It is ethical:

 Although it's a wasp exterminator, the professionals at Young's Pest Control use humane methods, as far as they possibly can, to eliminate dangerous pests from your environment. We respect animal life, of course, but to our way of thinking, human safety will always come first.
The Best Wasp Exterminator
Now you know why Young's Pest Control is the best wasp exterminator. It's efficient, professional, economical and ethical. We invite you to try our service and see for yourself.
Wasp Nest Removal Cost
Some people try to handle the wasp nest removal business themselves, dreading heavy costs. That's the
biggest mistake. Firstly, they're endangering their lives and those of their families. Is that sensible? Secondly, if they took the time to check, they'd see that our wasp nest removal cost is not excessive. Excellent wasp removal is available right here in Hollins in Greater Manchester. Call Young's Pest Control for your hornet and wasp removal needs. See our professional service for yourself. You won't' regret it.
OL8