Need Help? Call Us On 0161 776 9832 For Expert Pest Control Advice On How To Identify Pest Infestations And Help Solve Your Pest Problem.
Heaton Moor Pest Control

Pests will usually find their way to our premises regardless of how clean or tidy we are. Pests can be
dangerous to your overall health and also cause a lot of damages to your property. Trying to control pest by yourself can add more harm than the gain to you and your property. That's why getting a professional intervention from Heaton Moor Pest Control experts is the only solution that offers swift and safe treatments on Wasp Nest Removal Treatment and Mice & Rat Control, among others.
We provide 24/7 treatment to pests such as;

Bedbugs


Bed bugs are very tiny, which makes them extremely hard to see them. They mostly bite at the night and hide during the day in luggage, clothes and furniture around the house. Their bites cause the area to be swollen and itchy at the same time.
Ant Infestation Removal

Ants moving around or inside the house can be
annoying. Ants usually infest structures threatening the structural firmness of your home since they dig into the wood to put up their nests.
Bumblebee nest removal

Bumblebee can result in major health issues for individuals with bee sting allergies. Get in touch with us if you notice a bumblebee infestation and we will help you get rid of them.
Grey Squirrel Control

Any property and mainly the residential properties are prone to squirrel infestation. They cause a lot of
damage to electrical wires on the roof by chewing them which can lead to a fire. They may also cause a lot of noise by burrowing through the ceiling during the wee hours of the morning which will affect how we work during the day. If you are facing any issues with Grey Squirrel, you then require a specialized pest control personnel.
Honey Bee Nest Removal


Just the mere weight of a big bee colony can result in severe damage to the structural parts of your building such as walls, roofs and chimneys. As their hives get bigger, pressure may cause the honey, melting wax as well as the waste products to shove through the walls. Honey Bees mostly builds their colonies in the roofs and chimneys. Their honey, wax and sometimes their waste products can badly stain your painted surfaces making your home to look less attractive. Heaton Moor Pest Control are always there to provide you with the most affordable and efficient services using our highly trained and professional personnel.
Flea treatment

Fleas are pests that survive by feeding on the blood
of both the people and animals. They feed through biting their host and their bites leave an inflamed, red spot which can be very itchy. Flea bites can cause allergic reactions, and they may as well act as carriers of several serious infections such as the bubonic plague which is transmitted to us by the rodent flea. In addition to that, it may also cause typhus bacterial disease. We provide flea control treatments without posing any risk to your family.
Wasp Nest Removal Treatment

Wasps chew the wood materials in your property to
make pulp for building their nests. This can cause a lot of damage to your home or commercial property. Diseases such as lymphangitis and Cellulitis can be contacted if bacteria enter through a sting wound. Our Wasp Nest Removal Treatment involves targeting on their nest where they harbour themselves and we will carry out the process most effectively and conveniently to successfully destroy a wasp infestation and remove the nests.
Mice & Rat Control

Mice and rats are the most troublesome rodents and they can create destruction all over your property. As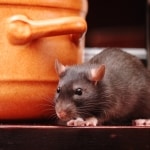 they require very little time to breed, they multiply with no time without your knowledge. Our team will carry a thorough survey before carrying out any treatment to decide the extent of manifestation and detect all the places of their harborage. The process of extermination will be carried out safely as we know how much stress these pests can cause also keeping in mind their effects on our health as some Mice and rat bacterial strains may be resistant to antibiotics. Mice & Rat Control is part of the specialized and effective services that we provide.
SK4