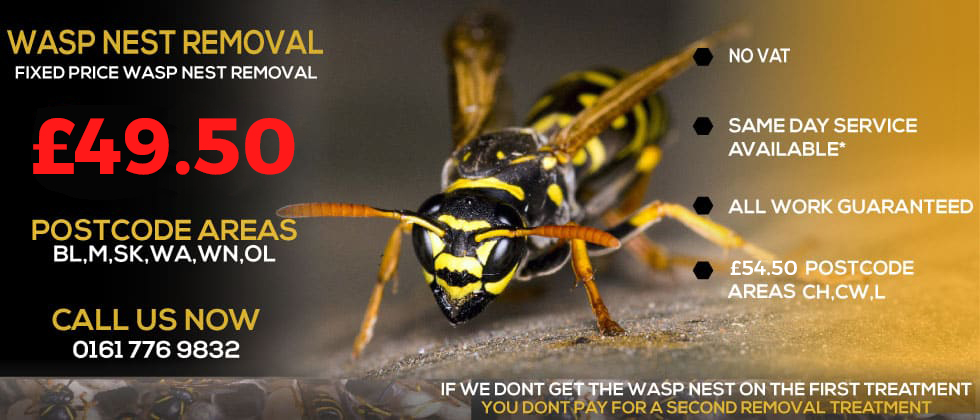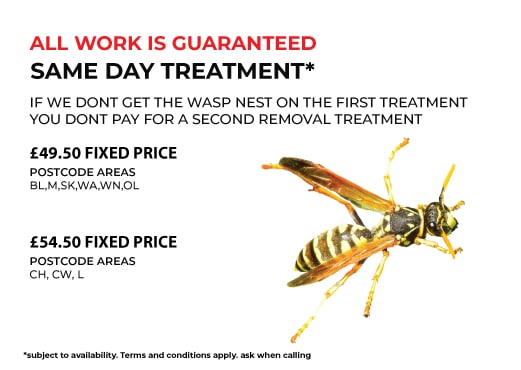 Need Help? Call Us On 0161 776 9832 For Expert Pest Control Advice On How To Identify Pest Infestations And Help Solve Your Pest Problem.
Wincle Wasp Nest Removal
Reach Out to Your Reliable Wincle Wasp Nest Removal Specialists Today
An infestation of wasps or hornets is a serious matter and one that you need to address as quickly as possible once you suspect it. Quickly bringing in the services of a reliable wasp exterminator is essential.
If you need to get rid of a wasp nest, our team at Youngs Pest Control can help. We can also help to ensure that your property and your family will not continue to be threatened by the dangers posed by a wasp or hornet colony. Area residents and business owners also rely on our team to offer a fair, reasonable wasp nest removal cost for the services that we provide them.
It is no secret that the stings that wasps and hornets can deliver are painful. They can also lead to dangerous allergic reactions for many area residents. These are key reasons why it is recommended that you never ignore the need for hornet and wasp control. Being proactive is important when it comes to dealing with these dangerous insects.
The Region's Hornet and Wasp Control Experts
There are some compelling reasons to choose Youngs Pest Control when you need to get rid of a wasp nest. Hornets and wasps can be extremely aggressive whenever they feel that their colony is being threatened. This can lead to them attacking.
Hiring our wasp exterminator team is safe
and effective to avoid painful stings and dangerous allergic reactions. Our pest controls specialists have the required skills, safety equipment and experience to take care of your wasp and hornet nests so that you can rest easy again. In addition, providing top-notch customer service is always the goal of our wasp extermination specialists.
How Do You Know If You Have a Wasp Nest on Your Property?
It can be helpful to know how to spot the presence of a wasp nest. The first point to note is that these nests begin to appear during the spring season. This will continue through the months of summer. Wasps will build their nests in places that offer them some degree of shelter. This can include areas around the exterior of your property as well as the interior.
Some of the most common places that wasps will construct their nests include lofts, your home's eaves, and the cavities of your property's walls. From a visual standpoint, a wasp nest looks similar to the look of paper mache. This is because the wasps make their nests out of wood pulp that they chew up.
Even if the nest is small, it can still contain a large number of wasps. Because of this, you should always bring in professional assistance, even if the nest you identify is a small one. When you hire our wasp exterminator team, we also ensure that there are not additional nests in other areas of your property.
Count on Youngs Pest Control for Fast Service
We are known for fast and efficient service
here at Youngs Pest Control. Our exterminators understand that this is an issue that you want to have resolved as quickly as possible. We are committed to quickly responding to your location when you request service. When wasps take up residence at your property, please do not put yourself at risk by trying to get rid of them. Instead, you want to call in Wincle's leading pest control pros to effectively eliminate wasp nest issues that are causing you concern at your home. We take pride in making a difference for the customers that we serve here in the region.
Contact the Trusted Wincle Wasp Nest Removal Pros Today
You can consider our professional exterminators at Youngs Pest Control as your Wincle Wasp Nest Removal experts. We also offer a wasp nest removal cost that is reasonable and within the industry's standards. Our contact numbers are 0161 776 9832 and 07845 815 261. So reach out to us today to take advantage of the Wincle area's top hornet and wasp control services. We look forward to the opportunity to make a difference for you and your family.
SK11