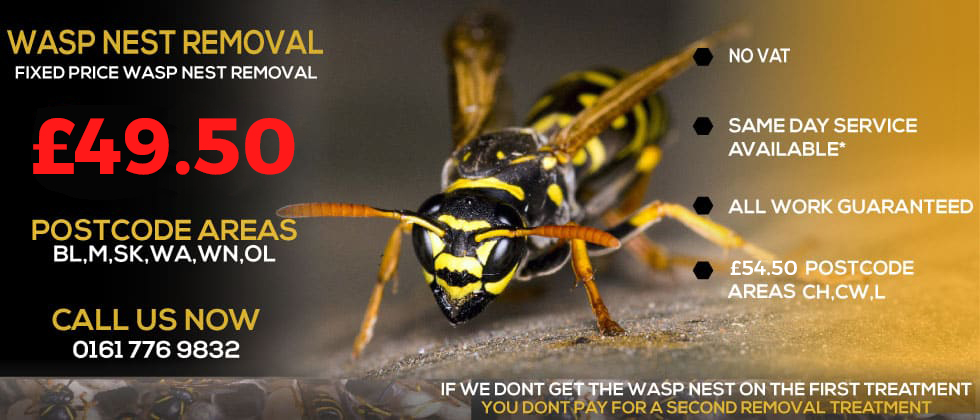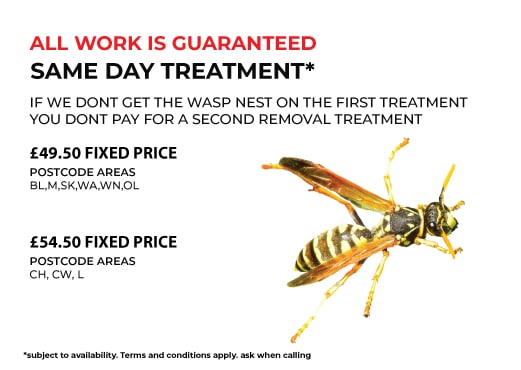 Need Help? Call Us On 0161 776 9832 For Expert Pest Control Advice On How To Identify Pest Infestations And Help Solve Your Pest Problem.
High Legh Wasp Nest Removal 
 If you spot a Wasp Nest in your backyard or the house, do not go near it. It can have hundreds or thousands of wasps inside. Even ten wasps are enough to cause serious trouble in your home if provoked. As a result, only a professional wasp exterminator can help treat the Wasp Nest for you.
 Early intervention 
 In early summer and late spring, you are likely to find new wasp nests around your home. You need to keep an eye and ear out for any wasps flying around. You are likely to spot a wasp nest being built where you wouldn't want one during this time.
 If you see anything like that, contact us, and we will get rid of the wasp nest for you. The nest can be under awnings, railings, overhangs, play equipment, eaves, and in any sheltered area in and outside your house. High Legh wasp nest removal services can help you get rid of wasp nests quickly as possible.
 After the nest has gained a few workers and grows in size, it is too dangerous to remove the nest on your own. In that case, don't attempt to disturb the nest. Instead, call our wasp exterminator to help you treat the nest and get rid of the inhabitants.
Until we get there, to keep everyone in your family safe, you must exercise peaceful coexistence. So if the nest is in a spot where your pets and little ones can't disturb it, let it stay there and wait till our High Legh Wasp Nest Removal service providers get there.
 Do you have to remove the nest?
 After treatment, you can leave the nest there because it won't cause you any trouble. Our hornet and wasp control uses strong insecticides that will eradicate all the wasps so that your space is safe for everyone.
 Fortunately, wasps will never use an old nest. The queen wasp will always build its own nest and start a colony there. Thus, even if you choose to let the nest stay, it won't attract more wasps to your home.
Note that the nest can benefit your crops since it contains many nutrients they need to do well. In addition, wasp nest removal cost is affordable to everyone, so there is nothing to worry about.
 Why contact us?
 Currently, we are the people you can trust with Wasp Nest Removal services in your area. Here are some of the reasons you need to contact us.
 1. Affordable rates
 Despite how serious the problem is,
you won't break the bank to access our services. We have the most competitive Wasp Nest Removal cost in the whole area, which is why many customers prefer using our Hornet and Wasp Control services.
 2. Utmost professionalism
 We are a team of professionals, and we will display that at all times when getting rid of the wasps and their nests for you. We understand that your home is a private place, and if you don't respect that, you won't call us next time.
 We won't touch anything in your house without consent. Also, before we get to your spot, we will issue you with how our work is done.
 3. Organization
 Our team is organized. We won't just walk into your house and get to work. First, we will establish the best way to approach the problem to avoid causing more trouble. Then, before you start removing the nest, we will answer all your questions and even let you leave. Finally, through experience, we will handle the wasp nest in a way that no one in your home will get hurt.
 Closing thoughts
Don't worry about the Wasp Nest Removal cost once you've called us. Our mission is to see that you are happy with the services we provide. That is the only way to be sure that you will call us again next time. In addition, to keep you even safer, we will inform you on how to reduce the chances of facing a wasp nest problem in the future.
WA16