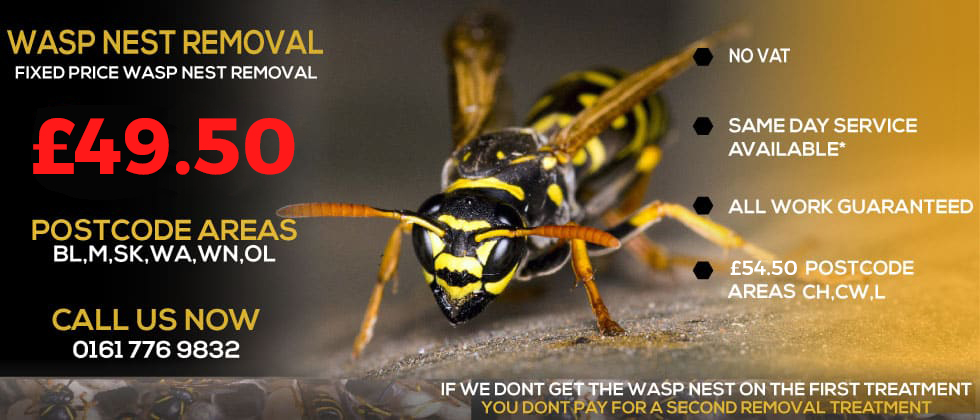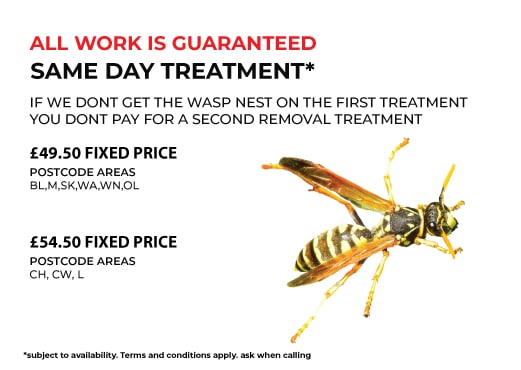 Need Help? Call Us On 0161 776 9832 For Expert Pest Control Advice On How To Identify Pest Infestations And Help Solve Your Pest Problem.
Great Warford Wasp Nest Removal 
We are one of the leading local Wasp Nest removal service providers in Great Warford. We offer a reputable and reliable Great Warford Wasp nest removal service. Our team of experienced Wasp exterminators use the latest technologies,
insecticides, and techniques to get rid of Wasp nests in your home and business environment. We do a complete risk assessment test then let you know how serious the Wasp invasion is before fighting it. Wasp nest removal is hazardous, but with the help of a professional Wasp nest removal control service, you can safely, effectively, and quickly get rid of a wasp nest from your home and properties. Always remember that you're one call away from your Wasp infestation solutions.
About Wasps In Great Warford
 Wasps can be extremely aggravating and annoying, especially in and around drinks and foods. This stinging pest will build its nest starting from late April in crevices or cracks so long as it has a void at the back of it. For instance, in trees, bushes, chimneys, attics or space. Wasps will build their nest all
through the summer months. You can find 2,000 to 6,000 Wasp in a nest. At Youngs Pest Control, our professional Wasp exterminator uses the most effective and safest approach to kill all adult wasps and their larva. We can remove Wasp nests in domestic properties, business environments, and gardens. 
We, Will, Remove Your Wasp Nest In Great Warford
 Wasp nest removal comes with a lot of dangers. Wasps can become very aggressive and may sting you or people around you when you trouble them. Their sting is excruciating, especially if you were stung by a lot of them at the same time. So you'd seek the help of a professional Wasp control service instead of trying to fight it yourself. At Youngs Pest Control, we have handled hundreds of Wasps infestations cases in Great Watford. We pride ourselves on being the first point of contact for customers looking for an effective, fast, and safe Wasp nest removal service. Our Great Warford Wasp nest removal service is always available. Best of it all, our experts won't keep you longer than you need to wait for the Wasp nest to be removed from your home and surroundings. 
How Our Hornet And Wasp Control Service Work
 We offer a comprehensive Hornet and Wasp control service with our experts offering customized Wasp Nest Removal service to
ensure safe and effective nest removal. We identify the Wasps and use suitable and effective insecticides to treat them. The insecticides that we use for treatment are not harmful to you or your household. Once we apply the pesticides, the Wasps will try to fight them by coming in and going out for a while before they'll finally die off. Then Our experts will safely and quickly remove the nest. 
Why Use Our Great Warford Nest Removal
 We have established our brand as one of the best local Wasp nest removal services providers. Our expert exterminators can gain access to the hardest to reach areas using the top long reach tool. Most importantly, our team of experts use the newest technology and the safest and effective pesticides to get rid of a wasp nest. I have completed a lot of Wasp nest removal tasks in Great Watford. Therefore, we can boldly say that we have a Wasp nest removal track record of success. Plus, our wasp nest removal cost is one of the best you can find in the Great Warford.
We Are Available 7 Days A Week
 Once you find any trace of Wasp in your home or property, everyone automatically begins to panic. Wasps infestations need urgent attention so that you or any of your family members don't endure a hurtful sting. But if you discover it during the weekend, the chances are that you'll have to live in fear all through the weekend because Wasp nest
removal services don't work on weekends. But the good news is our service is open seven days a week. So it doesn't matter the day of the week that you discover it. Just call us, and we'll be right there to help. In addition, our Wasp nest removal cost is moderate irrespective of whether you call us on weekends or weekdays.
SK9