Need Help? Call Us On 0161 776 9832 For Expert Pest Control Advice On How To Identify Pest Infestations And Help Solve Your Pest Problem.
Crewe Pest Control Treatments
You don't need to have nested on your property to be the victim of unwelcome visits from pests. For example, seagulls and pigeons may well target your home simply because of its location, or perhaps there are attractive perching places. Luckily, Crewe pest control experts can put measures that make your premises a far less pleasant place for roosting. Offering an expert service that will swiftly end the misery of unwanted droppings, feathers, and other residues, Young's pest control service will rapidly get rid of your unwanted visitors.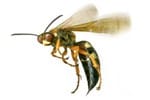 Don't Let Pests ruin your Summer.
Although there is a natural rise in the number of bees, wasps and other unwelcome insects during the summer, if a colony has chosen to build its nest in your garden, unfortunately, you will be almost overwhelmed by the high concentration of insects. In addition, some species become aggressive if you are in the vicinity of their nest, repeatedly stinging with painful results, which sometimes require medical treatment. Therefore, if you suspect there may be a nest in your home, don't go near it, as the insects may attack. Instead, call us out for a 24 hour Crewe pest removal service which will quickly eradicate the problem.
Pest or Pollinator?
One of the many problems with undertaking a DIY nest removal yourself is not knowing what you're up against. While social bees' nests are dangerous if you approach them and house insects with a painful sting, solitary bees are harmless and do much valuable pollinating work. The different species look very similar to the untrained eye; if in any doubt, always contact a professional. Our expert pest controllers can quickly identify the creature correctly and recommend a suitable treatment if necessary.
Useful 24 Hour Response
Pests can co-exist with property occupants for a long time without being discovered. Often it's not until people visit an unfrequented part of the house that a nest or evidence of pests will be found. If you suddenly come across an infestation, the best thing to secure the area and call our Crewe pest control team promptly. They will have the right tools to do a safe Crewe pest removal. Don't put your health or that of your family at risk. Expert eradication undertaken by Young's always represents the lowest risk.
We cover all pests in Crewe. Here's an example of a few Pest's Below:
CW1