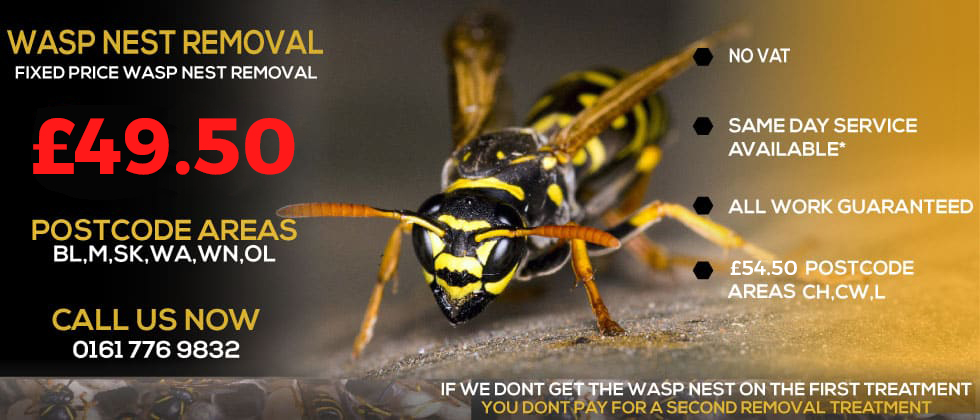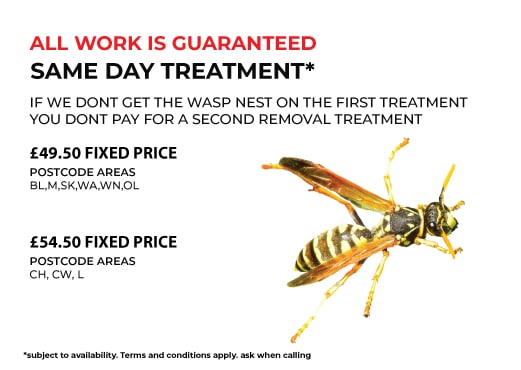 Need Help? Call Us On 0161 776 9832 For Expert Pest Control Advice On How To Identify Pest Infestations And Help Solve Your Pest Problem.
Old Swan Wasp Nest Removal
We provide residential and commercial Old Swan wasp nest removal services at Young's Pest Control. The professionals in our company provide pest control services depending on your pest problem. Our highly trained professionals offer routine services quarterly or monthly based on what is suitable for you. By hiring our professionals, you are guaranteed one hundred per cent pest elimination as they use safe insecticides and are eco-friendly. We strongly advise not to eliminate pests on your own as you pose a high risk of hurting yourself.
Our services include;
Wasp nest removal (wasp control, wasp removal): wasps are pretty popular because of their nasty stings. Their stings irritate, and in worst-case scenarios, they cause allergies to people experiencing acute medical conditions. If you notice wasp nests in your home, don't hesitate to call our wasp exterminator. Our wasp exterminator will get rid of the wasp nest fast and safely. Moreover, you don't have to worry about the wasp nest removal cost. Our company charges pocket-friendly prices for wasp nest removal costs.
Hornet and wasp control: Hornets and wasps are a nuisance because of their nasty stings resulting in allergies and irritations in people. It is recommended to get rid of the wasp nest before the problem gets out of control. Who else can do the hornet and wasp control job best, if not our professionals? That is why you should let us do all the heavy lifting for you instead of DIY.
Damages caused by pests
When pests start invading your home, it can be a tiresome task trying to fight them off. If pests grow in overwhelming numbers in your home, you could be looking at catastrophic losses. Some of the damaging effects of pests include;
Wasp and hornets are notorious for their nasty stings. Their stings lead to irritations and can result in lethal allergic reactions in people having acute medical conditions. Unfortunately, pests can also carry allergens into our homes.
Wasps and hornets are known to live in colonies. When you notice a wasp or hornet problem in your home, you will have to contact our professionals to take care of your problem quickly. Unfortunately, you will end up facing health risks.
Diseases caused by pests
Wasp and hornet stings are uncomfortable as they make the skin swell. Moreover, they cause irritations on people that have allergies. Therefore, you must call our professionals when you notice any wasp nests in your home.
Benefits of hiring our pest control services
By hiring our professional pest exterminators, you are sure of receiving quality services, and you will be satisfied with their work.
Reduces health risks
Saves time: We don't recommend fighting pests by yourself. There are high chances of causing accidents and bodily harm, and the process will be time-consuming. Instead, call on our professionals to deal with the pest problem as they will use the shortest time possible and the results will be satisfactory.
We are 100% reliable.
Expertise: By hiring professionals from our company, it's evident you don't desire to have pests in your home. You will surely be satisfied with the services of our professionals.
Excellent customer service
We provide free quotations
We use discreet unmarked vans
Our professionals are fully qualified. As a result, they achieve high success rates when it comes to resolving pest problems. Moreover, they can deal with pest problems without posing risks to other persons and themselves as well.
We boast of over 20 years of experience
24/7 emergency response
If you are experiencing pest problems around Old swan, our professionals can come to your rescue. They will offer a professional and long-lasting solution to pest problems that you might be experiencing. Our company is way ahead of other companies in the region when it comes to pest control.
L13