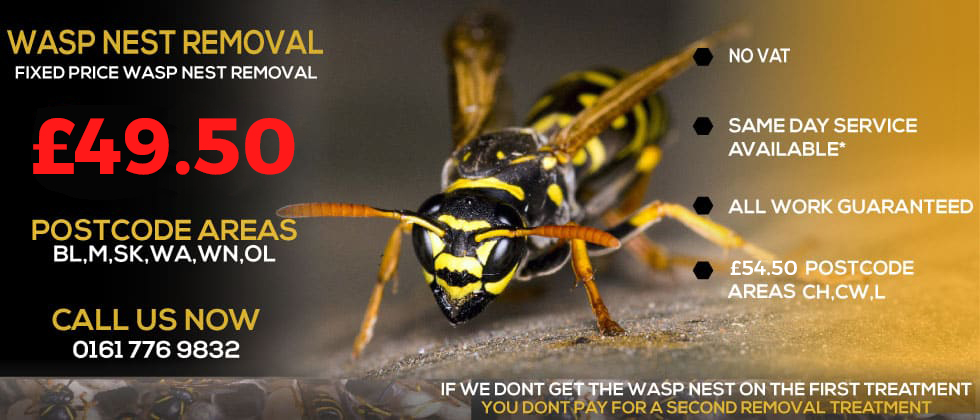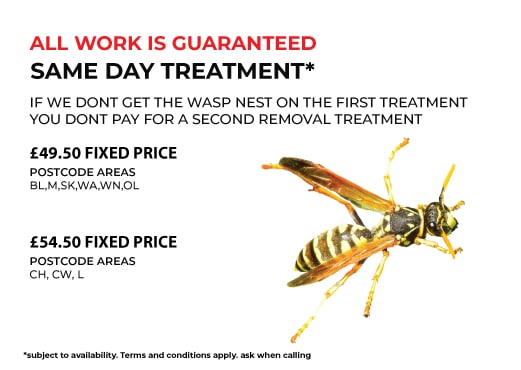 Need Help? Call us on 0161 776 9832 or drop us an email for expert pest control advice on how to identify pest infestations and help solve your problem.
Crosby Wasp Nest Removal Treatment
When it comes to owning a home or commercial business, some problems need to be dealt with as soon as they arise - pests being one of them. At the first sign of an infestation, you are strongly advised to give a call to qualified experts who will be able to solve your pest problem with speed and efficiency.
Wasp nests
A wasp or hornet nest can be a particularly unpleasant form of infestation for the simple reason that these insects can cause a nasty sting. Often you will be unaware that you have a wasp nest in your building - they tend to be constructed in attics or other out-of-the-way locations. However, if you start to notice a vast number of wasps flying around your installation, then it will be a good idea to start checking to see if there are any wasp or hornet nests squirrelled away somewhere in your property.
Crosby Wasp nest removal treatment
While it may be tempting to try and remove the nest by yourself, this could have serious repercussions: having a room full of wasps is terrible enough, but ending up with a room full of angry wasps is even worse. Therefore, your only reliable solution will be to get professional help in the field of wasp control and wasp removal.
Why professionals are best
The job must be carried out by people who are fully experienced in the delicate task of Crosby wasp nest removal treatment. Here are some of the things that you can count on from qualified wasp control experts:
Safety: Removing a wasp nest can be dangerous unless the person doing it is fully trained.
Efficiency: You can rely on professionals for getting the job done quickly - something that may not be the case if you were to try doing it yourself.
Knowledge: Many things can go wrong if you attempt a do-it-yourself pest control, but professionals know how to avoid simple mistakes.
If you require any further questions on removing wasp nests or would like a quote in regards to price, please get in touch with us.