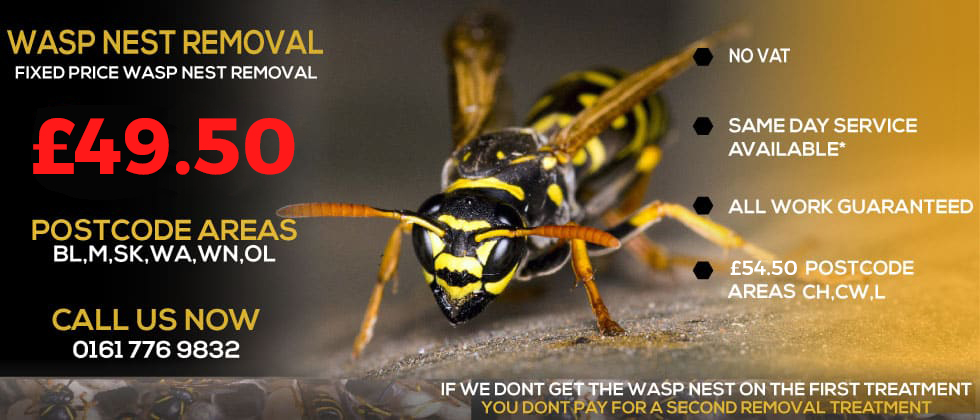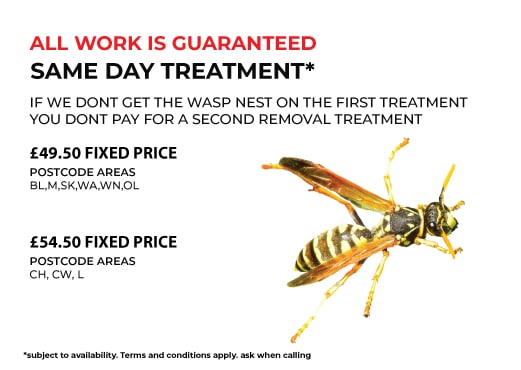 Need Help? Call Us On 0161 776 9832 For Expert Pest Control Advice On How To Identify Pest Infestations And Help Solve Your Pest Problem.
Garston Wasp Nest Removal
You will know your home is wasp-infested if you see the nest. But before you contact the wasp exterminator, there are a few things you should have in mind. For instance, not all wasp nest removing companies provide the best services. To some of them, money is everything, so they don't care whether you are not happy with their work.
In that case, let's discuss some of the reasons you want to contact us to get rid of wasp nest for you.
Affordable service
Maybe you have contacted some pest removers, and their rates are incredibly high. However, our company believes that clients will be happy when they get affordable services without skimping on quality. As such, we set our prices based on essential factors.
For instance, we will charge you based on the severity of the infestation. But there is nothing to worry about. Even if the problem seems to have gotten out of hand, we will find a way to charge you fair prices. Thus, feel free to contact our agents without worrying about wasp nest removal costs.
Friendly terms of operation
As a team, we know that you deserve the
best. To establish a close relationship with customers, we always give them friendly services. Once we render our services, we will introduce ourselves and share more information about how we will work for you.
One of our representatives will listen to all your questions and deliver immediate feedback, including details on wasp nest removal cost. Throughout the process, we will keep you posted about what is going on, and once the work is done, our experts will teach you how to keep your home wasp-free in the future.
Fast services
We understand that hornet and wasp control is a tricky job. Any mistake in handling the wasps can get everyone in the house stung. To keep you and your loved ones safe, we will ask you to leave the infested areas of the house as we work on solving the problem.
Despite how bad the problem is, it will take less than two hours, and your house will be safe. We are all about ensuring that you spend money on premium services and don't suffer any financial challenges associated with our operations.
Can you handle the wasps on your own?
The internet has become a gold mine for information.
Though you might try to follow their advice, you must hire experts to help you get rid of the wasp nest as any form of DIY can be extremely dangerous. Furthermore, many people don't know that such content is made by unprofessional people looking to make money.
Since they are not experts, they can easily mislead you. Therefore, you must never touch the wasp nest unless you are a certified expert. Our work is to save you from such risks, so get in touch with our wasp exterminator, and you will have the peace of mind you deserve.
Must you remove the nest?
Once the treatment is done, you don't have to remove the wasp nest. The nest will not attract more wasps. This is because the queen wasp will make a new nest each year. Naturally, wasps will never use an old nest, so don't worry about more wasps coming to your home because the nest is still available.
However, the nest must only be removed by an expert after the treatment is done. After doing the treatment, we will use unique gadgets to remove the wasps safely and through them away.
Contact us today
On our website, you will see that we have included the contact details you can use to reach us. The phone number is active throughout the day, so go ahead and talk to us. Our hornet and wasp control services are exemplary, and we are keen on charging the most impressive rates.
If you call, ask the person on the phone
about Garston Wasp Nest Removal, and you will be given the details you need. Better still, you can send us an email with the details about your location and how severe the problem at hand is.
L19